A Lowcountry Weekly guide to bar hopping the Downtown Historic District
Story and photos by Mark Shaffer
PART TWO: OFF THE WATERÂ 
"In wine there is wisdom, in beer there is freedom, in water there is bacteria." – Benjamin Franklin
Here at Lowcountry Weekly the Life Behind Bars staff (yours truly) remains deeply dedicated to the exploration of our local watering holes. As some of you have pointed out, this is almost like work and yet we trudge on in our quest for the best cocktails and bar snacks in town.
In the previous installment we managed to cover the bars and restaurants along the waterfront park. This time out we're taking our rather optimistic pub crawl to the other side of Bay Street and beyond. We begin with the newest addition to Beaufort's diverse and growing downtown bar scene.

Wined It Up
Wine Bar & Specialty Deli
705 Bay Street
www.wineditup.net
(843) 379-5585
11:00 am – till every day.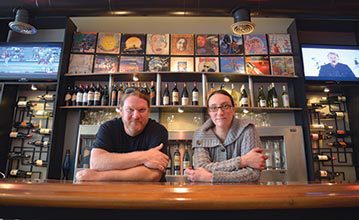 Tara Tracy and Bryan Shepler are just happy to be here. Seriously. Last September their popular Georgetown restaurant, Limpin' Jane's Old South Eatery, was razed in a fire that consumed a block of historic waterfront in a matter of minutes. They were asleep in the apartment over the restaurant when the alarm went off around 5 am. Shepler knew something was terribly wrong when his bare feet hit a hot floor. "I had time to grab my guitar and that was about it," he says. They scoured the coast from Wilmington to Hilton Head in search of a place to rebuild before settling on Beaufort.
"We wanted to do something different," says Tracy. And they did. At Wined It Up the primary focus is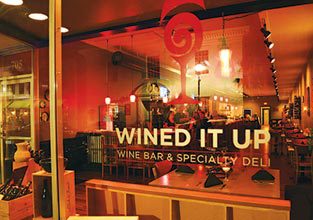 on wine. A state-of-the-art preservation system allows the bar to serve high-end bottles by the glass in 2, 4 and 6 ounce pours. The wine list (20 by the glass) changes constantly with an emphasis on the top rated bottles according to the Wine Buyers Guide. The menu features a brief description of each selection, making it simple to choose, even for a vinicultural neophyte. The smaller pours let you taste your way around the globe and remain reasonably cognizant by journey's end. Or share a bottle with a friend and browse the wall racks for another to take home. WIU also features a growing selection of beer by bottle and draft. Shepler says he intends to keep the taps as seasonal and regional as possible. Six packs are available to go.
During the day the lunch crowd comes in for gourmet deli sandwiches like the Vermonter – smoked ham, Grafton cheddar, apple, red onion and Dijon on fresh baked Beaufort Bread Company multi-grain. After dark the bar takes on a rich sunset glow in the crimson tinted lamp light. The music cranks up, the menu shifts to tapas and light bites and the long copper bar at WIU is ERO (elbow room only). In short, Wined It Up is Beaufort's hip new spot to wind down.
Emily's Restaurant and Tapas Bar
906 Port Republic St. (843) 522-1866
http://beaufortrestaurant.comFind them on Facebook
4:00pm – till daily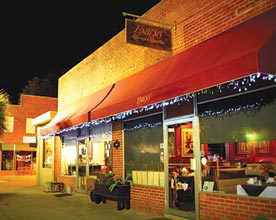 In "Stop Where The Parking Lot's Full," their excellent book on South Carolina's most loved eateries, Tim Driggers and Aida Rogers quote me as saying that "Emily's is Beaufort's living room." Two things are evident from this. First, it's obvious they were desperate for a quote and secondly, I obviously spend more than a little time at Emily's. I admit it. As so many do, I wondered off the street some years back in search of local flavor and wound up part of it. Back in those days it wasn't uncommon to find Pat Conroy and a couple of pals sipping mid afternoon cocktails and swapping stories at the bar. I eavesdropped whenever possible. And the first place Tom Berenger stopped by to celebrate his 2012 Emmy Award once he got back to town was Emily's.
This is a place for stories. And occasionally Emily's ends up in one. In the 1995 film "Something to Talk About" Julia Roberts catches cheating hubby Dennis Quaid with a date in the none-too-discreet window seat. Bestselling author and sometime Beaufort resident Carl T. Smith writes about it in his Sam Larkin mysteries. He recently signed books in the bar and then ordered his favorite meal: the famous Steak au Poivre. When soft shell crabs are in season regulars call in and reserve their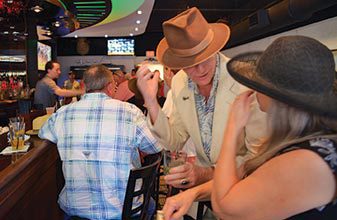 "softies" ahead of time.
On the bar side a black baby grand piano sits by the door smothered in trophies won in local food festivals. The floor along the massive antique bar is tiled like a giant set of piano keys. Meanwhile a huge fixture that recalls the mother ship in "Close Encounters" hovers overhead pulsing with colored lights. Ask owner Tommy Winburn to tell the tale of how he found the bar on eBay.
There's no happy hour but the price of cocktails plummets once you set foot on Port Republic Street. The wines are fabulous values, either by the glass or by the bottle. Emily's doesn't do draft, but a good selection of bottles – including seasonal beers and ales – makes up for the lack of taps. If you're in the mood for a nosh, the tapas menu is almost overwhelming and you can't go wrong with Emily's award winning fried oysters. The giant flatscreens make Emily's a great spot to catch a game. Local Gamecock faithful gather here in the fall and on the first Saturday in May hats are worn and whiskey is spilled on Derby day.

The Old Bull Tavern
205 West Street
(843) 379.2855
Find them on Facebook
5:00 pm – 12:00 am Tues – Sat/ 5:00 – 10:00pm Mon
"I always take Scotch whiskey at night as a preventive of toothache. I have never had the
toothache; and what is more, I never intend to have it." – Mark Twain
I can imagine the distinctive Mr. Clemens in his white linen suit sipping toothache preventative and holding court on the plush leather couch, casually observing the comings and goings of the citizenry. Not long ago this narrow piece of West Street was practically abandoned, a sad collection of vacant storefronts. Today it is a vibrant collective of galleries, studios and shops. Six nights a week one of the town's most vibrant social and culinary scenes convenes here beneath los cuernos del Toro, the horns of the bull.
If you want a seat at the bar or a shot at the couch, get here early. The locals have done a damn poor job of keeping Owner/Chef John Marshall's gastro pub a secret. Tuesday through Saturday dinner reservations are absolutely required. The place is usually packed with diners and drinkers, locals and out-of-towners alike until last call. Monday is different. Monday is Stone Soup night. There's no kitchen service. Patrons are treated to a complimentary bowl of the soup du jour (always amazing) and the faithful gather. There's always great music (band or DJ), lively conversation and – inevitably – dancing.
(As of this writing, The Old Bull prepares to unveil a unique addition next door.)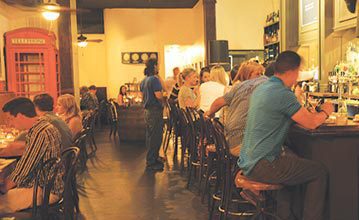 Some bars pour booze. The Old Bull makes cocktails. There's a throwback sensibility about the place. It's right there on the bar menu. The short list of classics includes The Corpse Reviver #2 (gin, Lillet Blanc, Cointreau, lime juice and Pernod) from Harry Craddock's classic 1930 "Savoy Cocktail Handbook." Old Bull originals include The House Manhattan, made with Knob Creek Rye, sweet vermouth and the house-made cherry & black walnut bitters. It is an acquired taste well worth the acquisition. My personal favorite is the Purgatory, a tart and sassy blend of silver tequila, fresh grapefruit juice, honey and a kiss of habanero. The wine list has something for every taste, including a good selection of tap wines like the Troublemaker red and Liberty School Chardonay, with more on the way. Bottle and tap beers run the gamut with an emphasis on craft, seasonal and unusual.
Among our favorite bar snacks are the Green Eggs & Ham (wasabi deviled eggs & prosciutto) and the Chicken Liver Pate with Crostini. The Fettucine Spoletina is go-straight-to-hell delicious and the Grass Fed Mibek Farms Burger will make you want to slap a vegan.
Wren Bistro & Bar
210 Carteret Street
(843) 524.9463
www.wrenbistroandbar.com
11am – 3pm and 5pm – 10pm
The vibe here might best be described as steam punk meets southern gothic. There's plenty of brick, steel, iron and tin mingling with marble, stone, burlap, wood and leather. You'll find more than a bit of whimsy, as well. The giant high-backed lounge chairs look like something from the Mad Hatter's Seasonal Collection.
There's plenty of room at the expansive stone bar or stake out a table along the massive street side window for a Cinemascope-like view of all the poor schmucks stuck in bridge traffic on Carteret. The wine list is impressive and eclectic and Wren also sells bottles to go. For the barley and hops crowd there's no shortage of adventurous choices by bottle or tap, although the taps tend to specialize in IPA's. The house also specializes in craft cocktails. There's no happy hour but from 3 – 5 pm the bar offers an "in-between" menu featuring lighter seasonal fair. The bar crowd's generally pretty sparse this time of day and that makes for a cool and quiet refuge from the streets. Nights are anything but quiet. Evenings the bar tends to skew young, hip and mostly single. If you need serious bar food, Wren serves up a burger topped with thick cut bacon that's bigger than your head. Yes, it is.

"I don't have a drinking problem 'cept when I can't get a drink."
– Tom Waits, Bad Liver & Broken Heart
Breakwater Restaurant and Bar
203 Carteret St.
(843) 379-0052
www.breakwatersc.comOpen Monday – Saturday 5pm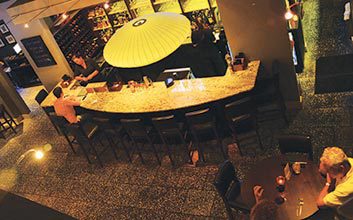 To say that there simply isn't anyplace like Breakwater wouldn't be true. After all, there is Breakwater Greenville, which we highly recommend the next time you visit the Upstate. But here in Beaufort, the bar at Breakwater is unique in its casual sophistication. The plush leather banquettes and George Nelson bubble lamps echo another era, one of style and grace. When partners Beth Shaw and Donna and Gary Lang cut the ribbon on this space back in 2009 I observed that "Maybe this is a little like the vibe in Sherman Billingsley's famous Stork Club back in the day. It's not hard to imagine Frank and Marilyn canoodling in a corner or Rocky Marciano knocking back a shot and a beer at the bar, his knuckles still swollen from knocking out Archie Moore." I still get that. And now there's more of it. The recent expansion of the lounge area has opened up the room and ramped up the already considerable swank factor with more booths and tables alongside a wall-to-wall view of Carteret Street.
Breakwater also has the only happy hour off of the waterfront, adding a bit of extra value to its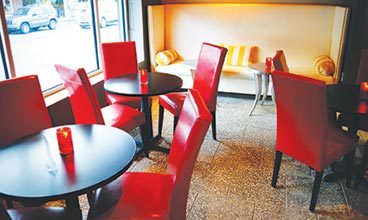 already considerable appeal. Along with discounts on beer, wells and wine you'll find featured craft cocktails and food specials. Mondays in the summer are all about Moules Frites: mussels served in a choice of broth along with a stack of Breakwater's sinfully addictive house cut fries and dipping sauce. Taco Tuesday means the crack mixologists are bound to feature a scratch margarita made to pair with whatever the chefs are stuffing into the tortillas. Our favorite bar snacks include the unlikely Fried Pickled Brussel Sprouts, the Southern Fried Shrimp and Oysters, and the classic Tuna Tartare (sushi grade tuna marinated in lime, soy, chili, avocado salad, wasabi aioli, soy syrup with wonton crisps). But the Lamb Sliders (with minted yogurt, feta cheese, house pickles & hand cut fries) call my name every damn time.
Service and quality have been Breakwater hallmarks dating back to the long ago days back on West Street (now the Old Bull). The Breakwater motto is "seasonal, artisanal & original." While this translates to some of the best food to be had in all of the Lowcountry and the Upstate, it's also reflected in the carefully selected seasonal craft beers on tap and specialty cocktail list. The house Sazerac is a one-two punch of Bulleit Rye and Pernod Absinthe with sugar and bitters. The Seasonal Mojito features rum infused with local fruit. Behind the bar they're marinating cherries in tawny port to top off the Manhattans. Which brings us to the Pico Paloma: house infused pepper tequila, grapefruit, agave and lime served "up" with a salt rim. I'd suggest changing the name to the Santanico Pandemonium after Salma Hayek's character in "From Dusk Till Dawn."
It's hot and spicy with a hell of a bite, but once bitten, you really don't care anymore.

Read Part One: On the Waterfront
Mark Shaffer's email is backyardtourist@gmail.com