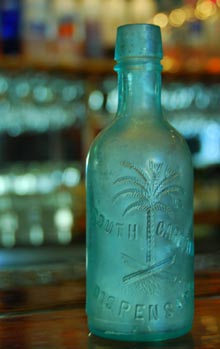 Old Town Bluffton has maintained its reputation as a sleepy little village even as the maelstrom of annexation and development has raged around it in recent years. Recently though, a mini-boom in the restaurant and bar scene is keeping Old Town up at night. On May River Road stalwart favorites like Pepper's Porch and the May River Grill remain popular, while The Promenade offers a growing set of options all within a few steps of one another.
The rooftop bar at Capt. Woody's is quintessential Lowcountry complete with tin roof, open-air deck and iced buckets of long necks. Corks Wine Company – as the name implies – is all about the vino, but this Napa style bistro also serves up craft beers, cocktails, and beautifully prepared "big" small plates. Martinis are the main attraction at 9 Promenade. If stepping into Corks is like stepping into Napa, wandering into 9 is an inter-dimensional trip to some ultra-hip urban watering hole on Manhattan's upper east side.
The bar scene in Bluffton is not only thriving but remarkably diverse and all contained within a few pedestrian-friendly blocks. A couple of our new favorites push the trend onto Calhoun Street and the heart of Old Town.
Vineyard 55
55 Calhoun St.
Bluffton SC
843-757-WINE (9463)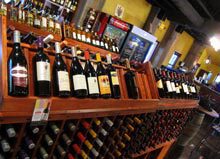 "We just went for the whole vineyard thing," says owner Jon Rinaldi. He and brother, Joey, along with Bluffton entrepreneur, Will Guscio, have transformed the interior of this very traditional-looking Lowcountry building into an old world winery, right down to the furniture. "The tables and barstools are all made from recycled wine barrels," he points out.
"Vineyard" may be painted on the sign, but this is something of a hybrid with a lot of components all under one roof: wine shop, beer store, coffee house, deli, bar & restaurant. The wine selection alone numbers around 250 different bottles from all over the planet, with an emphasis on small producers. Jon Rinaldi is also big on brew, stocking an impressive selection of beers and ales you're not likely to find on your grocer's shelf. "We'll have about 22 on tap," he says.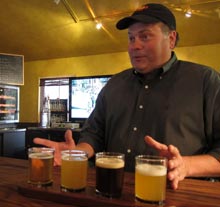 "What's interesting," says Will Guscio, "is that the walk up and local traffic is at such a pace that it can sustain unique businesses and we think this is very unique." Plenty of free parking is always a plus, he points out.
With a major accent on wine it's only natural that exotic meats and cheeses are featured, as well. A huge cooler just inside the front door is loaded with enough gourmet sandwiches and picnic goodies to melt any foodie's heart.
The pizza is made with only fresh ingredients and it's available by the slice.
Our first visit happens to coincide with St. Patrick's Day and the first Farmer's Market of the season. We take Will's advice and stake out a few stools at the intimate bar to sample the wares. Among the more exotic offerings on tap, the ominously named Delirium Tremens (Latin for "trembling madness") is a big hit with members of the group who dig complex Belgian beers with "an intense floral bouquet." I'm a bit old school. Bouquets belong in vases, not pint glasses. I prefer the frosty glass of Louisiana brewed Abita that Will pours. The bar gets big points for quite possibly the most ice-cold beer quaffing receptacles Life Behind Bars has ever encountered.
The Dispensary Bar
15 Captain's Cove Road (at the rear of The Cottages on Calhoun St.)
Bluffton, SC 29910
(843) 837-1893
The infamous South Carolina Dispensary system was a state-run monopoly on liquor bottling and sales that began at the end of the 19th century and imploded at the start of the 20th. The brainchild of "Pitchfork" Ben Tillman (Governor, 1890-94), the system was notoriously corrupt and probably most successful at fueling the bootleg liquor boom.
Although Bluffton's original 1893 Dispensary building is long gone, Thomas Viljac's atmospheric tavern in his development at The Cottages sure feels like an authentic piece of Lowcountry history.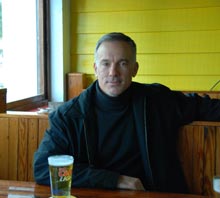 "All the material inside is two hundred year old heart pine," he says. "The bar is made out of planks from the old Estill train depot. We made it to look like the inside of a ship's hull so there's a maritime aspect there." The wrought iron foot rail was crafted about a block away by local artist, Rhonda Fantozzi.
Although The Dispensary celebrated its first anniversary on St. Pat's (2011) it feels as though it might have actually been established in 1893 as the sign claims (wink, wink). In fact, I've been in really, really old bars and taverns that don't exude this kind of character – old public houses homogenized by clueless owners with no respect for a tavern's ultimate achievement: the patina of time. The Dispensary simply has that indeterminate-date-of-origin vibe. The plank flooring is smooth and worn, surrounded by faded white-washed walls, rustic booths and – here and there – a vibrant splash of color.
Viljac credits longtime barman, Oxford native and John Entwistle look alike, Mel Gibbons, with creating the environment.
December 10, 2010. It's the 30th anniversary of John Lennon's murder and the night Urban Myer departs the University of Florida football program. Mel's working behind the bar on a slow night. Being a huge fan of both music and sports, he's got XM radio on the sound system and ESPN on the flatscreen. The English ex-pat and travel junkie had just returned from a lengthy trip around Asia when a friend told him Viljac needed help with a bar.
"That's what I do," he explains. "I built bars in California in places like Tahoe, Clovis, and Monterrey – five or six. This one took a lot longer than we thought it would, that's for sure."
He pauses and looks around the room, considering. "But we got it right, I think. It's got a nice "locals" feel to it. Everyone likes the feel."
Gibbons tells me he's prepping for a six month "walkabout" through Central and South America.  He's tapped well-known local bartender, Zack Balliet, to assume duties while he's on sabbatical.
"You are coming back, right?"
He winks.
"I dunno," says the Englishman. "Six months is a long time."
Mark Shaffer's email is backyardtourist@gmail.com