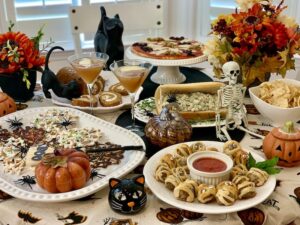 Would you like to host a Halloween get-together that begins with delicious refreshments and libations and ends with some Lowcountry-style spookiness? The complete itinerary for your bash is right here.
The Child Abuse Prevention Association, the Exchange Club of Beaufort, and event sponsor Beaufort Charities are cooking up a ghostly good time! The 29th Annual CAPA Ghost Tours will be held on the last three weekends of October (the 13th, 14th, 15th, 20th, 21st, 22nd, 27th, 28th and 29th), in downtown Beaufort. Tickets are available at www.capabeaufort.org or by calling 843-52GHOST. Carriage tours are $30 per adult and $20 per child age 3-11. Carriage Tours leave every 15 minutes from the parking lot at 1006 Bay Street, beginning at 6:30 p.m., and last for about 45 minutes. Walking Tours are $20 for all ages. Tours leave every 20 minutes beginning at 7:00 p.m. from 611 Bay Street and last for about an hour. All proceeds benefit the Child Abuse Prevention Association, a local non-profit whose mission is to stop the vicious cycle of child abuse and neglect. Funds raised help the Open Arms Children's Home, a local home for abused children, and other CAPA programming, including school-based prevention, in-home visitation, family foster homes, and safe sleep education.
From pirates to hags to historical ghostly characters, the moss-lined streets of the Historic Point will play host to vignettes highlighting
some of the Lowcountry's spookiest stories and creepiest apparitions – many with live actors portraying them. Year after year, Beaufort residents join in the fun, hosting porch parties and yard soirees and decorating their homes for the Halloween season. Earlier this week, Kim Clark (CAPA Board Member and former President) and I spent some time in the kitchen creating several hauntingly fabulous pre-carriage tour party snacks. We also made a couple of Halloween recipe videos for my "Celebrate with Catering by Debbi Covington" YouTube channel, if you're brave enough to watch. Our menu is fun, easy to prepare, and quite tasty. Most of them are also appropriate for children's parties. Scare up some of your best friends, reserve a carriage and organize a pre-tour party. Join us in support our local non-profits. CAPA will appreciate your participation, and everyone will have a hauntingly good time. Happy Halloween!
Mummy Meatballs
Turn your meatballs into mummy heads for a fun Halloween party treat! Don't want to make homemade meatballs? Use the frozen ones, they'll work just as well. Just be sure to thaw completely before using.
For the meatballs:
1 pound ground beef
1 cup Italian breadcrumbs
1/3 cup grated Parmesan cheese
1 egg, lightly beaten
1 teaspoon Italian seasoning
¼ teaspoon salt
¼ teaspoon black pepper
¼ teaspoon red pepper flakes, optional
1 tablespoon vegetable oil
For the dough:
1 (8-ounce) package refrigerated crescent dough
1 egg, beaten
Eyeball candies
Marinara or pizza sauce, for dipping
Combine ground beef, breadcrumbs, cheese, egg, Italian seasoning, salt, pepper and red pepper flakes in a large bowl. Shape into golf ball-sized balls. In a large skillet, over medium-high heat, add meatballs and cook for 5 to 7 minutes, turning to brown, until cooked through. Remove from pan and cool completely. Preheat oven to 375 degrees. Open crescent dough and spread it flat on a cutting board. If there are seams, press them together. Using a pizza cutter, cut strips about ¼-inch wide. Wrap strips of dough around the meatballs and place on baking sheet. Brush meatballs with beaten egg. Decorate with candy eyeballs. Bake for 10 to 15 minutes until the crescent dough is golden brown. Serve with marinara sauce for dipping. (Alternatively, you could use sliced black olives with pieces of pimento for the eyes. Use a drop of the marinara sauce as "glue" after baking.)
Old Ghoul Spinach Dip
Truly an "old school" recipe, this is the first spinach dip that I learned to make in college. Serve it in a coffin bread bowl with tortilla chips and vegetables dippers on your Halloween party buffet.
For the dip:
1 (10-ounce) package frozen chopped spinach, thawed and squeezed dry
1 cup mayonnaise
1 cup sour cream
1 tablespoon dried minced onion OR ½ chopped onion
1 (1.4-ounce) package dry vegetable soup mix
1 (8-ounce) can water chestnuts, chopped
For the bread bowl:
1 whole loaf bread, unsliced
4 long toothpicks or skewers
Mix spinach dip ingredients together in a bowl. Cover and refrigerate for several hours to allow flavors to marry. To make the bread coffin, you'll need a whole loaf of bread that has not been sliced. Ask for an unsliced loaf in the bakery section of your local grocery store. Any sturdy loaf should work. Cut the top portion of the bread, on three sides. Try to keep one long side attached to act as the lid. Scoop out the middle of the bread to hold the dip, making sure to keep a uniform border around the edges of the bread. Add spinach dip to the bread "coffin" and prop the lid open, using two toothpicks on each end. If the lid of the bread breaks off, just attach it back in place using toothpicks or skewers to hold it securely. Serve with tortilla chips and vegetable dippers.
Spooky Halloween Pizza
Delicious, fun, and super easy! Use a store-bought crust or make your own.
1 prepared pizza crust
1 cup prepared pizza sauce
12 slices mozzarella cheese
Whole black olives
Whole green olives
Preheat oven to 350 degrees. Cut the mozzarella cheese into ghost shapes, using a cookie cutter. Cut the olives in half to create the spider bodies and then cut some of the halves into thin slices to make the legs. Place the pizza crust on a pizza pan or baking sheet that has been lightly sprayed with cooking spray. Spread the pizza sauce evenly over the crust. Top with ghost cheese slices and olive spiders. Bake in preheated oven for 20 minutes or until pizza is warmed through and cheese is beginning to melt. Makes 8 slices.
Pretzel Spider Webs
These fun Pretzel Spider Webs are a delicate sweet and salty treat. They could also be used as spooky decorations for a Halloween cake or pie.
1 (16-ounce) bag pretzel sticks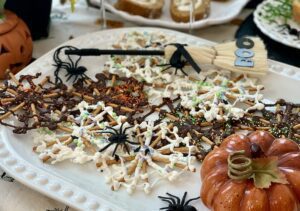 1 (12-ounce) package dark chocolate melting candies
1 (12-ounce) package white melting candies
Assorted Halloween candies and sprinkles
Line several baking sheets with parchment paper. Arrange each spider web using 8 pretzels to create a circle, making sure the end of each pretzel is touching in the center. Repeat this for as many webs as you would like to make. Place chocolate melting candies in a microwave safe bowl and melt according to package directions. Fill a plastic bag or piping bag with the melted chocolate and cut the corner. Drizzle the chocolate in a straight line between each pretzel, being sure to cross the center of the pretzels. Then, drizzle the chocolate in a wavy circular motion, making 3 rings, to form the web. Be sure to make the chocolate circles thick versus thin to help bind the pretzels together. Also, add a little extra chocolate in the center. Sprinkle with festive candies and sprinkles while the chocolate is still wet. Repeat the process with the white melting candies. Refrigerate the spider webs for at least 2 hours to allow chocolate to harden. Gently remove spider webs from the parchment paper before serving.
Debbi's Pumpkin Roll
Best eaten within 2 days after baking, this delicious Pumpkin Roll is an autumn favorite.
For the cake roll:
¾ cup all-purpose flour
½ teaspoon baking soda
½ teaspoon baking powder
½ teaspoon ground cinnamon
½ teaspoon pumpkin pie spice
½ teaspoon ground cloves
¼ teaspoon salt
1 cup sugar
3 eggs
2/3 cup canned pumpkin
¼ cup confectioner's sugar
For the filling:
1 (8-ounce) cream cheese, softened
6 tablespoons salted butter
1 cup confectioner's sugar
1 teaspoon vanilla extract
1 cup finely chopped pecans
Confectioner's sugar, for dusting
Preheat oven to 375 degrees. Line a 15×10-inch jelly roll pan with aluminum foil. Spray with nonstick baking spray with flour (Baker's Joy). Combine flour, baking soda, baking powder, cinnamon, pumpkin pie spice, ground cloves, salt, sugar, eggs, and pumpkin in a large mixing bowl; beat until well-combined. Spread evenly into prepared pan. Bake for 13 to 15 minutes or until top of cake springs back when touched. Sprinkle a thin, cotton tea towel with ¼ cup confectioner's sugar to keep cake from sticking. Remove cake from oven. Immediately loosen and turn cake onto the prepared tea towel. Carefully remove aluminum foil. Roll up cake and towel together, starting with the narrow end. Cool on wire rack. Beat cream cheese and butter with confectioner's sugar, vanilla, and pecans until smooth. Carefully unroll cake. Spread cream cheese mixture over care. Re-roll cake. Place on a serving dish and refrigerate for at least 2 hours. Dust with confectioner's sugar before serving. Serves 8 to 10.
Apple Cider Martini
An Apple Cider Martini is the perfect fall cocktail. Apple cider is fresh, unfiltered, and only available during the autumn months. Look for it in the refrigerated section of your grocery store.
2 shots bourbon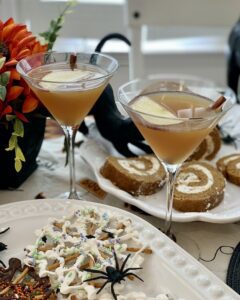 1 cup apple cider
Splash of ginger beer
Cinnamon sticks, optional
Apple slices, optional
Fill a martini shaker with ice. Add bourbon, apple cider and ginger beer. Shake to combine. Pour into martini glasses. Garnish with cinnamon sticks and apple slices, if desired. Serves 2.
The writer owns Catering by Debbi Covington and is the author of three cookbooks, Celebrate Beaufort, Celebrate Everything! and Dining Under the Carolina Moon. For more great recipes and to view her cooking demonstrations, visit and subscribe to Debbi's YouTube channel. Debbi's website address is www.cateringbydebbicovington.com. She may be reached at 843-525-0350 or by email at dbc@cateringbydebbicovington.com.