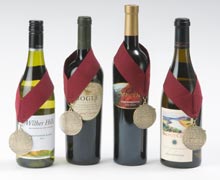 The schedule has been finalized and the award-winning wines are all being shipped to ready the Island for the unofficial beginning of spring, with the 27th Annual Hilton Head Island Wine & Food Festival on March 10th.
"We are thrilled this year, with over 740 wine entries in the Festival Competition, we have more wines available for tastings than we have had in many years. And both of our Silent Auctions include more premium wines than I can ever remember having available previously – some real outstanding deals. The Festival will be concentrated in one area of Honey Horn, making access to the Silent Auction, Outdoor Gourmet and all of the wine, food and retail booths much easier," said Tami Bream, Festival Chair and C.O.O. of Equity Payment, Connoisseur Level Sponsor for the Festival. A new Patrons ticket is also available this year, which will allow early admission to the Saturday, March 10 Wine & Food Festival, with V.I.P. Hospitality Tent access and preview access to bid in the Silent Auction. "We had so many requests for a V.I.P. ticket last year, that we developed the new Patrons ticket for 2012 which has many additional perks for the Patron Festival attendee, such as 11 a.m. early access to the Festival. The V.I.P. ticket includes the Festival Hospitality Tent with tastings of the medal-winning wines and samplings of gourmet treats, along with an opportunity to preview and place first bids in the Silent Auction," said Bream.
The Outdoor Gourmet: Well-known author and chef, Nathalie Dupree will be headlining the Outdoor Gourmet at 12 p.m. Co-author and chef, Cynthia Graubart along with Nathalie Dupree will be demonstrating the ultimate biscuit recipe from their book, Southern Biscuits. Nathalie Dupree has written and coauthored many cookbooks, including the James Beard award-winners, Nathalie Dupree's Southern Memories and Nathalie Dupree's Comfortable Entertaining.
Her latest book is Shrimp and Grits. She has hosted more than 300 television shows and specials, which have shown nationally on PBS, The Learning Channel, and The Food Network. Dupree holds an Advanced Certificate from Le Cordon Bleu and has also written extensively for magazines and newspapers. She has been honored with the title, Grande Dame of Les Dames de Escoffier International. This honorary title is given in recognition for extraordinary and unusual contributions to the fields of food, wine, other fine beverages and nutrition. She lives in Charleston, South Carolina. Cynthia Graubart is an author and former television producer who lives in Atlanta and began her culinary television production career with "New Southern Cooking with Nathalie Dupree." She is also the author of The One-Armed Cook, called the culinary version of What to Expect When You're Expecting.
Chef, Orchid Paulmeier, from One Hot Mama's and The Food Network finalist will take the stage at 12:30 p.m.; Chef, Eric Seaglund, of The Chart House will be demonstrating his culinary skills at 1 p.m.; Chef Dee Wang, of Hana Sushi & Japanese Fusion, trained at Nobu, one of the world's most recognized Japanese restaurants will take the stage at 1:30 p.m.; Chef David Young, of Roastfish & Cornbread will be preparing a Gullah favorite at 2 p.m. and Chef Hugo Lee, who trained under Thomas Keller at The French Laundry, will be demonstrating some Italian favorites from his new restaurant, Trattoria Divina at 2:30 p.m.
New this year – Celebrity Cookbook Author's Tent: The celebrity authors that will be signing and selling their cookbooks include: Nathalie Dupree & Cynthia Graubart, Southern Biscuits; Pat Branning, Shrimp, Collards & Grits; Sallie-Ann Robinson, Cooking The Gullah Way, Morning, Noon and Night; Nan Chase, Eat Your Yard; and David Young, Burnin' Down South.
Saturday, March 10th Festival At-A-Glance:
11 a.m. – V.I.P. Patron Ticket Holders Festival Grounds Access
12 p.m. – Festival Grounds Open for General Admission Tickets/Wine Tastings begin
12 p.m. – Outdoor Gourmet (Cooking Demonstrations continuously until 3 p.m.)
12 – 3 p.m. – Bob Masteller's Jazz Corner Band
12 – 3 p.m. – Celebrity Cookbook Author's Tent Open
12 p.m. – Silent Auction Opens
12:30 p.m. – Grey Goose Bartender's Challenge
2 p.m. – Waiter's Race
2 p.m. – Silent Auction Closes
3 p.m. – Festival Grounds Close
And leading up to the Festival….
March 5 – 10: The Great Chefs of the South Wine Dinners
An additional date and restaurant has been added to the Great Chefs of the South Wine Dinners, March 5 – 10, with some dinners already sold out or close to selling out. Most of the restaurants have paired with a specific winery
creating a special menu with accompanying wines designed specifically to showcase their culinary diversity. Prices range from $59 to $85 per person; participating restaurants, menus, times and pricing available at http://www.hiltonheadwineandfood.com/chefs.html. The dinners will be taking place on Monday, March 5 at Black Marlin; Tuesday, March 6 at Charlie's L'etoile Verte and Frankie Bones – (sold out); Wednesday, March 7 at the South Carolina Yacht Club – Wine Cellar, Trattoria Divina, and Daniels; Thursday, March 8 at Michael Anthony's, Old Fort Pub, Claude & Uli's Bistro (new) and Red Fish; Friday, March 9 at Harbour Town Grille and CQ's; two new "After-Party" Dinners scheduled for Saturday, March 10 at Quarterdeck and The Westin Hilton Head Island Resort & Spa – Oceans Restaurant. Limited seating availability, with reservations for the Great Chefs of the South wine dinners accepted directly with each establishment.
Friday, March 9: Grand Tasting & Silent Auction
This ultimate wine event sold out last year and will most likely sell out quickly again. It's the perfect venue for wine enthusiasts and collectors that appreciate premium wines. Most of the wines tasted at the Grand Tasting are priced on the upper end of the scale, average prices per bottle ranging from $50 per bottle.
The Grand Tasting and Silent Auction takes place at Sea Pines Resort, Harbour Town Conference Center from 5:30 – 7:30 p.m. on March 9, 2012. The featured menu is a delectable selection of servings throughout the evening, including Barolo Braised Beef Short Ribs and Scallop & Lobster Tamales. There is a 4:15 – 5:15 p.m. Trade Hour Tasting planned for food and beverage wine buyers by invitation only.
Attendees of the March 10th Wine & Food Festival will sample a wide assortment of wines, witness competitive culinary events and enjoy gourmet treats and live music. A wider variety of food booths will abound at the new Culinary Court – with additional tables and seating areas. The continued success of this event could not be possible without the sponsor support and the multitude of volunteers who work diligently on behalf of this Festival. Major sponsors include: Equity Payment, Sea Pines Resort, Adventure Radio, WTOC –TV and Adams Outdoor.
Advance ticket discounts are available for the Saturday, March 10, 2012 Wine & Food Festival for $39.99 at Walgreens nationwide, regular priced tickets $45 available online. You must be 21 or older to attend the Festival events, taking place rain or shine. The Grand Tasting & Silent Auction tickets are $65 per person online and at Roller's Coligny Plaza; and the Wine & Food Festival Patrons Tickets, $75 per person available online at www.hiltonheadwineandfood.com.
There are many special Wine & Food Festival Accommodations Packages available for all budgets, from The Westin Hilton Head Island Resort & Spa, Resort Quest, the Hilton Garden-Inn and the Main Street Inn, which can be found online.
The 2012 Hilton Head Island Wine & Food Festival's Silent Auctions benefit educational opportunities for students in the Hospitality programs of study at the University of South Carolina Beaufort and the Technical College of the Lowcountry through the John T. and Valerie Curry scholarship fund.