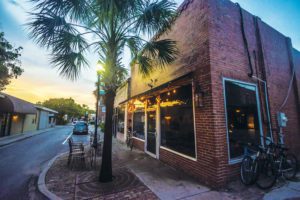 The entrance to Old Bull Tavern (or just "OBT" to locals) is rather unassuming. Located on West Street just off Bay in the heart of downtown Beaufort's historic district, if you weren't looking for it, you might just miss it. But that would be a shame. Because behind the modest red brick façade with the black awning and virtually no signage lies a rambling menagerie of three distinct dining rooms, along with a cozy patio out back, a convivial bar, a community table and a comfy and welcoming seating area near the door.
With exposed brick, subdued lighting, an adorned bull's head above the bar, a British telephone booth that you pass through between dining rooms and a convivial din, the vibe of OBT is friendly and jovial—like meeting up with old friends. Which is exactly what the owners and staff are going for at this Beaufort hotspot. "We try really hard to provide a welcoming and home-like environment," says Stacie Kayser, Old Bull Tavern's general manager. "We want everyone who comes in to feel comfortable and part of the family."
Old Bull Tavern has been around since 2012, the original inspiration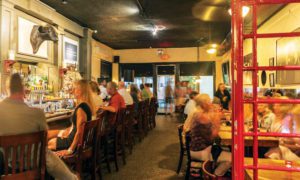 of Chef John Marshall. Formerly of famed Charleston restaurant, Al di La, Marshall had tired of the growing congestion of Charleston, in general, and West Ashley, specifically. After several stints in and around the Carolinas, he found his way to Beaufort and was inspired to open a small restaurant that had a hip gastropub-y feel—something that was lacking in Beaufort at the time. He stumbled upon the building on West Avenue that housed Breakwater before they moved to their current location on Carteret Street, and decided it was the perfect spot. Some might say it was serendipity.
Marshall opened the original OBT in the single shotgun building in September 2012. Over the next year, he befriended Oscar Salas, who had also found his way to Beaufort through the restaurant industry. Oscar was tending bar at Saltus at the time and the two had similar passions and loves of the industry, so they started talking about partnering up. As luck would have it, the two smaller buildings attached to the original restaurant, along with the patio, became available. Putting their heads—and hands—together, the pair built out, added on, and expanded the sprawling space that is today's beloved OBT. "Our blood, sweat and tears are in that space, literally," reflects Salas on the amount of work that went into the restaurant.
Until this past August, the restaurant was co-owned by Marshall and Salas, with Kayser helping to keep it all together. But as the 10-year anniversary approached, Marshall was ready to slow down and sold his interest in the business to Salas, while staying on as a food consultant. According to Salas, "John gets to enjoy the creative process without all the work. Sort of like eating the cake without all the calories."
The menu has remained pretty much what Marshall started serving when he first opened—sophisticated, yet unpretentious, honest food. Think elevated pub food, with local and seasonal produce top of mind. Most of their dishes are five ingredients or less, allowing the purity of those ingredients to shine through. Often, when Chef Marshall is asked, "What kind of food do you cook?" he replies, "Food like your grandma would make. If she's a really good cook." To pay homage to that belief, pictures of the staff's grandmothers hang throughout the restaurant.
OBT prides itself on its regular and loyal clientele. According to Salas, it's the honesty of the experience that keeps the locals coming back. The old building, no television blaring, the simple and homey place settings, and, of course, the food. "There's just a spirit and energy in what we put out there," says Salas. "We are so humbled by our loyal customer base."
And that sentiment carries through to so many of their regular customers, like Louise Hodges, the founder and owner of Beaufort's favorite mosquito juice, Greenbug. "There's no better place in town for an eclectic mix of interesting people, both locals and visitors," says Louise. "Between the photos of the grandmothers of employees to the ever-changing words of wisdom displayed at the bar, OBT promises a memorable, enjoyable time."
Another thing locals also agree upon is the cocktails. OBT hosts a nice
specialty cocktail menu, along with wines on tap, a reserve wine list by the bottle, and an impressive beer list—both on draft and bottles, including a flight of three drafts. For the true aficionado, however, the bourbon flight, which includes Old Rip 10 Year, Van Winkle 12 Year Special and Pappy Van Winkle 15 Year (if you have to ask the cost, this may not be the in the budget), is a can't miss.
Bar snacks are also a regular thing shared amongst regulars and newcomers, starting with their popular green eggs and ham—wasabi deviled eggs with prosciutto. Other shareable options run the gamut from rosemary cashews and mixed olives to pork belly steamed buns and house-smoked mullet spread with Ritz crackers.
Other elevated gastropub starters that are also quite share-worthy include black olive tapenade with goat cheese, escargot on grilled crostini (with garlic butter, natch!), chicken liver pâté (which has been on the menu since the beginning) and local shrimp with garlic and amontillado sherry. If you find yourself drooling already, you aren't the only one. Mark Shaffer, Lowcountry Weekly editor-at-large and Old Bull Tavern diehard says, "OBT filled a special niche from day one, and that's evolved well beyond the old laid-back locals joint into a culinary destination."
With a nod to Marshall's love of Italian food (Al Di La was an Italian restaurant after all), OBT boasts a middle plates menu full of pastas and a curated pizza menu. We're talking luscious carbs, like house-made tagliatelle with Bolognese, Marshall's renowned house-made ricotta gnocchi, with shrimp, tomato sauce and basil (which is a carryover from Al Di La and also one of his OBT original dishes), and fettucine Spoleto with pancetta, Italian sausage and lemon cream.
Popular pizzas include a classic margherita; an Alsatian, with applewood smoked bacon lardons, onions, Gruyere and crème fraiche; the Madrileño, with Manchego, portobellos, asparagus and Iberico ham; and the Sardinian, with hot Italian sausage, goat cheese, grape tomatoes and peppadews, among others.
If you still aren't full, OBT's entrees are an homage to the Lowcountry (think fall-off-the-bone pork shoulder braised in milk with rosemary, garlic and onions and Lowcountry Captain chicken and andouille sausage over rice), along with an international nod (lamb shank braised in tomato sauce and red wine with black olives, rosemary and garlic—which Salas says is one of their biggest sellers, duck breast with butternut squash puree, and cottage pie) and a touch of upscale pub grub, including the OBT burger with gaufrettes and the ever-popular grilled Black Angus shoulder tenderloin with gorgonzola butter. Owner of neighboring Nevermore Books and OBT regular Lorrie Anderson, says, "My favorite is the lamb shank, or maybe the burger, or, honestly, any of the other signature dishes."
Be sure to save room for dessert. All scratch-made, the butterscotch pudding with caramel sea salt is our don't-miss choice, among many. An ode to one of Marshall's favorite family memories, the rich and buttery confection honors his British grandmother's classic dessert puddings and his Scottish grandfather's love of butterscotch candies. It's no surprise that some of OBT's regulars order dessert first.
Old Bull Tavern
205 West Street
Beaufort, SC 29902
(843) 379-2855
Reservations are highly recommended by calling the restaurant.
Dinner: Tuesday-Saturday starting at 5:00p.m.
Kitchen open until 9:00p.m.
Bar open until 11:00p.m. Tuesday-Thursday and midnight Friday and Saturday.