It's hot. Tropical, roasting, searing and sweltering. There's not a soul in Beaufort County who will disagree with that fact. When the temperature is scorching, no one feels like cooking. Not even me. I actually like to take a break from catering during the hottest part of the summer. The thing is, we all still have to eat. In July and August, Vince and I tend to dine on lots of salads and sandwiches. A cool pasta salad made with chicken or shrimp along with a caprese crostini or a mixed greens salad with fresh fruit and cheese toast are a couple of our seasonal favorites. The most perfect summer meals use fresh ingredients and require very little heat from the oven. They're even better when they start with a refreshing cocktail. Enjoy the summer while it lasts my friends, in just a few months we'll be planning our holiday party menus.

Mushroom French Bread Pizza with White Truffle Oil
1 pound sliced mushrooms (baby bella, button or canned)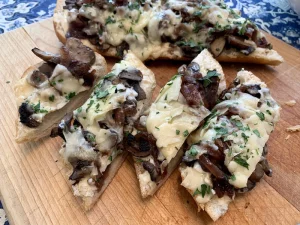 Salt and freshly ground black pepper, to taste
1 (14-ounce) loaf French Bread
½ cup jarred Alfredo sauce
1 cup shaved Parmesan cheese
¼ cup chopped fresh Italian parsley
White truffle oil, to drizzle
Melt butter in a frying pan over medium heat. Add mushrooms and sauté until tender. Season with nutmeg, salt, and pepper. Drain on paper towels, if needed. Preheat oven to 350 degrees. Line a baking sheet with aluminum foil or parchment paper. Spray lightly with cooking spray. Split French bread loaf lengthwise and place on prepared baking sheet. Spread ¼ cup Alfredo sauce on each piece of bread. Add cooked mushrooms to bread. Top with shaved Parmesan cheese. Bake for 20 minutes in preheated oven. Remove French bread pizzas from oven and place on a large cutting board. Garnish with chopped Italian parsley and drizzle with white truffle oil. Cut each pizza into 8 slices, 16 slices total. Serves 8 people.
Kale and Arugula Salad with Apples and Blueberries
¼ cup olive oil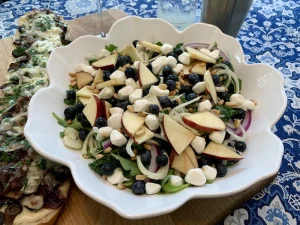 2 tablespoons red wine vinegar
Freshly ground black pepper
¼ cup thinly sliced red onion
½ fennel bulb, thinly sliced
½ red delicious apple, thinly sliced
1/3 cup fresh bocconcini (baby mozzarella cheese balls)
3 tablespoons pine nuts, toasted
Place the vinaigrette ingredients in a small jar with a tight-fitting lid. Shake to mix well. Remove tough stems from kale, roughly chop and place in a large bowl. Add arugula and toss to mix. Add red onion, sliced fennel, blueberries, sliced apple and bocconcini. Drizzle with vinaigrette and toss to mix. Garnish with toasted pine nuts. Serves 4 to 6.
Pineapple-Coconut Martini
½ cup coconut vodka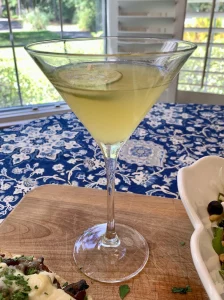 Thinly sliced lime, to garnish
Fill a martini shaker with ice. Add coconut vodka, pineapple juice and juice of ½ lime. Shake to mix well. Pour into martini glasses. Garnish with a slice of lime. Serves 2.
The writer owns Catering by Debbi Covington and is the author of three cookbooks, Celebrate Beaufort, Celebrate Everything! and Dining Under the Carolina Moon. For more great recipes and to view her cooking demonstrations, visit and subscribe to Debbi's YouTube channel. Debbi's website address is www.cateringbydebbicovington.com. She may be reached at 843-525-0350 or by email at dbc@cateringbydebbicovington.com.