By Margaret Evans
To call silversmith Joann Graham a "jewelry maker" seems a bit simplistic. Like an understatement, of sorts.
"I always tell people I make Wearable Art," she says, and this phrase just about nails it. Trained at the New Hampshire Institute of Art, the Penland School of Arts & Crafts, Sawtooth School for Visual Arts, and TCL – where she learned to weld – Joann is more than a skilled craftsperson. She's a fine artist.
"I use a variety of techniques," she says, when discussing her one-of-a-kind jewelry pieces. "I forge, I cast, I hand fabricate, and I chase and repousse." This is complicated shop talk for the uninitiated. All you really need to know is that Joann is working at a very high level, and it shows in her jewelry.
She's had gallery exhibitions all over the Southeast and won countless awards and grants. Recently, she participated in her first international exhibits, during which her artwork was showcased virtually at local galleries – one in Zurich, the other in Toronto.
Joann also teaches jewelry making here in the Lowcountry. She holds classes at the Art League of Hilton Head, Redux and the Gibbs in Charleston, and at her home studio on Dataw Island. Those home classes usually consist of 4 to 6 friends who sign up together.
"You come to my studio around 10 in the morning, and by the end of the day, you've created your own unique piece of jewelry," she says.
This holiday season, Joann is introducing Beaufort to a movement that's been embraced in larger cities across the country. She's offering permanent bracelets, also known as Forever Bracelets.
These beautiful, lightweight 14-karat yellow gold chains are flat and
smooth against the skin. There is no latch to break or get caught on sleeve fabric. The bracelet only comes off if the wearer decides to cut it off, which is easy.
Forever Bracelets are particularly popular with mothers and daughters, best friends, and couples – a symbol and experience of connection. Some people get them to commemorate special occasions – graduations, birthdays, weddings, etc. Whatever the inspiration, they are special keepsakes that literally last forever.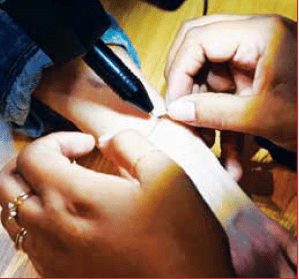 "I weld the bracelet onto your wrist," says Joann. "I don't touch your skin. It's a painless process and takes less than 15 minutes." She can also do anklets, necklaces, and special orders for men.
Joann has already held a couple of Forever Bracelet events, and has two more coming up at Mystic Blue Salon in Newpoint, on November 18th and December 8th, from 10 am to 5 pm. She'll have bracelets for browsing and even for purchase. She can weld them onto your arm right there on the spot! She also encourages people to host Bracelet Parties in their homes. If you've got a group of more than two people, she'll show up and do her thing. Otherwise, she's happy to host you at her studio.
To set up an appointment for a Forever Bracelet personalized fitting, call Joann Graham at 843-812-3190 or email silvermoon@islc.net