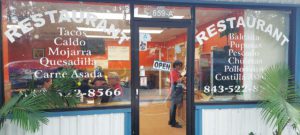 As you know by now, the folks at Seldon Ink HQ take their food pretty seriously. And, yes, we realize that there are only two of us at our Beaufort headquarters. But we like to think globally. So, this month, we got out of our box and headed to Mexico, Honduras, and El Salvador for lunch. OK…. not literally (we wish!). But we did head to Tienda Hispana Los Hermanos (known to loyal fans as just Los Hermanos) for a delicious trip to Latin America. And we even brought home some souvenirs from their attached tienda (store) next door.
Now full disclosure. This is not your typical fine dining or classic Lowcountry Dish. But if you have an adventurous appetite and live for your next delicious meal (as we do), then you absolutely need to check out Los Hermanos. Located off Robert Smalls Parkway and Castle Rock Road across from the entrance to Shadow Moss and near the Walmart, Los Hermanos is a hidden gem that is serving some of the most legit Latin food we've had in the area and beyond.
When you first approach the building, don't plan to be overwhelmed with traditional Latin American
architecture or décor. It's a bare bones metal-siding building that looks pretty much like a convenience store. But, depending on when you come, the parking lot will be overflowing with cars and construction and landscaping trucks. This is always a good sign for a restaurant, in our opinion. It seems that Los Hermanos has been discovered by the Latin community, many of whom spend their days as construction workers, painters, landscapers, and other laborers that help to keep Beaufort running smoothly and looking good. And, for that, we are thankful and grateful.
The first time we went, the modest and unadorned dining area was full of mostly male workers who were devouring hot and fresh Latin American specialties before getting back to work. We felt slightly conspicuous as the only gringos in the place while we waited for our friends, Rob and Jim—who were the ones to turn us on to the amazing tacos, tortas, sopes, burritos, pupusas, and more. However, we quickly got over it when we reviewed the great menu and started salivating. Truly, the extensive menu belies the space, so be prepared for tough ordering decisions. Or just return often, like we do now.
Once the dining area had cleared a bit (we recommend going on the later side in order to snag a table—though they also do a large take-away business), we were seated at a four-top and started negotiating the menu. Thankfully, it was in Spanish, but with English translation.
Not surprisingly, tacos rule. However, they feature two very different styles: Tacos Hondureños, which are four rolled and crispy-fried tacos (similar to Mexican taquitos and super messy, but oh-so-delicious), served with a heaping mound of a cabbage, red onion, tomato, queso fresco, and Honduran crema salad and Tacos Mexicanos, which are more of what we think of for traditional tacos, topped with cilantro and onions. Both are served on corn tortillas (we're betting they don't even carry the Americanized flour versions), with the Honduran version stuffed with chicken and the Mexican version featuring a choice of meats, typically including marinated pork (pastor), beef (asada), beef tongue (lengua), Mexican sausage (chorizo), beef tripe (tripa), and chicken (pollo). Both types were the orders of the day for part of our party, with raves all around about both styles, including the house made salsa verde and authentic hot sauce.
Los Hermanos also serves quesadillas and burritos containing many of the same meat choices, with the burritos being served with beans and rice. They also have an impressive torta menu, which is basically a sandwich, but served on a huge portion of bread that looks more like a cake. It's generally available with the same meats, along with addition of ham or breaded beef or chicken, and served with papas fritas (french fries).
Unique to Los Hermanos is the Pupusa Mixta, which is an El Salvadoran griddle cake or flatbread made with cornmeal or rice flour—similar to arepas from Colombia or Venezuela—and stuffed with cheese and chicharrón (fried pork belly, bless their hearts) and served with a side salad of cabbage, carrots and jalapeños with a tangy vinegar-based dressing.
The sopa del dia (soup of the day) was too enticing to ignore on our first visit. Called Caldo de Res, this traditional Mexican beef soup was made with beef bones, potatoes, chayote, and corn and was the perfect dish for a cold, rainy day. The broth was insanely flavorful, the vegetables were perfectly cooked and the beef—although a bit challenging to eat—was delicious. It was served with rice, lime wedges, cilantro, and plenty of warm corn tortillas.
Other items on the menu that will have us going back for more include: enchiladas Hondureños; fajitas; baleada, which is a Honduran specialty composed of a flour tortilla filled with a smear of mashed refried beans, crema and crumbled queso duro; and platters like beef or chicken Milanesa (breaded and fried), mojarra frita (fried tilapia), carne asada (grilled and sliced beef) and daily specials like beef or chicken guisado (a slow-cooked and stew-y one-pot dish), all served with traditional accompaniments like rice, beans and salad.
As with most Latin American restaurants, beverages are a thing. From traditional aguas frescas in rotating flavors, like Horchata, Jamaica (hibiscus) and Maracuya (passion fruit) to bottled Jarritos® flavored sodas including tamarind, lime, mango, and strawberry, Michelada (a Mexican drink made with beer, lime juice, assorted chili-based sauces, and spices), and an impressive Latin American beer selection, you won't go thirsty at Los Hermanos.
Once your belly is full and you've paid your surprisingly modest bill (they take cash and credit), head to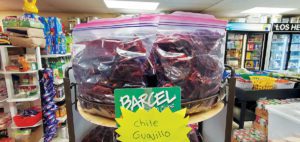 the tienda next door. Coming in at about six times the size of the restaurant, the market is filled to the gills with all kinds of Latin American products, along with many traditional supermarket grabs, including: lots of masa; hominy; tamale skins; varied Latin sauces, salsas, and hot sauces; Latin American cookies, crackers and confections; fruit juices, bottled Jarritos® flavored sodas, and Mexican beers; and produce, including hard-to-find tomatillos, chayote, hot peppers, plantains and cassava.
And don't even get us started on the dried chile peppers. They have several varieties packaged in pristine one gallon Ziploc bags, with more chiles per bag than we could eat in a year. They also have an impressive spice wall, with seemingly every kind of American and Latin American spice known to man or woman.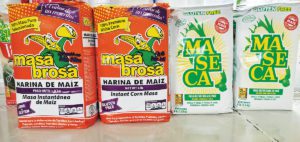 The cheese selection is vast, with queso frescos and cremas from Honduras, Mexico, and El Salvador. And the meat counter is loaded with unusual cuts of meat and sausages. Sadly, they were not labeled, and we haven't been confident enough in our limited Spanish to pull the trigger quite yet.
On our first visit, as we headed to the register with our arms full of Latin American specialties, we noticed an entire wall of Takis® chips, which are a Mexican brand of rolled corn tortilla chip snack. Fashioned after the taquito, they come in a wide variety of flavors (think Doritos), including Fuego, Crunchy Fajita, Blue Heat, and Nitro (which appears to be a continuum of heat, from hot to hotter to are-you-kidding-me hottest, with a cooling Guacamole option for us wussy gringos).
So, the next time you are craving something a bit out of this world—or at least a bit out of Beaufort, look no further than Los Hermanos. Muy delicioso!
Tienda Hispana Los Hermanos
659 Robert Smalls Parkway
Beaufort, SC 29906
(843) 524-7114
No website
Monday-Sunday 10am-9pm