Have you ever sat around with friends enjoying a glass of wine (or three) and come up with a wacky idea that, although it didn't make any sense at the time, became a bee in your bonnet that you just couldn't get out of your head? Well, that's the origin of Corks on the Vine, a gourmet wine and cheese shop, and Bistro Ten, the bustling bistro next door, both in Habersham Marketplace. And owners, Liz Gindraux, Melanie McCaffree and Velma Lautzenheiser are so glad they didn't swat that bee.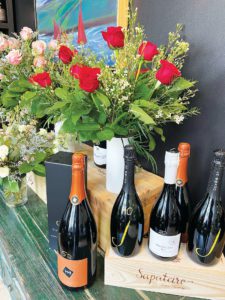 When Liz moved to Habersham in 2019, the very first friends she and her husband, Olivier, made were Melanie and her husband, Brian, who live on a horse farm nearby. And, according to Liz, "We drank a little too much around Christmas and came up with the idea to open a wine and cheese shop in the Marketplace." Despite the fact that none of them had retail or restaurant experience to speak of, they weren't deterred. Melanie had another friend that she thought might be interested in their crazy idea. So, she brought Velma into the conversation and within a few short months, the three women opened Corks on the Vine in May 2020.
Out of the gate, and despite the pandemic, wine was a real winner. Perhaps because there was no place to buy wine in Habersham. But the three put their heads together and decided to sell what they liked—wine, cheese and other things that go with both. Obviously, their passion and good taste paid off. Today, Corks on the Vine is more than a wine and cheese shop. It's a gourmet wonderland, with dozens of white, rosé, sparkling and red wines, unique and tasty cheeses sold by the pound, like Fromager d'Affinois (French double crème), Prairie Breeze (domestic cheddar) and Humboldt Fog (domestic goat cheese), lots of gourmet packaged goods, including pasta, sauces, dips, oils and olives, plus plenty of charming and unique hostess gift items.
But what really sets Corks on the Vine apart are ready-made takeaway sandwiches and charcuterie boards. Featuring a sandwich of the day, like The St. Phillips, with turkey brie, apples, greens and fruit spread, The James Habersham, with roast beef, Swiss, greens and Russian dressing, or even Saturday's "Wild Card," where they surprise you with their offering, the sandwiches are loaded with ingredients and come on fresh baguettes. Each comes with a bag of chips and, for $10, makes a great lunch on the go or picnic item.
Even more unique are their charcuterie boards. Coming in small (choice of one
selection from their cheese case), medium (two selections) and large (three selections), each board comes with Italian and French salamis, prosciutto, the chosen cheeses or pates, varied accoutrements like Marcona almonds, Castelvetrano olives and fresh and dried fruits, as well as baguette slices and a selection of honeys, mustards and jams. They even offer some upgraded cheeses, like maple bourbon, fig and honey goat cheese or Meredith Dairy marinated sheep and goat cheese, for an additional fee. You can also customize your own board upon request. Either way, paired with a bottle of their wine, they make a creative and tasty evening meal at home or for a picnic.
Within a year, Corks on the Vine was thriving. But the restaurant located next door wasn't, and it closed. The ladies had always coveted that space and figured that it was a sign that they should expand. And what do three friends who have no restaurant experience do with a piece of real estate that was previously a restaurant? Well, open a restaurant, of course! With a love of good food and spending time with friends over a great meal, Liz, Melanie and Velma took another leap of faith with the opening of Bistro Ten in June 2021.
An intimate space that seats six or so at high tops along the perimeter and another
dozen at the stunning bar that fills up much of the narrow space, Bistro Ten feels like an inviting European bistro (complete with their miniscule open kitchen at the rear). Add in the tables along the sidewalk and a wonderful open-air courtyard complete with larger tables, sail shades overhead and twinkling lights, and you feel like you have been transported to a charming side street in Provence or Tuscany.
Once seated, the servers carry on that ambiance as they present each table with a serving of warm baguette slices and a dish of olive oil-marinated butter beans (I'm not sure whether we liked the bread dipped in the oil or the oil-soaked beans better), along with the menu.
First things first (and when in Rome), we perused the wine list. Filled with a thoughtfully curated list of wines from simple "porch pounders" (to quote the owners) to complex varietals like Verdejo, Albariño, Viognier, Chardonnay, Sauvignon Blanc, Tempranillo, Nebbiolo and Cabernet, the wine list is impressive, with most options being available by the glass or the bottle. It's obvious that the trio has impeccable taste, and, according to the menu, they focus on smaller brands with low production and high quality at good price points. We were smitten.
They also offer specialty drinks like Bellini, sangria, sake and, of course, bubbles, as well as Frizzante sparkling white wine and visiting breweries on tap (they were featuring Blackberry Farm Brewery the day we were there).
The menu is equally thought – and hunger – provoking, focusing on fresh and
seasonal ingredients and flavors, much of which comes from their nearby garden near the entrance to Habersham. With a "garden-to-plate" mantra, the menu is the collaborative creation amongst the partners and their chef Camille Baldwin. Found through mutual friends, Camille came to Bistro Ten with considerable catering chops, but no restaurant experience (are you seeing a trend here?). But, from the first bite, you would never know.
The menu changes weekly—based on what is available in their garden and the local farms from which they gather their vegetables—and is typically filled with garden fresh soup (the choices were gazpacho and a luscious, silky potato leek soup when we went), a couple of salads (our choices were a summer ribbon salad of spinach, green onions, varied veggie ribbons, crushed peanuts and miso dressing or a caprese salad), Shu Mai (Asian steamed dumplings that are typically filled with shrimp, pork and cabbage and are the most popular item on the menu), Mediterranean marinated grilled shrimp, and a couple of handhelds (we split the delicious pork loin sandwich
with goat cheese, sundried and garden-fresh
tomatoes and arugula but the flank steak tacos with red cabbage, red onion and a chipotle lime crema looked amazing). And, although we didn't have room for dessert, the options included mouth-watering locally baked cakes and freshly made sorbet and ice cream.
Corks on the Vine and Bistro Ten also host
tasty events throughout the year, including wine tastings, dinners in the garden, oyster roasts, raclette dinners and other various soirees. They are also starting a series of family-style Sunday Suppers featuring guest chefs, coming soon.
The restaurant is open for lunch Tuesday through Saturday, with evening grazing hours offered until 8pm Thursday through Saturday. But never fear, you can get a taste of Bistro Ten at Corks on the Vine seven days a week. With a penchant for opening successful venues filled with things that they enjoy (but, perhaps have little experience in) we can't wait to see what Liz, Melanie and Velma do next.
Corks on the Vine
10-A Market
Beaufort, SC 29906
(843) 846-0310
www.corksonthevinecom
Monday-Saturday 11:00a.m.-7:00p.m.
Sunday 12:00p.m.-5:00p.m.
Bistro Ten
10-B Market
Beaufort, SC 29906
(843) 466-3661
Tuesday-Wednesday 11:00a.m.-3:00p.m.
Thursday-Saturday 11:00a.m.-8:00p.m.