The big day is finally here! It's time to open gifts. It's time to celebrate with family and friends. It's also time to eat. Isn't it interesting how everyone is extra hungry on Christmas morning? These delicious recipes will feed your crowd while you enjoy the joy and merriment of the day. Kick off the festivities with bloody marys, mimosas and irish coffee. The addition of a fresh fruit salad is all you'll need to create the perfect Christmas Brunch. Merry Christmas and Happy New Year! (Photography by Susan DeLoach Photography)
Lowcountry Breakfast Casserole
I'd never eaten a breakfast casserole until I moved to Beaufort. Since then, I've made and served hundreds of them for corporate breakfasts, bridal brunches and Sunday morning after worship celebrations. Substitute ham, bacon or grilled veggies for the sausage to change it up a bit from time to time.
1 pound sausage
1 small bell pepper, diced
3 cups day old bread, cubed
1 (7-ounce) can mushroom stems and pieces, drained
Salt and pepper, to taste
1½ cups sharp shredded cheddar cheese
Chopped fresh tomatoes, to garnish
Chopped fresh Italian parsley, to garnish
Cook sausage in a skillet until browned, drain well on paper towels. Drain all but 1 tablespoon of grease from skillet. Add onion and bell pepper, cook over medium-high heat until tender. Spray a casserole dish with cooking spray. Spread bread evenly in dish. Top evenly with cooked sausage, onions, peppers and mushrooms. In a medium bowl, whisk eggs with milk and dry mustard. Season, to taste, with salt and pepper. Pour egg mixture over bread, sausage and vegetables. Top with cheese. Cover dish with aluminum foil and refrigerate for 8 hours or overnight. Bake, covered, in a preheated 350 degree oven for 60 to 75 minutes or until eggs are set in the center of the casserole. Garnish with chopped tomatoes and fresh parsley before serving. Serves 8 to 10.
Easy and fancy! Bacon skewers are also good reheated – assuming you actually have any left over.
1 pound bacon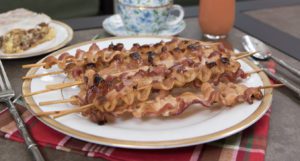 Fold bacon like a fan and skewer with long wooden skewers, two slices of bacon per skewer. Place skewers on a baking rack on a foil-lined baking sheet. Place baking sheet on the middle rack of a cold oven. Turn the oven on to 400 degrees. Bake for 20 minutes or until bacon is crispy. Brush hot bacon with maple syrup before serving. Makes 8.
If loving coconut is wrong, I don't want to be right. This is seriously the yummiest way to eat coconut. It will definitely show up on our breakfast table on Christmas morning.
Crusty rustic bread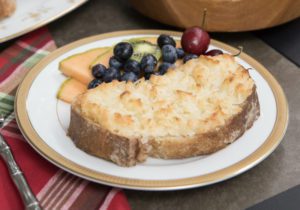 1 teaspoon vanilla extract
Preheat oven to 350 degrees. Cut bread into 1-inch thick slices. Mix melted butter with sugar, vanilla, coconut and egg. Spread bread with coconut mixture. Place on a baking sheet prepared with cooking spray and cook for 15 to 20 minutes or until coconut is lightly browned. Serves 6.
The writer owns Catering by Debbi Covington and is the author of three cookbooks, Celebrate Beaufort, Celebrate Everything! and Dining Under the Carolina Moon. For more great recipes and to view her cooking demonstrations, visit and subscribe to Debbi's YouTube channel. Debbi's website address is www.cateringbydebbicovington.com. She may be reached at 843-525-0350 or by email at dbc@cateringbydebbicovington.com.