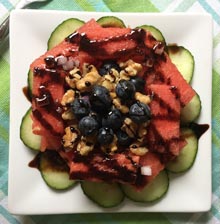 July is usually a slower month for Vince and me. Somehow, this year, it has turned out the be the total opposite. Vince is super busy with his work and I find that I'm still slap-in-the-middle of my wedding season. On top of everything, this morning no less, it suddenly occurred to me that I had a column due – and that I was two days past deadline. Yikes! I had no ideas and didn't want to go to the grocery store.
So, I checked our fridge and pantry to see what I could concoct. I'm very pleased with the results. And, best of all, I had a yummy lunch waiting for Vince when he got back from his morning appointments. Necessity certainly is the mother of invention!

Watermelon Salad (above)

For the balsamic reduction:
1 cup balsamic vinegar
For the salad:
English cucumber, thinly sliced
Watermelon
Blueberries
Diced red onion
Walnuts, chopped
Pour balsamic vinegar into a small saucepan and place over high heat. Bring to a boil. Reduce heat to low and simmer until the vinegar mixture has reduced to 1/3 cup, about 10 minutes. Set the balsamic reduction aside to cool. To plate salad: Place cucumber slices in a circle on a salad plate. Cut watermelon into long chunks and form a box on top of the cucumber. Fill watermelon box with fresh blueberries. Sprinkle with diced red onion and garnish with chopped walnuts. Drizzle with cooled balsamic before serving.

Ham and Cheese Puff Pastry Squares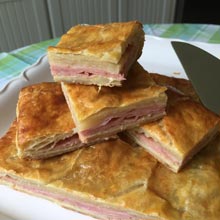 1 (17.3-ounce) package frozen puff pastry (2 sheets)
2 tablespoons Dijon mustard
½ pound deli ham, thinly sliced
1¼ cups (5 ounces) Swiss cheese, shredded
1 egg, beaten
Defrost puff pastry in the refrigerator overnight. Preheat oven to 425 degrees. Line a baking sheet with aluminum foil. Spray lightly with cooking spray. Lay one sheet of puff pastry on top of the foil. Spread the dough with Dijon mustard, leaving a 1-inch border around the edge. Staying within the border, add the sliced ham in overlapping layers. Top with shredded cheese. Brush the border with some of the beaten egg to create a seal. Place the second sheet of puff pastry on top of the filled pastry, lining up the edges. Press to seal with the tines of a fork. Using a sharp knife, trim the dough so that the edges line up and the square is even. Make sure to cut the dough in a swift downward motion, much like a paper cutter. If you drag your knife, the pastry will not rise properly.) Brush the top with the beaten egg. Cut a few slits in the top to allow steam to escape. Bake for 20 to 25 minutes, until puffed and brown. Allow to cool for 5 to 10 minutes before cutting into 16 squares. Serve warm. Serves 4 to 6.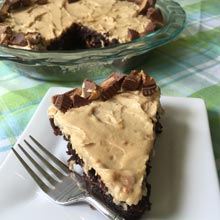 Peanut Butter Cup Brownie Pie
For the frosting:
3 tablespoons butter, softened
3 tablespoons peanut butter (creamy or crunchy)
½ cup confectioner's sugar
¼ teaspoon vanilla extract
1 teaspoon heavy cream
For the pie:
1 (18.4-ounce) Family Size Brownie Mix (13×9-inch)
2 (2.5-ounce) packages Reese's peanut butter cup minis
4 Reese's peanut butter cups, to garnish
Cream the butter and peanut butter in a small mixing bowl. Add sugar, vanilla extract and cream. Mix until whipped and smooth. Set aside. Preheat oven to 350 degrees. Spray a 9½-inch glass pie dish with cooking spray. Dust lightly with flour. Prepare brownie mix according to package directions. Stir in 2 packages of Reese's peanut butter cup minis. Spread evenly in prepared baking dish. Bake for 40 minutes. Remove from oven and cool on a baking rack for 60 to 90 minutes. Frost cooled pie with peanut butter frosting. Dice 4 peanut butter cups. Garnish around the edge of the pie. Serves 8 to 10.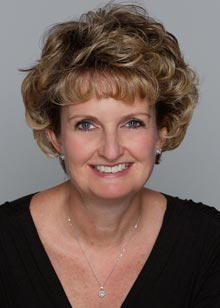 The writer owns Catering by Debbi Covington and is the author of two cookbooks, Gold Medal Winner of the Benjamin Franklin Award, Celebrate Everything! and Dining Under the Carolina Moon. Debbi's website address is www.cateringbydebbicovington.com. She may be reached at 525-0350 or by email at dbc@cateringbydebbicovington.com.