From Shellring Ale Work's Facebook page: Ancient shellrings date back to 2500BC along the SC coast. These rings are thought to be the communal gathering place of the Indigenous people. It's where they held ceremonies, and lived together. Shellring Ale Works is that place for Port Royal/Beaufort.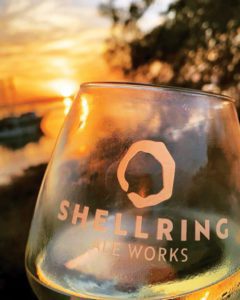 Since opening this past February, Shellring Ale Works already has a great reputation as a gathering place for the community – including us. Situated in Port Royal's former shrimp processing plant and featuring a welcoming vibe and hip interior, Shellring Aleworks was more than two years in the making for owner Nick Borreggine, and is most definitely a great addition to the Port Royal and Lowcountry food and beverage scenes.
Many may know Nick as the owner of Fat Patties on Parris Island Gateway (full disclosure: we're huge fans and we plan to feature them someday for sure). Nick also runs the Port Royal Community Beer Garden (yeap, we're fans) over by Sands Beach, and says, "The word 'community' is not there by accident. We see beer as a way to bring people together."
Nick's a serious beer lover and started homebrewing back in college at the former Virginia Beach Johnson & Wales location (think Culinary Institute of America chops). Of his long-time affair with beer, he says, "I enjoy all beer styles."
Of course, it starts with the beer – but read on to learn what else is on tap at Shellring…and beyond. But first, since he loves unique beers, here's a hearty "Cheers!" to Shellring's beer.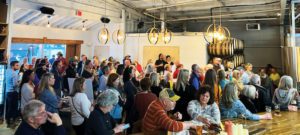 The beer list changes weekly (really) and they are brewing creative stuff all the time (some that Nick says takes more than two years). We have our faves (like the "Coco" Coconut Chocolate Porter with coconut and Hershey's chocolate), but will honestly try anything Brewer Matt Stone puts on the list (especially when you can order a five ounce taste). A recent visit revealed four IPAs in the "Hops" category (we love their wine-like descriptions of their beers), four beers in the "Malt" category (try the Shellinator…trust us), two "Sour" options (the Jelly Fruited Sour has 23 pounds of blackberries and raspberries per barrel, along with Madagascar vanilla), and two "Lite" pours (including Nautical Light 98, aka "Naughty Lite," which Matt reports is perfect for the Lowcountry lifestyle on the water).
Beers are generally available in five, ten, and 16 ounce pours and also in six packs or in a
growler (an option we love), as well as a "Flight of Four" five ounce pours (a bargain at 12 bucks). There's also typically a "Next Up" listing (psyched to try the Dawtaw, which is their first mixed culture sour) and unique seltzers as well.
Next, there's the wine, which Cele was very happy to see on the menu during the first of many Shellring visits. Nick says the wine was at his wife, Michele's, insistence. Nick and Michele actually moved to Beaufort from Philadelphia in 2000 to open still-popular Panini's, which they no longer own.
Anyway, thanks to Michele for the interesting wine list, which includes several unique wines by the glass and bottle, like a sauv blanc from Domaine du Roussely, a Fabre en Provence Rosé, and a Requiem cab from Washington State…all by the glass at reasonable prices. For bottles, the list when we were last there included celebratory French bubbles (the real stuff…Champagne), a Rombauer chard, a Sonoma pinot noir, and a Rombauer cab (that's Rombauer, as in Joy of Cooking). Again, thanks for insisting on good wines, Michele!
And, finally, there's the food, which we're both happy to report is a tasty part of any Shellring experience. Chef Todd Snyder cranks out what he calls "streetstyle bites" from Shellring's permanent food truck, RevolveR, and we'll pretty much eat anything he puts on the menu, which also changes weekly.
For example, the "Week Thirteen" menu included: RevolveR Charcuterie, which Snyder reports will always be on the weekly menu; Pub style fish and chips (which pairs well with certain beers, as the Brits know oh so well); a great Greek flatbread; Buffalo-style chicken wings (which we loved with their Mexican lager, Chela de Playa); a Cuban sandwich; a Thai chicken satay; and what Snyder calls "Seven Deadly Sins," a sampling of sweets, chocolates, nuts, and fruits (sort of like a dessert charcuterie board). Past menu items we hope to see again (or similar riffs) include Korean Fried Chicken, Reuben Spring Rolls, Japanese Pork Curry, Asian Chicken Wings, various po boys, and luscious Chocolate Board, to name a few. For those 12 and under (please), think grilled cheese or a hot dog with fries (hold the beer!).
     Hostess with the mostest Katarina (aka Kat) Turner is Shellring's general manager (aka "Taproom Ringleader"), enhancing the convivial feel. Be sure to ask her about the big beam above the bar, which was part of the former shrimp factory's walk-in refrigerator, as well as the recycled railroad tracks they use for beer taps.
And, if you spot Nick at Shellring (which is quite likely), be sure to ask him about his new waterfront restaurant concept, which will be attached to Shellring and promises to be something special, like Shellring Ale Works. You heard it hear first. We'd love to tell you more about what it will look like (think coastal chic) and the exciting style of cooking they plan to use, but we'll save that for a future Dish. For now, we're raising a glass to Shellring Aleworks, Nick, and his great staff!
Shellring Ale Works
1111 11th St.
Port Royal, SC 29935
(843) 379-2070
www.shellringaleworks.com
4-8pm Monday and Tuesday, 3-10pm Wednesday to Friday, noon to 10pm Saturday, and noon to 8pm Sunday.