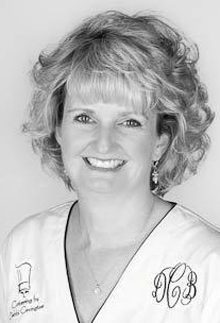 Believe it or not, when Vince and I have a rare weekend off we almost always invite friends to our house for dinner or hors d'oeuvres. Even though in most cases, our unsuspecting pals are guinea pigs for tasting my new recipes, it's always a lot of fun!
My favorite way to entertain is simple and stress-free. The hosts get to have as much fun as (if not more than) the guests. As your guests arrive, serve them a beverage such as wine or champagne. Don't wait until everyone arrives. Serve each person as soon as they walk in the door and have an appetizer on your bar or counter for everyone to snack on. After a short cocktail time, move to the dining area where the table is already set. All you'll need to do is fill the water glasses and light the candles. An easy dinner party menu consists of a salad, bread, entree and dessert. The salad can be made in advance and tossed with the dressing just before serving, bread can be made earlier in the day and placed in a bread bowl covered with saran wrap until ready to serve, the entree can be cooking during the cocktail hour,  dessert can be baking and coffee can be brewing during dinner. Easy and fun! Of course, if you prefer not to cook, you can always call me. I'll be happy to cater your next dinner party!
Swiss Ryes
8 slices bacon, fried and crumbled
4 ounces shredded Swiss cheese
1 (4.5-ounce) can chopped black olives
½ cup chopped green onion
1 teaspoon Worcestershire sauce
¼ cup mayonnaise
Party rye bread
Combine first 6 ingredients and mix well.  Spread on rye bread.  Bake in a preheated 375 degree oven for 10 to 12 minutes or until lightly brown and cheese is melted.  Serve warm. Serves 8.
Almond-Citrus Salad
2/3 cup orange juice
4 tablespoons white wine vinegar
4 tablespoons almond or vegetable oil
2 tablespoons honey
4 teaspoons grated fresh ginger
¼ teaspoon salt
¼ teaspoon red pepper flakes
1 (10-ounce) package fresh spinach, torn into bite sized pieces
1 small red onion, finely sliced
1 (14-ounce) can mandarin oranges, drained
Sliced almonds, toasted
Mix orange juice, vinegar, oil, honey, ginger, salt, and red pepper flakes in blender.  In a large salad bowl, toss the spinach, red onion, and mandarin oranges.  Add dressing and toss gently.  Garnish with toasted almonds; serve immediately.  Serves 6 to 8.
Sour Cream Muffins
1 cup self-rising flour
1 (4-ounce) container sour cream
½ cup butter, melted
Stir together all ingredients just until blended.  Spoon batter into a lightly greased miniature muffin pan, filling to the top.  Bake in a preheated 350 degree oven for 20 minutes or until lightly browned. Serves 8.
Presidential Shrimp and Mushrooms
1 stick butter
¾ cup all-purpose flour
1½ cups half-and-half
1 (10¾-ounce) can condensed cream of mushroom soup
1 (13¼ -ounce) can sliced mushrooms, drained
½ cup grated Parmesan cheese
2 pounds shrimp, cooked, peeled, and deveined
Garlic powder
Buttered bread crumbs for topping
Preheat oven to 350 degrees.  In saucepan over medium heat, melt butter and stir in flour, then slowly blend in half-and-half, stirring constantly.  Sauce will be thick.  Do not brown.  Add mushroom soup, sliced mushrooms, and Parmesan cheese.  Fold in shrimp.  Add garlic powder to taste.  Pour mixture into buttered casserole dish and top with buttered bread crumbs.  Bake, uncovered, for 25 to 30 minutes.  Serves 6 to 8.
Bread Pudding with Rum Sauce
3 cups French bread
2 eggs
2 egg yolks
¼ cup sugar
½ cup heavy cream
½ cup milk
1 teaspoon vanilla extract
Pinch salt
¼ teaspoon nutmeg
½ teaspoon cinnamon
¼ cup golden raisins
2 ounces rum
½ cup pecan pieces, toasted
4 tablespoons unsalted butter, divided
4 tablespoons light brown sugar
¼ cup rum
2 tablespoons cream
Cube bread and place in a large bowl.  (Day old, dry bread is best.)   Combine eggs, egg yolks, sugar, cream, milk, and vanilla.  Mix well.  Season with salt, nutmeg, and cinnamon.  Pour mixture over bread cubes and refrigerate for 8 hours or overnight.  Do not mix or crush bread.  Soak raisins in 2 ounces of rum for 8 hours or overnight.  Gently fold raisins and pecans into bread mixture. Do not over-mix. Grease a 2-quart baking dish and fill with the pudding mixture.  Cut 1 tablespoon of butter into tiny pieces.  Dot the surface of the pudding with butter pieces. Cover with aluminum foil.  Place baking dish into larger baking dish and fill with hot water up to half the height of the smaller baking dish.  Bake in a preheated 350 degrees oven for 45 minutes.  Remove foil. Continue to bake for 10 to 15 minutes or until top is golden brown and center of pudding is set.  Remove from water and cool slightly.  In a small saucepan, melt remaining 3 tablespoons butter.  Add brown sugar and rum.  Cook over low heat until smooth.  Add cream and warm through.  Serve with bread pudding. Serves 6.
Vanilla-Almond Coffee
1 cup whole Colombian coffee beans
9 cups water
1 teaspoon ground nutmeg
4 teaspoons vanilla
2 teaspoons almond extract
Cream
Sugar
Place whole coffee beans in a coffee grinder; process to a medium grind.  Place ground coffee beans in coffee filter or filter basket; sprinkle with nutmeg and flavorings.  Add water to coffee maker and brew.  Serve with cream and sugar to taste. Serves 8.
The writer owns Catering by Debbi Covington and is the author of the cookbook, Dining Under the Carolina Moon. Debbi's new cookbook, Celebrate Everything! will be released in May 2012. Debbi's website address is www.cateringbydebbicovington.com. She may be reached at 525-0350 or by email at dbc@cateringbydebbicovington.com.