Celebrating 25 Years of Catering by Debbi Covington
A quarter century of success in any business is a proud milestone. But to succeed and flourish
here in the highly competitive catering business on the level Debbi Covington's achieved is remarkable. You name it, she's catered it. From small intimate gatherings to high dollar, high profile weddings, and large events like the Beaufort International Film Festival, Debbi Baker Covington's fed them all with style and flair.
But I'll admit it right here: I'll never hire her to cater a party. Why? She's just too much fun at parties, and she's missed a lot of fun at parties over the last 25 years. In that time she's been showered with accolades, published three cookbooks, churned out a long running column for this publication and ventured into the world of YouTube celebrity. She's done it all with the support of her husband Vince, a team she considers family and a lot of hard work and attention to detail.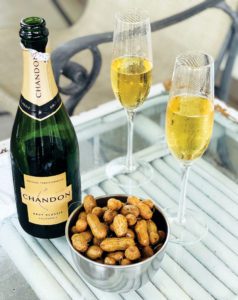 A day before the actual anniversary we get together for a little picnic on the Lowcountry Weekly porch overlooking Waterfront Park. This is hallowed ground. Between us we've got more than 30 years of memories made on this creaky veranda. A lot of them shared. Not all of them good. Most of them precious.
A soft spring rain begins to fall as Debbi breaks out a bottle of champagne and some Carolina caviar: boiled peanuts left over from a party she hosted last weekend. As it turns out we (her friends) were all guinea pigs and didn't know it. Debbi never wastes an opportunity and she never forgets. Not even her very first catering gig a quarter century ago.
Debbi Covington: Tomorrow will be Betty Waskiewicz's 95thbirthday. And the first thing I did was a party for her at church for her 70th. That's how I got started. I was a secretary at First Presbyterian. Betty also did a cookbook way before I started doing food stuff and she hooked me up with Wimmer Publishing to help me get my first cookbook published.
Mark Shaffer: You didn't plan to be a caterer.
DC: No. I'd just gotten married and moved from Raleigh to Beaufort. Sam's Point Road was still dirt, most of it. We lived on Lady's Island. Vince worked on Morgan/Monkey Island. I was trying to find a job and went to Budget Print to print my resume and ended up getting hired. I made copies for several months but I met the whole town. Back then nobody had their own copiers or printers. The place was slammed. Eventually a position opened up at the church and I got it.
MS: And then there was Betty's birthday.
DC: My pastor gave me a very small budget and people from the congregation started hiring me immediately.
MS: Where did the food knowledge come from?
DC: I've always liked to cook, but I love to entertain. My mother was a home economics teacher and ultimately I ended up doing what she wanted to do. She had children and ended up at home but she always wanted to cater and cook.
MS: What was your biggest challenge in the beginning?
DC: Learning how to make things. For instance we were all going over to [a friend's house] and he called and asked if I could bring over a "to-mah-toe pie." I said, "Like a quiche?" "No. A to-mah-toe pie." I ended up bringing stuffed mushrooms. I'd never had "to-mah-toe" pie. I didn't like boiled peanuts. I couldn't peel shrimp. I'd never cooked a beef tenderloin. I finally learned the trick, but it took a bunch of 90-year-old women to teach me how to do it over the years. I had to learn a lot.
MS: Let's talk about your involvement with the film festival.
DC: You helped pull me into that.
MS: Before the 2009 event it was kind of a mission to get us involved in BIFF, and I think we've all done a pretty good job over the years.
DC: Yes! BIFF's the best.
MS: What's it meant for your brand?
DC: I'm not sure. I think I was billed as "Caterer to the Stars" at some point and that was
kind of nice. I think film festival is how I really got to know Pat Conroy and he ended up being a big part of my life. I'm still doing stuff for the Conroy Center and I've met some real cool people through BIFF. We've done some fun stuff!
MS: We're not finished.
DC: I hope not. I'm planning to cater for at least 15 more years. I'm not doing a 50th. (Laughter).
MS: You're dealing with issues you've never dealt with before.
DC: Every single job I have to explain that something is going to cost way more than it should. Or I can't get it. Or I can get it, but you don't want to eat it. The scallops at the party were an experiment.
MS: Did they pass?
DC: Yes. I figured that if I didn't kill any of my friends, they won't kill any clients (laughing).
MS: (Laughing) Thank you!
DC:. I'm kidding, of course. They were fine, but it was a test and they were delicious.
MS: Apart from the usual, you're cooking up something with Jonathan Haupt at the Pat Conroy Literary Center.
DC: We're doing a class at USCB on Hilton Head. I catered Pat's funeral and Jonathan came up with the course title based on a chapter from Pat's cookbook, "Why Dying in the South is More Fun."
MS: That's great.
DC: I'm going to do funeral food and Jonathan's going to discuss the deaths of different characters in Pat's books (laughing). When I was helping out with funerals at First Presbyerian, I often served  meatballs, and I first met Pat through my meatballs because he was always speaking at these funerals. Food is love. I'm not very good at giving gifts, but I've got the food part down.
The spring shower's turned into a storm blowing hard across the river. We retreat to the inner sanctum of the office to find Jeff and continue the conversation. The rain beats against the windows while we talk, sip champagne and peel peanuts. Perfect.
Check out "Debbi Covington: My Fabulous Cooking Show" on YouTube