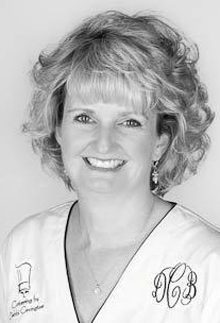 Cooking takes on special joy during the Christmas season! Cocktail parties, Intimate dinners, casual gatherings and cookie exchanges all call for the finest holiday foods.  Christmas is also a time for remembering special neighbors, co-workers and friends with tasty homemade treats from your kitchen.  This week's recipes all make great gifts! Make this holiday cooking season enjoyable and rewarding with these festive and delicious recipes. Merry Christmas!
Coffee Liqueur
Why not give something besides a bottle of wine to your hosts? To present as a gift, pour into a small crystal decanter and package with liqueur glasses.
2 cups water
3 cups sugar
½ cup instant coffee granules
3½ cups vodka
1 tablespoon vanilla extract    
Combine water and sugar in a one quart saucepan.  Bring to a boil.  Lower heat and simmer for 10 minutes.  Remove from heat and stir in instant coffee.  Cool.  Mix coffee syrup with vodka and vanilla.  Pour into a small bottle, cover and chill. Makes 2 pints.
Basil, Lemon, and Chive Vinegar
Flavored vinegars are easy to prepare and they make elegant gifts!  Present Basil, Lemon, and Chive Vinegar in a decorative jar or bottle.
3 large strips of lemon zest
4 leaves fresh basil
10 stalks fresh chives
1 cup white wine vinegar
Cut ingredients to a size that will be completely submerged in the vinegar.  Place lemon zest, basil leaves, and chives into a clean bottle and pour white wine vinegar to cover.  Cap the bottle and store in a cool, dark place for at least 3 weeks. Strain and discard ingredients from the vinegar.  Return the vinegar to a clean, decorative jar or bottle.  Before presentation, add new fresh lemon zest, basil, and chives to the vinegar. Makes 1 cup.
Bourbon-Infused Honey
An excellent hostess gift!  Delicious when used to sweeten iced tea or drizzled over ice cream.
1 cup honey
1 large bay leaf
¼ cup bourbon
In a small saucepan heat honey and bay leaf over medium heat just until mixture bubbles around the edges.  Reduce heat to low and cook for 5 minutes.  Remove from heat.  Stir in bourbon.  Set aside to cool, about 1 hour.  Remove bay leaf.  Transfer honey to jar and store overnight or up to 5 days in the refrigerator. Makes 1 cup.
Tarragon Mustard
Tuck a jar of this tasty spread into a basket along with crackers and a unique spreader.
¼ cup whole yellow mustard seeds, finely ground
¼ cup mustard powder
¼ cup champagne vinegar
½ cup water
1 tablespoon light brown sugar
1½ tablespoons dried tarragon
1 clove garlic, minced
1 teaspoon salt
Use a coffee grinder or mini food processor to grind mustard seeds.  In a medium bowl, combine the mustard seeds and next 3 ingredients.  Mix well.  Add the sugar and last 3 ingredients; mix well to form a smooth paste.  Transfer to a clean, dry jar, cover tightly, and refrigerate for 2 weeks before using. Makes 1 cup.
Mocha Mix
For a special friend, fill a box with Mocha mix, a package of gourmet cookies, and a paperback best-seller.  Be sure to enclose a card with instructions for preparation.
2 cups instant hot chocolate powder
2 cups powdered nondairy creamer
1 cup instant coffee granules
1 teaspoon cinnamon
½ teaspoon nutmeg
1¼ cups sugar
Combine all ingredients until well blended.  Store in a covered jar.  To serve: add 2 teaspoons of mix to a cup of boiling water. Makes  5¾ cups.
Cinnamon Sugar Pecans
Great for gifts!  Also great on salads!
1 pound pecan halves
1 egg white, beaten
¼ cup sugar
Cinnamon to taste
Mix sugar, cinnamon and egg white together.  Pour mixture over pecans.  Coat thoroughly.  Place individually on ungreased tin foil on a baking pan.  Bake in preheated 350* oven until crispy and dry.  Makes 1 pound.
The writer owns Catering by Debbi Covington and is the author of the cookbook, Dining Under the Carolina Moon. Debbi's website address is www.cateringbydebbicovington.com. She may be reached at 525-0350 or by email at debbic@cateringbydebbicovington.com.