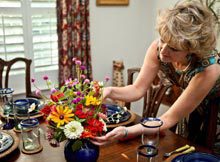 Earlier this month, a group of our friends came over to help Vince and me test some new recipes. Local photographer, John Wollwerth, joined us and took these great photos! Thank you to our models Mark and Audra Alexander, Mike and Kim Clark, Steve Danko and Vince Covington.  And, a special thank you to Sue Merrill for the beautiful flowers! I had so many recipes and photographs that I've had to share them in two parts. If you missed the last edition of Lowcountry Weekly you can read 'Mexican Fiesta – Part I' right here.
Cream of Cilantro Soup
Cilantro is a fresh herb with a lively, pungent flavor. It can be found year-round in most supermarkets and is generally sold in bunches. Cilantro may be stored for up to a week in a plastic bag in the refrigerator. Both the leaves and tender stems can be used in fresh or cooked dishes.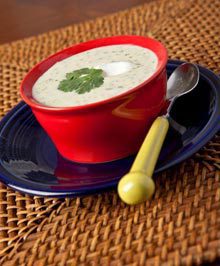 1 bunch fresh cilantro
4 cups chicken broth, divided
2 tablespoons butter
2 tablespoons all-purpose flour
1 (8-ounce) package cream cheese, softened
1 cup container sour cream
1 garlic clove, minced
¼ teaspoon salt
¼ teaspoon ground red pepper
¼ teaspoon ground cumin
Fresh cilantro sprigs, to garnish
Sour cream, to garnish
Remove the long stems from cilantro and coarsely chop leaves. Process cilantro and 1 cup chicken broth in a food processor until blended, stopping to scrape down sides. Melt butter in a Dutch oven over medium heat; whisk in flour. Gradually add remaining 3 cups broth, whisking constantly until mixture is smooth. Increase heat and boil 1 minute. Stir in cilantro mixture, cream cheese, sour cream, garlic, salt, ground red pepper and cumin; simmer soup for 10 minutes. Garnish with fresh cilantro and sour cream.  Serves 4 to 6.
Beef and Bean Tortilla Stacks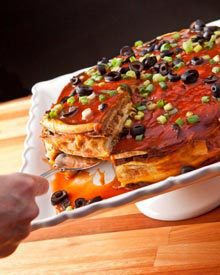 Flour tortillas are layered with with salsa-seasoned ground beef, cottage cheese and refried beans, then topped with enchilada sauce. This simple Mexican-style recipe will turn an ordinary meal into a fiesta!
2 pounds ground round
2 (1.25-ounce) packages taco seasoning
1½ cups fresh salsa
2 cups cottage cheese
1 egg, lightly beaten
6 (10-inch) burrito-style flour tortillas
1 (16-ounce) can refried beans, divided
2 cups shredded cheddar cheese, divided
1 (10-ounce) can enchilada sauce
½ cup chopped green onion
Sliced black olives
Brown ground round in a large non-stick skillet over medium-high heat. Remove from skillet; drain well. Place cooked beef in a large bowl. Add taco seasoning and fresh salsa; stir to combine. In a small mixing bowl, mix cottage cheese with beaten egg. Spray a 10-inch springform pan with cooking spray; place on a baking sheet. Place 1 flour tortilla in bottom on pan. Spread half of refried beans evenly over the tortilla; top with a second tortilla. Spoon half of beef mixture evenly over tortilla; sprinkle with 1 cup cheese. Place a third tortilla on top; spread evenly with cottage cheese-egg mixture. Top with fourth tortilla; spread evenly with remaining beef mixture and sprinkle with 1 cup cheese. Top with fifth tortilla; spread evenly with remaining refried beans. Place remaining tortilla on top. Pour enchilada sauce evenly over the top. Bake, uncovered,  in a preheated 350 degree oven for 75-85 minutes or until cooked through.  Remove from oven; let stand for 10 minutes. Remove ring from pan. Garnish with green onion and black olives. Serves 8.
Pico de Gallo
Literally meaning "rooster's beak," this is a spicy raw salsa that's usually served as a condiment. It's also really good served atop a bunch of mixed salad greens.
6 plum tomatoes, chopped
½ cup finely chopped sweet onion
¼ cup chopped fresh cilantro
2 tablespoons fresh lime
1 jalapeno pepper, seeded and minced
1 garlic clove, minced
Stir together all ingredients.  Cover and chill until ready to serve.  Makes 3 cups.
Pineapple Salsa
Pineapple Salsa is a salsa cruda  which means "uncooked sauce." The combination of pineapple, jalapeno and cilantro is a delightful treat! Serve it on the side with Jalapeno-Lime Chicken or as an appetizer with tortilla chips.
1 fresh pineapple, cored and diced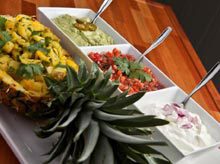 3 green onions, chopped
1 jalapeno pepper, seeded and diced
2 tablespoons chopped fresh cilantro
2 tablespoons fresh lime juice
½ teaspoon salt
½ teaspoon ground cumin
Combine all ingredients in a bowl. Cover and chill. Serves 6.
Tres Leches Cake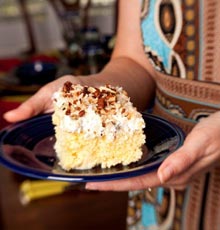 Leche (pronounced LAY-chay) is Spanish for "milk." Tres Leches Cake soaked in three milks and rum and garnished with toasted coconut reminds me of my mother's Sour Cream Coconut Cake. Delicious!
1 (18.25-ounce) package yellow cake mix
1 cup water
1/3 cup vegetable oil
3 eggs
2 cups heavy whipping cream, divided
1 cup whole milk
1 (14-ounce) can sweetened condensed milk
1/3 cup rum
2 tablespoons rum
½ teaspoon vanilla
1 cup flaked coconut, toasted
½ cup chopped pecans, toasted
Preheat oven to 350 degrees. Grease 9×13-inch baking dish. In a large bowl, beat cake mix, water, oil and eggs with electric mixer.  Pour into pan.  Bake for 35 to 40 minutes or until toothpick inserted in center comes out clean. Let stand 5 minutes. In a large bowl, mix 1 cup whipping cream, whole milk, sweetened condensed milk and 1/3 cup rum. Pierce top of hot cake every ½ inch with long-tined fork, wiping fork occasionally to reduce sticking.  Carefully pour milk mixture evenly over top of cake. Cover and refrigerate about 3 hours or until chilled and most of the milk mixture has been absorbed into the cake.  In a large chilled bowl, beat remaining 1 cup heavy whipping cream, 2 tablespoons rum and the vanilla on high speed until soft peaks form. Frost cake with whipped cream mixture. Sprinkle with toasted coconut and pecans. Store covered in refrigerator.  Serves 12 to 15.
Mexican Hot Chocolate Fudge
True Mexican chocolate is flavored with cinnamon, almond and vanilla. This easy recipe mimics Mexican chocolate with an additional burst of heat – thanks to the spicy cayenne pepper.
3 cups semi-sweet chocolate chips

1 (14-ounce) can sweetened condensed milk
½ teaspoon sea salt
¾ teaspoon ground cinnamon
¼ teaspoon cayenne pepper
1 teaspoon almond extract
1 teaspoon vanilla extract
1 cup sliced almonds, lightly toasted
1 cup mini-marshmallows
Prepare an 8×8-inch pan by lining it with parchment or waxed paper; set aside.  Place chocolate chips, condensed milk and salt in a heavy saucepan. Cook over low heat, stirring, until melted and well combined. Remove from heat; stir in cinnamon, cayenne pepper, almond extract, vanilla extract and almonds. Let cool slightly, then stir in marshmallows. Pour mixture into prepared pan, being sure to ill the corners and spread evenly. Refrigerate until firm. When set, turn candy onto a cutting board, strip off paper and cut into small squares. Store, covered, at room temperature. Makes 20 to 25 pieces.
The writer owns Catering by Debbi Covington and is the author of the cookbook, Dining Under the Carolina Moon. Debbi's website address is www.cateringbydebbicovington.com. She may be reached at 525-0350 or by email at debbic@cateringbydebbicovington.com.