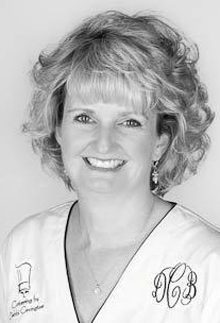 "Bless us O Lord and make us more true and thankful for these and all our many blessings. We ask these prayers in Christ's name. Amen." This is the prayer that my husband Vince has said over our evening meal for the past twenty-one years of our marriage. This Thanksgiving season, while we break bread with our family and friends, let's take the time to be truly thankful for all of our many blessings.
Throughout history, every society has celebrated the end of the harvest.  Many have set aside a day of thanks.  In 1941, Thanksgiving Day became a national holiday celebrated on the fourth Thursday in November.  It's the one day of the year that we Americans can consume an abundance of food without a second thought about calories!  The recipes this week are all Thanksgiving side dishes.  Team a couple (or all) of them with a roasted turkey for a modern twist on a traditional Thanksgiving menu.  All you'll need to add is a pumpkin pie topped with sweetened whipped cream for a grand finale.  Happy Thanksgiving!
Crunchy Fennel Salad with Grapes, Dates, Olives and Almonds
You may be reading this and thinking, "Do all of those things really go together?" The answer is yes, yes, yes! This salad is a celebration of vibrant flavors and textures, combining just the right amount of sweet and salty contrast and pulled together by a hint of lemon.
For the vinaigrette:
2 tablespoons lemon juice
1 teaspoon Dijon mustard
2 teaspoons sugar
½ teaspoon salt
Freshly ground black pepper
1/3 cup extra-virgin olive oil
For the salad:
3 medium fennel bulbs, thinly sliced
2 cups red seedless grapes, sliced in half
½ cup kalamata olives, pitted and quartered lengthwise
12 dates, sliced thinly lengthwise
½ cup sliced almonds, toasted
4 ounces Pecorino Romano cheese, shaved
Whisk lemon juice, mustard, sugar, salt and pepper together in a small bowl. Slowly whisk in olive oil to form an emulsion. Set aside. Combine the fennel, grapes, olives and dates in a medium-sized bowl. Drizzle with the vinaigrette. Toss to coat evenly. Just before serving, mix in the almonds and shaved cheese.  Serves 6.
Penne with Pumpkin Sauce
Pumpkin teamed with sage, Gorgonzola and walnuts is delicious!
2 tablespoons butter
1 medium onion, diced
1 medium red bell pepper, diced
2 cloves garlic, minced
1 (15-ounce) can pumpkin
2 cups vegetable or chicken broth
½ teaspoon ground sage
1/8 teaspoon ground nutmeg
¼ cup heavy whipping cream
1 (16-ounce) package penne rigate pasta
1 cup Gorgonzola cheese, crumbled
1/3 cup chopped walnuts, toasted
Melt butter in a large saucepan. Add onion, bell pepper and garlic; cook over moderate heat, stirring until the vegetables are softened. Stir in the pumpkin, vegetable broth, sage, nutmeg and cream; simmer, stirring occasionally, for 10 minutes. Meanwhile, cook pasta according to package directions. Drain pasta and place in a serving dish. Top with pumpkin sauce. Sprinkle with crumbled Gorgonzola cheese and chopped walnuts before serving. Serves 8.
Roasted Autumn Squash
Autumn squash, simply roasted with olive oil, is better than candy! Don't believe me? Try it for yourself!
3 pounds Delicata or Sweet Dumpling Squash
Extra-virgin olive oil
Sea salt
Freshly ground black pepper
Preheat oven to 400 degrees. Cut squash into 1/2-inch rounds; use a paring knife to remove the seeds. (Alternately, you could cut the squash lengthwise and use a sturdy spoon to scoop out the seeds; then make half-moon slices – it's easier!) Place squash on a rimmed baking sheet. Drizzle both sides of the squash with olive oil. Season liberally with sea salt and pepper. Roast squash until they are brown and caramelized, about 40 minutes, turning once after 20 minutes. Serve hot or at room temperature. Serves 6.
Collard Greens Dressing
Collard greens dressing also makes delicious muffins. Just mix 2 eggs with prepared recipe and bake for 15 to 20 minutes in a greased and floured muffin pan. Enjoy!
2 cups vegetable or chicken broth
1 tablespoon butter
1 (6-ounce) package herb-seasoned stuffing mix
½ cup chopped onion
1 (14.5-ounce) can seasoned collard greens
¾ teaspoon sage
In a medium saucepan, bring chicken broth and butter to a boil. Stir in stuffing mix, onion, collards and sage. Cover and remove from heat. Let sit for 5 minutes. Fluff with a fork before serving. Serves 6 to 8.
Minted Lima Beans
Mint and lemon juice add a bright flavor to one of my favorite vegetables!
2 cups vegetable or chicken broth
1 (16-ounce) package frozen lima beans
1 cup plain yogurt
1 tablespoon cornstarch
1 tablespoon fresh lemon juice
¼ teaspoon salt
¼ teaspoon pepper
¼ cup loosely packed fresh mint leaves
Bring broth to a boil in a saucepan; add lima beans and return to a boil. Cover; reduce heat; and simmer for 20 minutes or until tender. Drain beans, reserving broth in pan, and keep warm. Whisk together yogurt and cornstarch; whisk into broth. Bring to a boil over medium heat, stirring constantly. Boil, stirring constantly, 1 minute or until thickened. Stir in lima beans and lemon juice. Season to taste with salt and pepper. Stir in mint leaves and serve hot. Serves 6 to 8.
The writer owns Catering by Debbi Covington and is the author of two cookbooks, Celebrate Everything! and Dining Under the Carolina Moon.  Debbi's website address is www.cateringbydebbicovington.com. She may be reached at 525-0350 or by email at dbc@cateringbydebbicovington.com.