Basil (Ocimum basilicum): Called the "royal herb" by ancient Greeks, this annual is a member of the mint family. Fresh basil has a pungent flavor that some describe as a cross between licorice and cloves. It is a key herb in Mediterranean cooking, essential to Italian pesto and is becoming more and more popular in American cuisine. Choose evenly colored leaves with no sign of wilting. Refrigerate basil, wrapped in barely damp paper towels in a plastic bag for up to 4 days. Basil has traditional uses as a digestive aid and an herbal tonic as well as being used in aromatherapy. 
I adore fresh basil. Luckily for Vince and me, we have an abundance growing in our back yard.
Uncooked fresh basil adds a unique flavor to all kinds of salads, sandwiches and pastas. It's the perfect summertime herb. As long as you have access to a good sunny spot, growing basil is something that everyone can do. More importantly, I think that it's something everyone should do, especially if you enjoy cooking. Buying those small containers of herbs from the grocery store is far more expensive than growing your own. I've found that when I have basil, mint and chives right outside my back door, I toss them onto everything. Growing herbs has become my go-to strategy for making easy meals into elevated ones – a handful of fresh herbs can transform a simple supper into something bright, flavorful and delicious. If you're one of my loyal readers, you know that I load my LCW column with salad recipes in the summertime. Hot weather calls for cool and refreshing foods. Add a protein and some crusty bread to any of these basil-kissed salads and you'll have a complete meal. If salads aren't your thing, please stay tuned anyway. In just a few weeks we'll be talking about pumpkins and tailgating. Happy Summer!
Peach Caprese Salad with White Balsamic Vinaigrette
For the vinaigrette:
¼ cup extra-virgin olive oil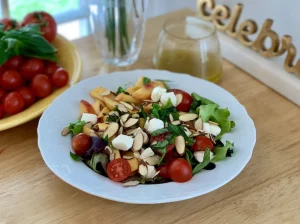 ¼ cup white balsamic vinegar
1 teaspoon Dijon mustard
1 tablespoon honey
Salt and pepper, to taste
Mix all ingredients in a small jar with a tight-fitting lid. Shake to combine. Refrigerate any leftovers.
For the salad:
4 cups spring mix
3 medium peaches, cut into slices
20 grape tomatoes, halved
8 ounces fresh mozzarella pearls
¼ cup fresh basil, julienned
¼ cup sliced almonds, toasted
Place salad greens in a large bowl. Add peaches, tomatoes, mozzarella pearls, fresh basil and toasted almonds. Drizzle with vinaigrette. Serves 4.
Grilled Corn, Blueberry and Feta Salad with Basil Vinaigrette
For the basil vinaigrette:
¼ cup basil-infused olive oil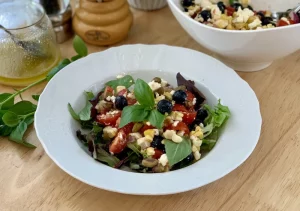 2 tablespoons white wine vinegar
1 teaspoon Dijon mustard
1 teaspoon honey, or to taste
Salt and pepper, to taste
Mix all ingredients in a small jar with a tight-fitting lid and shake to combine. Refrigerate any leftovers.
For the salad:
Mixed salad greens
Fresh basil leaves
3 ears grilled corn, removed from the cobs
1 cup fresh blueberries
1 cup grape tomatoes, quartered
½ cup crumbled feta cheese
2 tablespoons finely chopped red onion
4 tablespoons salted pistachios
Place salad greens and basil leaves in individual salad bowls. Drizzle each serving with a bit of the basil vinaigrette. In a medium bowl, toss corn with blueberries, tomatoes, feta cheese, red onion and vinaigrette. Divide corn mixture evenly over greens in each salad bowl. Toss with pistachios before serving. Serves 4.
Mixed Greens Salad with Grapes, Blueberries and Goat Cheese
For the vinaigrette:
2 tablespoons champagne vinegar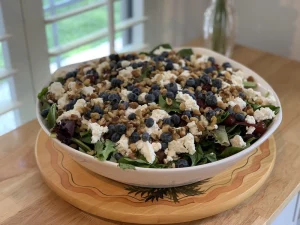 1½ teaspoons Dijon mustard
6 tablespoons vegetable oil
1/8 teaspoon salt
Freshly ground black pepper
Mix all ingredients in a small jar with a tight-fitting lid. Shake to combine. Refrigerate any leftovers.

For the salad:
6 cups mixed salad greens
½ cup fresh basil leaves
1 cup red seedless grapes, halved
1 cup fresh blueberries
1 (8-ounce) goat cheese, crumbled
1/3 cup roughly chopped walnuts, toasted
Place greens in a large salad bowl. Add basil leaves and toss to combine. Add grape halves, blueberries, goat cheese and walnuts. Drizzle with champagne vinaigrette. Serves 4 to 6.
The writer owns Catering by Debbi Covington and is the author of three cookbooks, Celebrate Beaufort, Celebrate Everything! and Dining Under the Carolina Moon. For more great recipes and to view her cooking demonstrations, visit and subscribe to Debbi's YouTube channel. Debbi's website address is www.cateringbydebbicovington.com. She may be reached at 843-525-0350 or by email at dbc@cateringbydebbicovington.com.