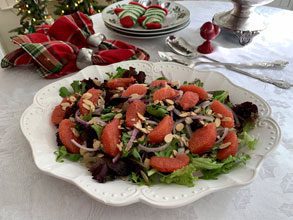 Clients and friends often ask why I take my vacation at Christmastime, especially when so many lucrative catering jobs are available. My stock answer is consistently the same.
When I worked for the Wilson Daily Times, I only had one day off for Christmas. News never stops and the newspaper had to be printed every day. When I worked at First Presbyterian Church, I had a couple of days off and then had to be back at church to pay the bills and prepare the bulletins for the next Sunday. The same goes for catering. There's always a reason for a celebration and celebrations require food and drink. I work almost every weekend year-round so I take time off during December to be with Vince (our cat Belle) and our friends. This year I don't want to miss one single thing. This year I'm going to decorate all five of our Christmas trees. I'm going to create an over-the-top garland for our fireplace mantle and I'm going to put ribbons and bows on everything in the house that can accommodate one. I'm going to pull out, and actually use, all three sets of our Christmas china. I plan to sleep late, shop often, attend lots of parties, invite friends over for supper, eat too much and watch all of the classic Christmas movies. And, I'm going to cook my favorite feel-good comfort foods, starting right this minute. The recipes this week are adapted from my very first cookbook, Dining Under the Carolina Moon. Our house is beginning to smell like Christmas. Are you looking for some delicious Christmas appetizers? Be sure to check out the LCW Holiday Guide in this issue for three more fabulous recipes. Merry Christmas!

Grapefruit Salad with Lime Vinaigrette
I used no-sugar added red grapefruit premiums that are sold in jars in the produce section of the grocery store.
¼ cup red wine vinegar
1 tablespoon Dijon mustard
1 tablespoon sugar
1/8 teaspoon salt
¼ teaspoon black pepper
1/3 cup extra-virgin olive oil
3 cups mixed salad greens
½ small red onion, thinly sliced
1 cup grapefruit sections
¼ cup sliced almonds, toasted
Combine the first 6 ingredients in a small jar with a tight-fitting lid. Shake well to mix. Set aside until ready to serve. Place salad greens on a serving platter. Top with red onion slices, grapefruit and toasted almonds. Drizzle with vinaigrette. Serves 4 to 6.

Barbecue Burger Casserole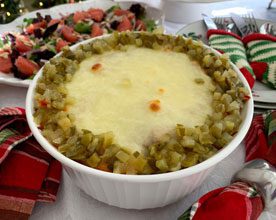 This is a great casserole for kids — actually, for the kid in all of us. A dill pickle garnish makes the dish! 
2 pounds ground sirloin
1 medium sweet onion, chopped
¾ cup barbecue sauce
¾ cup ketchup
1 tablespoon Dijon mustard                
½ teaspoon pepper
1 (8-ounce) package cream cheese, softened
1 (8-ounce) container sour cream
¾ cup chopped green onions
1 (8-ounce) package wide egg noodles, cooked and drained
2 cups shredded Mozzarella Cheese 
Chopped dill pickle
Cook ground sirloin and onion in a large skillet over medium heat, stirring until beef crumbles and is no longer pink. Drain and return to skillet.  Add barbecue sauce and next 4 ingredients to beef mixture.  Simmer until mixture is warmed through, stirring often.  Combine cream cheese and sour cream, stirring until smooth.  Stir in green onions and hot cooked noodles. Layer half of noodle mixture in a greased 2-quart baking dish.  Top with half of beef mixture.  Sprinkle with 1 cup cheese.  Top with remaining noodle mixture and remaining beef mixture.  (If desired, cover and chill overnight.  Let stand at room temperature 30 minutes before baking.) Cover and bake at 350 degrees for 30 minutes or until thoroughly heated. Uncover and sprinkle with remaining 1 cup cheese.  Bake 5 more minutes.  Garnish with chopped dill pickle. Serves 8.

Mocha Cake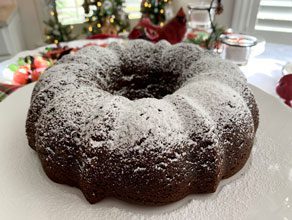 Rich chocolate and toffee  —-  a chocoholic's dream dessert! Serve this cake with fresh whipped cream or even better – peppermint ice cream.
2 cups sour cream
2 large eggs
1 (18.25-ounce) package chocolate cake mix
½ cup coffee liqueur
¼ cup vegetable oil
2cups semisweet chocolate morsels
½ cup toffee bits
Confectioner's sugar
Stir together first 5 ingredients in a large bowl; blend well. Stir in morsels and toffee bits. Pour batter into a greased and floured 10-inch Bundt pan.  Bake at 350degrees for 50 to 60 minutes or until a wooden pick inserted in the center comes out clean.  Cool in pan on a wire rack 10 to 15 minutes; remove from pan, and cool completely on wire rack.  Sprinkle with powdered sugar.  Serve with whipped cream or ice cream. Serves 12.
The writer owns Catering by Debbi Covington and is the author of three cookbooks, Celebrate Beaufort, Celebrate Everything! and Dining Under the Carolina Moon. Debbi's website address is www.cateringbydebbicovington.com. She may be reached at 525-0350 or by email at dbc@cateringbydebbicovington.com.