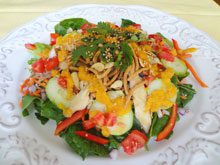 I'm on a quest. I've been on the same quest for years. I'm searching for the perfect ginger salad dressing. Every oriental restaurant has a different recipe for their ginger-style house dressing. Some are very orange, some are mayonnaise-looking, some contain shreds of freshly grated ginger. Some are good, some are okay, some are fabulous.
Over the decades, I've only found this one option that I've made over and over again. If you have a wonderful ginger salad dressing recipe that you'd be willing to share, please send it to me. You'll make a friend for life. The recipes this week all feature ginger. Even if I haven't found THE perfect salad dressing yet, I have found some pretty perfect soup and stir fry recipes. In the meantime, I'm still testing, tasting and questing. . .
Kanpai Ginger Salad Dressing
1/2 cup vegetable oil
1/4 cup soy sauce
1/3 cup diced onion
1/4 cup diced celery
3 tablespoons plus 1 teaspoon rice vinegar
2 tablespoons minced fresh ginger root
2 teaspoons sugar
1 teaspoon lemon zest
1 teaspoon ketchup
1/4 teaspoon black pepper
Place all ingredients in a blender and process until smooth. Store in the refrigerator until ready to use. Stir before serving. Best prepared a day before using. Serves 6 to 8.
Coconut Chicken Soup with Ginger
Subtle combinations of soothing coconut milk, piquant ginger root, tangy citrus, salty fish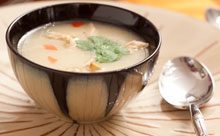 sauce and spicy peppers typify Thai cuisine. Kaffir lime leaves and Thai chiles are available at your local Asian market. If you can't find lime leaves, substitute the zest of one lime and add it just before serving. Substitute a diced jalapeno pepper if Thai chiles are not available.
1 pound boneless, skinless chicken breasts
4 cups chicken broth
2 teaspoons minced fresh ginger root
1/4 cups unsweetened coconut milk
3 tablespoons brown sugar
1 tablespoon fish sauce
1 or 2 kaffir lime leaves
Juice of 1 lime
1 very small Thai chili, seeded and minced
Fresh cilantro leaves, to garnish
Cook chicken breasts; shred and set aside. Combine chicken broth and ginger in a large stockpot; bring to a boil over medium-high heat. Add the coconut milk and return to a boil. Stir in brown sugar and fish sauce; bring back to a boil. Reduce heat; add lime leaves and chicken and simmer for 3 minutes or until chicken is warmed through. Stir in fresh lime juice and sliced chili. Remove lime leaves before serving. Garnish with fresh cilantro leaves. Serves 6 to 8. (Photo by Paul Nurnberg)
Oriental Beef and Broccoli
For the beef:
2 tablespoons soy sauce
1 tablespoon brown sugar
2 tablespoons dry sherry
2 pounds beef tenderloin, cut into 1-inch cubes
For the sauce:
6 tablespoons cornstarch
2/3 cup soy sauce
2/3 cup dry sherry
1/3 cup water
1 tablespoon sesame oil
5 tablespoons vegetable oil, divided
2 heaping tablespoons minced fresh ginger root
4 to 5 cloves garlic, minced
1/2 teaspoon dried hot pepper flakes
1 medium red bell pepper, cut into thin strips
1 medium sweet onion, roughly chopped
12-16 ounces fresh broccoli florets
1/2 cup water
Cooked rice or orzo pasta
Toasted sliced almonds, to garnish
In a small bowl, stir together the soy sauce, brown sugar and sherry. Place cubes of beef tenderloin in a large zip-top baggie. Pour marinade over the meat and let marinate for 30 to 40 minutes. In a bowl, dissolve the cornstarch in the soy sauce. Stir in the sherry, water and sesame oil. Heat a wok or large skillet over high heat. Add 2 tablespoons of the vegetable oil and heat it until it just begins to smoke. Stir fry half of the beef in the oil for 1 or 2 minutes, or until it is no longer pink, and transfer it with a slotted spoon to a plate. Repeat with the remaining half of the beef. Add the last tablespoon of vegetable oil to the wok, heat it until it is hot but not smoking. Stir fry the ginger root, garlic and red pepper flakes for 30 seconds or until the mixture is fragrant. Add the bell pepper and onion and stir fry for a couple of minutes until tender. Add the broccoli and 1/2 cup water. Cover the wok and steam the broccoli for 2 to 3 minutes, until crisp-tender. Stir the sauce, add it to the wok with the beef and any juices that have accumulated in the plate. Cook the mixture, stirring, for 3 minutes or until the sauce is thickened and beef is heated through. Serve with hot rice or pasta. Garnish with toasted sliced almonds. Serves 6.
The writer owns Catering by Debbi Covington and is the author of two cookbooks, Gold Medal Winner of the Benjamin Franklin Award, Celebrate Everything! and Dining Under the Carolina Moon. Debbi's website address is www.cateringbydebbicovington.com. She may be reached at 525-0350 or by email at dbc@cateringbydebbicovington.com.