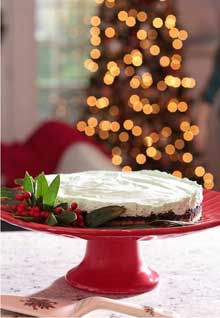 It's December 11th (the day before my 50th birthday, no less) and I just realized that I haven't written our Christmas cards yet. What happened to the summer? The past few months have been a whirlwind. I've been swamped with catering jobs, cookbook signings, deadlines and paperwork. I guess time flies when you're having fun! Our home is actually decorated and we've been doing a bit of holiday entertaining.
I can't help but think about the open house parties that Mama and Daddy used to throw when my brother and I were children. Mama would cook for days. Everything was made from scratch and cooked to perfection. Talk about a spread of fabulous food, Mama was the ultimate hostess! My recipes this week are from my days growing up in Wilson, North Carolina. The party mix recipe is Mama's – even though I changed the name for my cookbook, Celebrate Everything! Lemon juice is the secret ingredient and adds a bit of brightness to the treats. Mama used to make dozens of the hollyday pies for friends and neighbors at Christmastime. There was always a stain or two of green food coloring on the white kitchen counter that didn't completely go away until the spring. The yule log recipe is from my French class in high school. It started out as an extra-credit assignment and has turned into an annual tradition. I'm grateful to have such happy food memories from Christmases past. And, I'm happy to be able to share them with you. Merry Christmas, dear readers and fellow foodies! (Thank you, Paul Nurnberg, for the wonderful food photography!)
Covington Christmas Party Mix
The secret ingredient in my party mix is the lemon juice! Make your own version of party mix with these seasonings and use 12 cups of your favorite snack stuff!

1 stick butter, melted
3 tablespoons Worcestershire sauce
3 teaspoons seasoned salt
2 teaspoons garlic powder
1 teaspoon onion powder
2 tablespoons lemon juice
2 cups corn cereal
2 cups rice cereal
1 cup wheat cereal
2 cups pretzels
2 cups small bagel chips
1 cup cheese-flavored mini crackers
1 cup pecan halves
1 cup mixed nuts
Preheat oven to 250 degrees. In a small bowl, combine butter with seasonings and lemon juice. Place remaining ingredients in a large bowl. Pour butter mixture over snack mix, toss lightly to coat well. Spread party mix evenly on two baking sheets. Bake until ingredients are completely dry, stirring every 20 minutes. Serves 12 to 15.
Hollyday Mint Pie
A delightful Christmas dessert! I use Keebler Grasshopper Fudge Mint Cookies. Girl Scout Thin Mints would work great, too!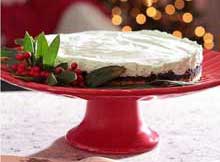 1 cup graham cracker crumbs
½ stick butter, melted
1/3 cup light brown sugar
1 (10-ounce) package chocolate-mint cookies
6 tablespoons hot water
1 (8-ounce) package cream cheese, softened
2/3 cup sugar
½ peppermint extract
7 drops green food coloring
1 (8-ounce) container frozen whipped topping, thawed
Preheat oven to 350 degrees. In a small bowl, mix graham cracker crumbs with melted butter and brown sugar. Press onto bottom and sides of a 9-inch springform pan. Bake in preheated oven for 8 minutes. Cool completely. Place cookies in the bowl of a food processor; process until cookies are fine crumbs. Mix crushed cookies with water and spread evenly over cooled crust. In a mixing bowl, beat cream cheese, sugar, peppermint extract and food coloring. Fold in whipped topping. Spread on crust. Smooth top. Chill 3 hours before serving. Run a knife around the edge of the pan before removing ring. Serves 6 to 8.
Bûche de Noël
Bûche de Noël, or Yule Log, is a chocolate roulade that is traditionally served at Christmastime. As the name indicates, the cake is prepared, presented and garnished so as to look like a log ready for the fire. The traditional bûche is made from a genoise or other sponge cake, baked in a Swiss roll pan, frosted, rolled to form a cylinder and then frosted again on the outside. This recipe is from my French III class from high school. It's a good one!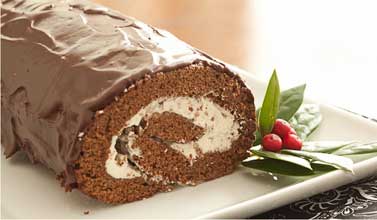 For the filling:
1 cup heavy whipping cream
¼ cup powdered sugar
1 teaspoon vanilla extract
¼ cup chopped pecans
For the cake:
1 cup all-purpose flour
1 teaspoon baking powder
¼ teaspoon salt
¼ cup cocoa
3 large eggs
1 cup sugar
1/3 cup water
1 teaspoon vanilla
Powdered sugar
For the thin chocolate icing:
1 (1-ounce) square unsweetened chocolate , roughly chopped
1 tablespoon butter
1 cup sifted powdered sugar
2 tablespoons boiling water
Chill a deep bowl. Place whipping cream, powdered sugar and vanilla in bowl and beat with an electric hand mixer until stiff. Fold in nuts. Store in refrigerator until ready to use. Heat oven to 375 degrees. Grease a jelly roll pan (15-1/2″ x 10-1/2″ x 1″) and line bottom with greased aluminum foil. Blend flour, baking powder, salt and cocoa, set aside. Beat eggs in small mixing bowl until very thick and lemon colored. Pour beaten eggs into large bowl. Gradually beat in sugar. Blend in water and vanilla on low speed. Slowly mix in dry ingredients just until batter is smooth. Pour into pan. Bake 12 to 15 minutes. Loosen edges and immediately turn upside down on a tea towel sprinkled with powdered sugar. Remove foil. While hot, roll cake and towel from narrow end. Cool on wire rack. Gently unroll cake and remove towel. Spread with whipped cream filling. Roll again and place on a serving platter, seam side down. Make icing by melting the chocolate and butter together over hot water in a double boiler. Remove from heat. Beat in sugar; beat until smooth. Frost cake with chocolate icing. Chill thoroughly before serving. Serves 8.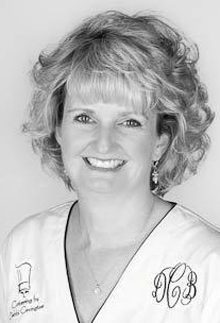 The writer owns Catering by Debbi Covington and is the author of two cookbooks, 2013 Gold Medal Winner of the Benjamin Franklin Award, Celebrate Everything! and Dining Under the Carolina Moon. Debbi's website address is www.cateringbydebbicovington.com. She may be reached at 525-0350 or by email at dbc@cateringbydebbicovington.com