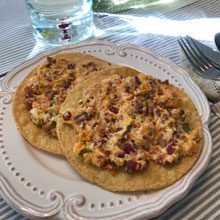 Okay, so this is an admitted rip off of Taco Tuesday. I see no reason why we shouldn't eat Mexican food twice in the same week. Tex-Mex spices like cumin and chili powder also offer a tummy-warming depth of flavor that's most appreciated on cold evenings. Winter weeknight suppers can be so repetitive and boring – at least they have been at our house. The lack of fresh veggies and herbs from the garden and no interest in standing outside in the cold over the grill doesn't help our dining dilemma either.
Doesn't Mexican-style comfort food sound enticing? This week's menu uses lots of canned and prepared foods from the grocery store shelves. I'm sharing four easy to prepare and even easier to eat Tex-Mex offerings. Every recipe can easily be made ahead and assembled just before cooking. Most of all, you're going to love the Praline Apple Cake! I promise.
Cheddar and Bacon Tostadas
1 (8-ounce) package cream cheese, softened
3/4 cup shredded sharp cheddar cheese
1/2 pound bacon, cooked and crumbled
1/4 cup chopped green onion
8 corn tostadas
Preheat oven to 350 degrees. Grease a baking sheet lightly with cooking spray. In a small bowl, mix cream cheese with cheddar cheese, crumbled bacon and green onions. Spread cheese mixture evenly on 8 tostadas and place on baking sheet. Bake for 12 to 15 minutes or until cheese is melted and tostadas are warm and crunchy. Serves 8.
Corn and Black Bean Salad
1 (15.25-ounce) can black beans, drained and rinsed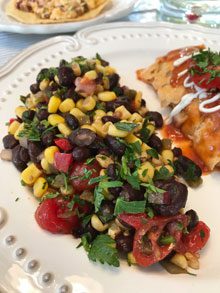 1 (15.25-ounce) can corn, drained
1/2 red bell pepper, diced
1/3 cup diced red onion
1/2 cup sliced grape tomatoes
1 heaping tablespoon diced pickled jalapenos
2 tablespoons chopped fresh cilantro
1 tablespoon lime juice
2 tablespoons extra-virgin olive oil
Salt and pepper, to taste
Place black beans, corn, bell pepper, red onion, grape tomatoes, jalapenos and cilantro in a salad bowl. Add lime juice and extra-virgin olive oil; toss well to combine. Season with salt and pepper, if desired. Cover and chill for 30 minutes before serving. Serves 6 to 8.
Spinach and Beef Enchiladas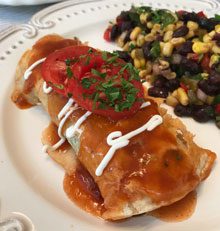 Substitute 2 cups of black beans or cooked rice for the ground beef to create a vegetarian entree.
2 (10-ounce) packages frozen chopped spinach, thawed
1 pound ground beef
1 (10.5-ounce) can cream of mushroom soup
1 cup ricotta cheese
2 cups shredded monterey-jack cheese
1/2 cup chopped red onion
1 (4-ounce) can mushrooms stems and pieces, drained
3/4 teaspoon garlic salt
1/4 teaspoon ground cumin
1/4 teaspoon chili powder
Corn tortillas (5-inch)
2 (10.5-ounce) cans enchilada sauce
Sour cream
Sliced green onions, to garnish
Squeeze all moisture from the spinach and place in a medium mixing bowl. Dry fry the ground beef in a skillet until cooked through. Remove from grease and drain on paper towels. Add cooked ground beef to the mixing bowl. Stir in soup, ricotta cheese, monterey-jack cheese, red onion, mushrooms and spices; mix well to combine. Preheat oven to 350 degrees. Spoon 1/2 cup of filling down center of each tortilla; roll up. Place, seam side down, in a greased glass baking dish. Pour enchilada sauce evenly over tortillas. Bake for 20 to 30 minutes or until bubbly and heated through. Garnish with sour cream and green onions. Makes 12 to 15.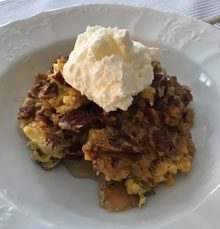 Praline Apple Cake
2 (21-ounce) cans apple pie filling
2 teaspoons ground cinnamon
1 (15.25-ounce) package yellow cake mix
11/2 cups chopped pecans
2 sticks butter, melted
Whipped cream, to serve
Preheat oven to 350 degrees. Pour apple pie filling into a lightly greased 9×13-inch baking dish. Sprinkle evenly with ground cinnamon. Crumble the dry cake mix over the apple mixture. Sprinkle chopped pecans over the cake mix. Pour melted butter evenly over the pecans. Bake in preheated oven for 50 to 60 minutes or until cake is golden brown. Serve warm with sweetened whipped cream. Serves 8 to 10.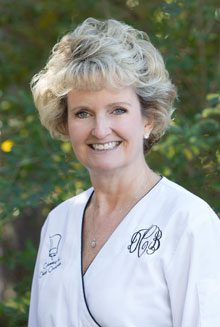 The writer owns Catering by Debbi Covington and is the author of two cookbooks, Gold Medal Winner of the Benjamin Franklin Award, Celebrate Everything! and Dining Under the Carolina Moon. Her NEW cookbook, Celebrate Beaufort will debut in April 2018. Debbi'€™s website address is www.cateringbydebbicovington.com. She may be reached at 525-0350 or by email at dbc@cateringbydebbicovington.com.