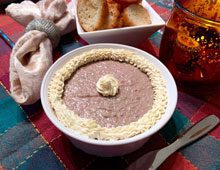 Who doesn't love a steak hot off the grill? It's a great go-to dinner party entree. Hmm, what else to serve? Choosing a baked potato or mashed potatoes can be kind of boring. And then there's the business of selecting a salad and dessert. Oh yeah, gotta come up with an appetizer, too.
It's starting to get complicated. This week, you're in luck! All of the recipes are new and different delicious offerings to serve with big, fat, juicy grilled ribeye steaks. Fire up the grill and invite some of your favorite people over for supper!

Liver Pate with Crostini
I used to be afraid to serve pate at our dinner parties. There's always THAT person who won't eat liver. Not anymore. Everyone scarfs this pate whenever it's on our menu.
½ pound bacon, cut into cubes
1 large sweet onion, chopped
1 clove garlic, minced
2 sticks butter
1½ pounds chicken livers
3 tablespoons red wine
1 teaspoon fresh thyme leaves
½ teaspoon salt
¼ teaspoon black pepper 
1 (8-ounce) package cream cheese, softened
2 tablespoons dijon mustard
In a large skillet, cook bacon for 3 minutes. Add onion, garlic and  butter; cook until onions are soft, 3 to 4 minutes. Add livers to mixture and cook until liver is only slightly pink. Remove from heat and add wine, thyme leaves, salt and pepper. Let cool slightly. Place mixture in a food processor and process until smooth. Pour liver mixture into a prepared mold or serving dish; refrigerate for 4 hours or until set. Mix cream cheese with dijon mustard; spoon into a piping bag fitted with a pastry tip. Decorate as desired. Serve with crusty bread. Serves 10.

Gourmet Chopped Salad
Chopped salads are easy and fun to make! Fresh salad materials are chopped into small pieces, so every bite has several ingredients. This chopped salad can be made up to 24 hours in advance. Toss with the vinaigrette just before serving.
For the vinaigrette:
2 tablespoons fresh lemon juice
1½ teaspoons sugar
1 small garlic clove, minced
1/2 teaspoon salt
1/4 teaspoon freshly ground black pepper
1/3 cup olive oil
For the salad:
4 cups chopped green leaf lettuce
1 English cucumber, diced
1 carrot, peeled and chopped
1 small red onion, finely chopped
15 grape tomatoes chopped
1/2 cup kalamata olives, pitted and quartered
Whisk together lemon juice, sugar, garlic, salt and pepper in a bowl.  Add the oil in a stream, whisking together until combined. Refrigerate until ready to use. Toss salad ingredients in a large bowl; dress with vinaigrette just before serving. Serves 6.
Oven-Roasted Vegetables with Anchovy Butter 
I love roasted radishes! You will, too. For uniform roasting, the potatoes and the radishes need to be close to the same size. Leave small radishes whole, cut large ones in half. 
For the anchovy butter:
3 cloves garlic, chopped
1 tablespoon anchovy paste
1 stick cold butter, cut into pieces, divided
½ cup dry white wine
1 tablespoon lemon juice
1 tablespoon cornstarch
1 tablespoon fresh chopped Italian parsley
Add garlic, anchovy paste and 1 tablespoon butter to a small saucepan and cook over medium heat until garlic is softened and fragrant. Add wine and continue to cook until mixture is reduce by half, about 2 minutes. In a small bowl, mix lemon juice with cornstarch. Add lemon juice and cornstarch to mixture, whisking constantly, until mixture begins to thicken. Remove from heat. Add remaining butter, once piece at a time, stirring after each addition to fully emulsify sauce. Stir in parsley. Pour over roasted vegetables before serving.
For the vegetables:
½ pound baby new potatoes, halved
¼ pound radishes, halved
½ pound asparagus, trimmed
1 zucchini, chopped into bite-sized pieces
1 squash, chopped into bite-sized pieces
1 tablespoon vegetable oil
½ teaspoon salt
¼ teaspoon black pepper 
Preheat oven to 425 degrees. Toss potatoes, radishes, asparagus, zucchini, squash, oil and salt and pepper together in a large bowl. Remove potatoes and radishes and place them on a large rimmed baking sheet. Roast for 20 minutes. Remove baking sheet and add asparagus, zucchini and squash. Continue to roast for 8 to 10 minutes or until asparagus is crisp-tender. Pour butter sauce over vegetables before serving. Serves 6 to 8.
Pecan Pie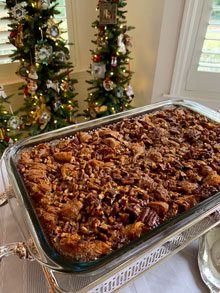 Use refrigerated pie crusts to make baby pecan pies. The recipe for the pie filling will make eight four-inch baby pies. Reduce cooking time to 20 minutes. 
1 (9-inch) deep dish pie crust
1 cup dark corn syrup
3 eggs
½ cup sugar
½ cup light brown sugar, packed
2 tablespoons butter, melted
1 teaspoon vanilla extract
1½ cups chopped pecans 
Preheat oven to 350 degrees. Mix corn syrup with eggs, sugars, butter and vanilla extract. Spread pecans in the bottom of the pie crust. Pour syrup mixture over pecans. Bake in center rack of preheated oven for 65 to 70 minutes. Cool for 3 hours on a baking rack. Store leftover pie in the refrigerator. Serves 6 to 8.

The writer owns Catering by Debbi Covington and is the author of three cookbooks, Celebrate Beaufort, Celebrate Everything! and Dining Under the Carolina Moon. Debbi's website address is www.cateringbydebbicovington.com. She may be reached at 525-0350 or by email at dbc@cateringbydebbicovington.com.