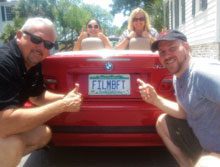 20 Year Movie Drought Ends With "Crimson Tide" 
By Mark Shaffer, Editor at Large
Welcome Back to Alabama
On November 9thsomething will happen in Beaufort that hasn't happened in 20 years. When Director VW Scheich calls, "Action!" it will mark the first time a feature film has rolled in Beaufort since William Freidkin shot the mega-budget war drama Rules of Engagement here in 1999. 
The movie business has changed a lot in those two decades, mostly without South Carolina's participation. Our impressive run of hosting big budget blockbusters like Forrest Gump and The Prince of Tides came to an abrupt end as politics gutted the state's production incentives and sent hundreds of millions of dollars in business elsewhere. Not to be outdone, a few years later North Carolina followed suit, in spite of huge protests across the state by thousands of film professionals. Cha ching, Georgia wins the Hollywood Lottery. And it was a hell of a payout. According to the MPAA's 2018 figures, the Georgia film and TV industry generated about 92,000 jobs, payed $4.6 billion in wages and produced an overall economic impact of $9.5 billion. That's about a third of SC's total budget for the coming year. So, yeah.
Meanwhile back in Big Chill Ville, Ron and Rebecca Tucker created the Beaufort Film Society and took control of the Beaufort International Film Festival as a means to bring the movies back. It's been a long, hard struggle, but as Ron says, "You've got to start somewhere and it might as well be Beaufort." The struggle will finally pay off to a degree this November when cameras roll on the low budget independent romantic comedy, Stars Fell on Alabama. Beaufort's doubled for 'Bama before as Forrest Gump's fictional home of Greenbow. The film comes to Beaufort via Los Angeles-based filmmakers, VW Scheich and Uyen Le. And just like in the movies, there's a
backstory.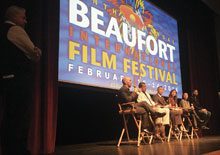 Flashback to February, 2012. I first met the couple at the film festival. They won best short that year and kept coming back and winning, eventually taking Audience Choice for their first feature, Interwoven. Connections were made and bonds were forged. And then they did something strange. They pulled up stakes in L.A. and spent the next two years living in Beaufort trying to raise the cash to make Basement Bob, a comedy written by BIFF regular Gary Weeks. 
"VW and I wanted nothing more than to film Basement Bob in Beaufort," says Uyen. "But try as we might, we couldn't quite make the financing piece fit.  It took moving back to L.A. to find the funds for an independent feature film."
Even so, because of the tight budget and lack of incentives, some of Stars Fellwill be shot in L.A. before decamping to Beaufort.  The project also brings back Interwoven Cinematographer Wey Wang.
"Apart from the lack of incentives," says Wang, "the real reason this movie's being made in Beaufort is because of the time Uyen and VW spent there. If they hadn't done that, they wouldn't have all these contacts. All the great things that the town is able to bring to this project also make it possible."
"The biggest concern with any production is time," says Uyen. "It's always easier to get things done when you're on the ground, which we can't be since the first week of shooting is happening in L.A. But we've assembled – like The Avengers – and have a group of wildly creative, talented, resourceful, and hard-working people to help in Beaufort while we're in L.A.  We're confident that we'll be in a good place once we arrive in Beaufort."
The Big Hiatus
The official synopsis for Stars Fell on Alabama is as follows:
Successful Hollywood agent Bryce Dixon is returning to Alabama for the first time in 15 years for his high school reunion. When he learns he's the only one of his friends who isn't married with children, he convinces his client, starlet Madison Belle, to pretend to be his girlfriend. But he soon learns that success has different meanings, and romance may be closer than he thinks.
My guess is he's already collecting 10 percent on said romance. But that's the appeal of the genre; the audience is in on it from the start. The characters take the long way around. The film features rising stars Ciara Hanna and James Maslow (more on them next time). VW describes the script by longtime friend and Alabama native, Robert Windom, as a passion project. 
VW Scheich: It's a love letter to the South he's wanted to make for 20 years and just recently found a way to do that. He had me scout Alabama. Wey and I did that, and then I thought, I know a small town that could be perfect for a movie. 
Uyen: The minute we secured the funds for Stars Fell on Alabama we knew that we wanted to shoot in Beaufort. We needed to shoot in Beaufort, out of gratitude to all the lovely people who worked tirelessly – especially Ron and Rebecca – to bring filmmaking back to Beaufort.  
Mark Shaffer: This is the Beaufort Film Society's mission.
Ron Tucker: Exactly. That's what I told VW when we worked out the deal for BFS to co-produce with [their] Rareform Pictures. The whole idea behind the film festival was to get filmmakers back to Beaufort, and one day one of them will look around where all these movies were made and say, "Okay, I'm going to shoot my next film here." We get people who say that every year. Then they start asking about incentives…
Mark: And then you crush their hopes and dreams…
Ron: (Laughs) It's more about getting below a certain figure and settling on a lower budget, then we'll see what sort of local incentives we can come up with. And that means getting the community to embrace the project. Businesses are donating where they can and even a big box like Lowe's has agreed to a filmmaker's discount.
VW: Honestly for independent filmmakers who don't live there, SC isn't really on the map at this point. Indie filmmakers go where there are crews who will work on their weekends off of those big Marvel shows. We're kind of doing the impossible. Wey and I do extreme pre-planning. We hire locals like David Anderson as Art Director. And the Tuckers pool all of their resources to make things happen. They're breaking their backs to help us make the impossible happen. 
Mark: This ends a 20 year drought.
Ron: I was on the [Rules of Engagement] set with [technical advisor/actor] Dale Dye taking extras through the jungle. That was the last movie shot here, March of '99 and Dale's been back as the first BIFF lifetime achievement honoree.  
Mark: That lengthy hiatus officially comes to a close on November 9thwhen shooting starts, but the circus really comes to town on the 12th for a day of shooting on Bay Street.
Rebecca: We focused a lot of our initial attention on that because we wanted everyone affected to feel good about it. We live here and we want everything done on a win-win basis. 
Mark: This is a big scene in the film. Some storefronts are going to be "dressed" in classic film themes, but it also means shutting the business end of Bay Street down intermittently for a whole day. 
Ron: We worked closely with the Downtown Merchants Association and the individual businesses to pardon the inconvenience and bear with us for the day. Just know in the end, it'll be a day to remember.
VW: I think a huge part of our luck on this show has been landing the talent, and not just in front of the camera. Wey's very modest, but he's an amazing cinematographer. The images you'll see in this film will be just postcard stuff. I'm very excited about capturing Beaufort through his lens. It's going to be a great show.
The Show Goes On… 
Coming November 13th, meet some of the locals involved in the film, go behind the scenes as production ramps up and meet the stars. Check out https://www.facebook.com/EatStayPlayBeaufort/ beginning November 4thfor Mark Shaffer's exclusive daily updates from the set.
Pictured Above:
Ron Tucker, Rebecca Tucker, Uyen Le and VW Scheich
Cast of 'Interwoven' at Beaufort International Film Festival
'Stars Fell' costar James Maslow
'Stars Fell' costar Ciara Hanna