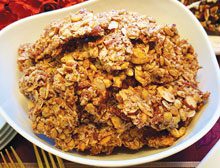 It's all about pumpkins! In October and November, we get our fill of pumpkin pies, pumpkin cheesecakes, pumpkin spice lattes and pumpkin casseroles. These three recipes offer a different twist on our favorite flavor of the season. Best of all, they're easy to make and they're all delicious.
The Pumpkin Spice Granola is already a staple at our house. It's so nice to have around for snacking. I've even sprinkled it on our salads. The Pumpkin Spice Toffee doubles as the perfect seasonal hostess gift the next time you're invited out for dinner. Debbi's Pumpkin Roll is a particular favorite for me. A hundred years ago, well, actually, probably about twenty-five years ago, I tried my hand at making two pumpkin rolls following the traditional recipe that you can find in pretty much every magazine and on the internet this time of year. I made the mistake of adding the pecans to the actual pumpkin cake part of the roll. Of course, they both split when I tried to roll them. It was the first and last time I ever actually threw food out of the back door in a rage – so far, anyhow.  Earlier this fall, I gave the recipe another try and added the pecans to the filling. Voila! Simply fabulous! Hope you'll love these pumpkiny receipts as much as I do!
Pumpkin Spice Granola
Form this granola into a large, tight, flat layer so that it will bake evenly.
1 cup pecans
1 cup rolled oats
½ teaspoon salt
½ cup sliced almonds
½ cup pepita (pumpkin) seeds
1/3 cup maple syrup
2 teaspoons pumpkin pie spice
1/3 cup coconut oil, melted
Preheat oven to 350 degrees and line a large rimmed baking sheet with parchment paper. In a food processor, pulse the pecans until they are roughly broken up. Add the oats and salt and pulse 10 to 15 times. Transfer the oat mixture into a medium bowl and stir in the almonds and pepita seeds. Add maple syrup and pumpkin pie spice. Stir until well combined. Add the melted coconut oil and stir until all ingredients are moist. Spread granola onto the prepared baking sheet. Press into a thin layer. Mixture should look like a big granola bar with no holes showing through. Bake 12 to 15 minutes or until edges are slightly browned. Remove from oven and let cool for 30 minutes. Break granola into bite-sized pieces and store in an airtight container. Makes about 3 cups.
Pumpkin Spice Toffee
This toffee is full of sweet spices and rich chocolate!
14 to 20 graham cracker sheets
¾ cup butter 
¼ cup canned pumpkin
¾ cup light brown sugar
1 teaspoon pumpkin pie spice
1 teaspoon ground cinnamon 
1 (12-ounce) bag dark chocolate chips
1½ cups chopped pecans
Preheat oven to 350 degrees. Line a large baking sheet with aluminum foil. Spread the graham crackers side by side on the baking sheet; breaking some of the crackers into smaller pieces to cover baking sheet completely. Set aside. In a saucepan, add butter, pumpkin, brown sugar, pumpkin pie spice and cinnamon. Bring the mixture to a boil, whisking constantly. Once it has reached a boil, reduce heat to medium-low and cook for another 3 minutes. Remove from heat and pour mixture over the graham crackers. Spread the mixture over the graham crackers in an even layer using a spatula. Bake in preheated oven for 5 to 8 minutes or until liquid is bubbling. Remove from oven. Melt the chocolate chips in a microwave oven or in a double boiler. Pour the chocolate on top of the hot graham crackers and spread evenly to cover. Top with chopped pecans. Cool toffee in refrigerator for at least 3 hours. Break or cut into pieces. Store leftovers, refrigerated in an airtight container. Makes about 12 servings.
 
Debbi's Pumpkin Roll
For the cake roll:
¾ cup all-purpose flour
½ teaspoon baking soda
½ teaspoon baking powder
½ teaspoon ground cinnamon 
½ teaspoon pumpkin pie spice
½ teaspoon ground cloves
¼ teaspoon salt
1 cup sugar 
3 eggs
2/3 cup canned pumpkin
¼ cup confectioner's sugar 
For the filling:
1 (8-ounce) cream cheese, softened
6 tablespoons salted butter 
1 cup confectioner's sugar 
1 teaspoon vanilla extract
1 cup finely chopped pecans
Confectioner's sugar, for dusting
Preheat oven to 375 degrees. Line a 15×10-inch jelly roll pan with aluminum foil. Spray with nonstick baking spray with flour (Baker's Joy). Combine flour, baking soda, baking powder, cinnamon, pumpkin pie spice, ground cloves, salt, sugar, eggs and pumpkin in a large mixing bowl; beat until well-combined. Spread evenly into prepared pan. Bake for 13 to 15 minutes or until top of cake springs back when touched. Sprinkle a thin, cotton tea towel with ¼ cup confectioner's sugar to keep cake from sticking. Remove cake from oven. Immediately loosen and turn cake onto the prepared tea towel. Carefully remove aluminum foil. Roll up cake and towel together, starting with the narrow end. Cool on wire rack. Beat cream cheese and butter with confectioner's sugar, vanilla and pecans until smooth. Carefully unroll cake. Spread cream cheese mixture over care. Re-roll cake. Place on a serving dish and refrigerate for at least 2 hours. Dust with confectioner's sugar before serving. Serves 8 to 10.
The writer owns Catering by Debbi Covington and is the author of three cookbooks, Celebrate Beaufort, Celebrate Everything! and Dining Under the Carolina Moon. Debbi's website address is www.cateringbydebbicovington.com. She may be reached at 525-0350 or by email atdbc@cateringbydebbicovington.com.