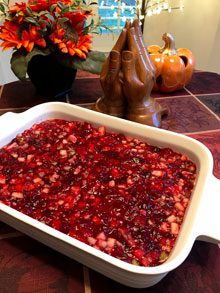 Thanksgiving is quickly approaching and it's time to start planning your dinner menu. Are you looking for a new twist on some traditional recipes? You've come to the right place! The menu this week features a Turkey Breast Roulade stuffed with, what else? Stuffing! Extra stuffing is baked as a side dish and everything is smothered in gravy. The roulade doesn't leave enough drippings to make gravy from scratch so I'm sharing a pumped up version of packaged brown gravy. It's almost as good as homemade.
You know you're gonna have to serve some sort of cranberry sauce. Mama's Cranberry-Apple Salad is way better than the canned stuff and can be made a day before serving. Gotta have something pumpkiny, too. After eating the turkey followed by a Pumpkin Cheesecake Brownie, you'll be ready for a tryptophan-induced nap on the couch. Want some more side dishes? Be sure to check out the LCW Holiday Guide in this issue for three more Thanksgiving recipes. Happy Thanksgiving, Y'all!
(P.S. For some great Thanksgiving side dishes, see our special holiday gift guide in this issue!)

Mama's Cranberry-Apple Salad
2 (3-ounce) packages strawberry-flavored gelatin
1¼ cups boiling water
1 cup cold water
1 (14-ounce) can whole berry cranberry sauce
1 medium-sized unpeeled red apple, diced
1 cup diced celery
¾ cup chopped walnuts
Dissolve gelatin in 1¼ cups boiling water. Add 1 cup cold water. Chill until mixture begins to thicken. Add remaining ingredients. Pour into lightly greased 9×13-inch glass dish. Chill until firm. Serves 12.
Turkey Breast Roulade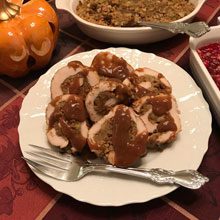 I used a 1½ pound package of turkey tenderloins for this recipe. Turkey tenderloins (packaged like pork tenderloins) are almost always available in the meat section of the grocery store. It's sometimes hard to find boneless, skinless turkey breasts that aren't frozen. There are 2 pieces of meat in a package, so when you're pounding the turkey, just pound the two pieces together, slightly overlapping each other.
1 (1½-pound) boneless, skinless turkey breast
Salt and pepper, to taste
Ground sage, to taste
1½ to 2 cups of stuffing/dressing mix (recipe follows)
1 tablespoon butter
1 tablespoon olive oil
Butcher's twine
Butterfly turkey breast. Lay the butterflied breast between two large pieces of plastic wrap on a clean work surface. Use a meat mallet to slightly pound the turkey to an even 3/4-inch thickness. Remove plastic wrap and discard. Season turkey with salt, pepper and ground sage. Spread the stuffing mixture evenly over the turkey leaving a ½-inch border on all sides. Be careful not to overstuff the turkey or it will be hard to roll. Starting at the shortest end of the turkey breast, roll the turkey up and over the stuffing, jellyroll style. Firmly tie up the roulade with butcher's twine every 2 inches. Season outside of roulade with salt, pepper and ground sage. Melt butter in a large skillet. Add olive oil. When hot, add turkey roulade, seam side down to pan. Sear on all sides until golden brown. Transfer turkey roulade to an oven cooking bag. Reserve pan drippings. (At this point, you can refrigerate the roulade until ready to bake. Before cooking, allow the roulade to sit on the counter, at room temperature, for 20 minutes.) Preheat oven to 350 degrees. Bake turkey roulade for 50 to 60 minutes or until a thermometer inserted in the center reads 160 degrees. Let turkey rest for 10 minutes before carving into slices.
Stuffing/Dressing
5 tablespoons butter
1¼ cups chopped Vidalia onion
2 stalks celery, chopped
2 cloves garlic minced
1 (14.5-ounce) can chicken broth
1 (14-ounce) package herb-seasoned stuffing mix
½ teaspoon dried thyme leaves
½ teaspoon ground sage
Melt butter in a large saucepan over medium-high heat. Add onion and celery, cook until tender. Stir in minced garlic. Add chicken broth and stuffing mix. Stir to combine. Season with thyme leaves and ground sage. Mix well. Lightly grease a baking dish with cooking spray. Spoon dressing mixture into prepared pan. Sprinkle with ground sage. Bake, uncovered, in a preheated 350 degree oven for 20 to 30 minutes, or until hot.
Gravy
2 (.87-ounce) packages brown gravy mix
Pan drippings from browning turkey roulade
2 tablespoons cabernet savignon, optional
Prepare gravy mixes according to package directions. Stir in pan drippings and wine. Heat through. Makes 2 cups.
Pumpkin Cheesecake Brownies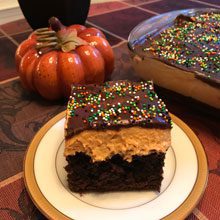 For the brownies:
1 (18.4-ounce) box brownie mix
Ingredients for brownies, as directed on back of box
For the ganache:
1/3 cup heavy whipping cream
2/3 cup semi-sweet chocolate chips
For the cheesecake layer:
1 cup heavy whipping cream
1 (8-ounce) package cream cheese, softened
1 cup canned pumpkin
½ cup light brown sugar, packed
1 teaspoon pumpkin pie spice
Dash salt
1 teaspoon vanilla extract
Candy sprinkles
Preheat oven to 350 degrees. Lightly grease an 8×8-inch baking pan with cooking spray. Prepare brownie mix according to package directions. Spread in prepared pan and bake, following the 8×8-inch baking dish time frame on the back of the box. Brownies will be cake-like. Remove from oven and cool completely. While the brownies cool, make the ganache. In a microwavable bowl, heat 1/3 cup heavy cream for 45 to 60 seconds until cream is hot. Add the chocolate chips and stir until well combined. Set aside to cool. To make the cheesecake layer: beat 1 cup heavy whipping cream until stiff peaks form, set aside. In another bowl, mix cream cheese with pumpkin, brown sugar, pumpkin pie spice, salt and vanilla extract. Gently fold in whipped cream. Spread the pumpkin mixture evenly over the cooled brownies with a spatula. Pour the cooled ganache over the pumpkin layer and spread in an even layer. Sprinkle with candies, if desired. Chill in refrigerator for at least 2 hours before serving. Makes 9.
The writer owns Catering by Debbi Covington and is the author of three cookbooks, Celebrate Beaufort, Celebrate Everything! and Dining Under the Carolina Moon. Debbi's website address is www.cateringbydebbicovington.com. She may be reached at 525-0350 or by email at dbc@cateringbydebbicovington.com.