A weekend for lovers of short fiction coming in November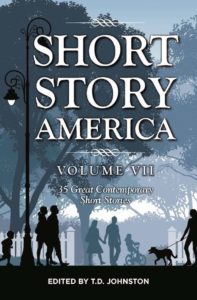 The 6th Short Story America Conference on Short Fiction will be held in Beaufort at the Dataw Island Club the weekend of November 4-6, leading off with a book launch, reading and signing by Hilton Head-based author John MacIlroy of his acclaimed new short story collection, Whatever Happens, Probably Will, which has been praised by numerous writers as the work of one of the new masters of the short story. This free book event will be part of the Friday evening Short Story America reception at the historic Lewis Reeve Sams House at 601 Bay Street in downtown Beaufort. Authors from around the country will be in town for the conference, with presentations and readings Saturday and Sunday by leading authors such as Mathieu Cailler of Los Angeles, John Engell of San Francisco, Lawrence Buentello of San Antonio, William R. Hincy (Los Angeles),  Ray Morrison (Winston-Salem, NC), Jane Austen expert Susan Alvis (Asheville, NC), and local authors John MacIlroy, Tim Johnston (author of Reciprocity), Doris Wright, Jayne Adams, John MacIlroy, M.Z. Thwaite, Vernie Singleton, Ginny Hall-Apicella, Dana Ridenour, and more. The detailed schedule will appear in Lowcountry Weekly in the next issue, but seats are limited so get your passes now by going to www.shortstoryamerica.com. The weekend pass to all events is just $35, as the conference is not for profit. The reception Friday evening featuring John MacIlroy's reading and signing is free and open to the public.
The seventh volume of stories from Short Story America is now available from Amazon, Barnes and Noble, and your favorite bookstore.