Carolina Gentleman's Breakfast Casserole
Good hearty casserole – men love it! Use mild pork sausage for a tamer-flavored casserole; try hot pork sausage to pump up the flavor.
4 English muffins, halved
1 pound sausage, cooked and drained                                    
3 eggs
1 (10¾ -ounce) can cream of mushroom soup
1½ cups milk
1¼ cups (5 ounces) shredded Swiss cheese, divided
Line a 9×13-inch baking dish with halved English muffins. Add sausage. Mix eggs, soup, and milk together with 1 cup of the cheese and pour over sausage. Sprinkle with remaining ¼ cup of cheese. Cover and bake in a preheated 350 degree oven for 20 minutes or until warmed through.
Serves 8.
Crab and Asparagus Souffles
The optimum season for fresh asparagus is February through June, although hothouse asparagus is available year-round in most regions. Asparagus is grown in sandy soil so thorough washing is necessary to ensure that the tips aren't gritty. If the stems are tough, remove the outer layer with a vegetable peeler.
4 ounces cream cheese, softened
6 large eggs
1/3 cup whole milk
Salt
Pepper
1 tablespoon dried chives
1 tablespoon dried minced onion
1 (6-ounce) can crab meat, drained
½ cup (2 ounces) shredded Swiss cheese
10 fresh asparagus spears, cut into 1-inch pieces
Nutmeg
Lightly grease 5 (6-ounce) ramekins. In a medium bowl, combine cream cheese, eggs, milk, salt,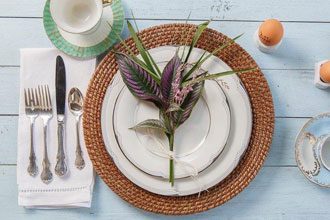 and pepper until smooth. Stir in chives, onion, crab meat, cheese, and asparagus. Season with a dash of nutmeg. Preheat oven to 350 degrees. Pour mixture into prepared ramekins. Place ramekins in a baking pan and add boiling water to fill pan halfway up sides of ramekins. Cover loosely with foil and bake until eggs are just set, 25 to 30 minutes. Serves 5.
Caramel-Pecan French Toast
Use any kind of rustic bakery bread to make French toast. French toast is very forgiving. It won't even matter if the bread is a few days old.
1 cup light brown sugar, firmly packed
½ cup butter
2 tablespoons light corn syrup
6 (½-inch) thick slices French bread
6 eggs, beaten
1½ cups milk
1 teaspoon vanilla extract
½ cup chopped pecans
Combine brown sugar, butter, and corn syrup in a small saucepan. Cook over medium heat until thickened, stirring constantly. Pour syrup mixture into a lightly greased 9×13-inch baking dish.   Place slices of bread on top of syrup mixture. Combine eggs, milk, and vanilla. Pour egg mixture evenly over bread slices. Cover and chill overnight. Bake, uncovered, at 350 degrees for 30 to 35 minutes or until lightly browned. Sprinkle with pecans and bake an additional 10 minutes until nuts are toasted and toast is golden. Serves 6.
Grits Magnolia
Grits, small broken grains of corn, were first prepared by Native Americans. They're a Carolina dining tradition, and have been a part of southern cooking for centuries. This simple staple is daily comfort food on breakfast tables across the South.
3 cups heavy cream
1 stick butter
3 cups water
1 cup quick-cooking grits
Salt
White pepper
Heat cream and water to boil. Add butter, salt and pepper. Slowly add grits and reduce heat. Cook 20 minutes, stirring often. Serves 6.
Maple Coffee
Maple syrup sweetens this rich coffee that resembles café au lait. When buying pure maple syrup, be sure to read the labels since many contain large amounts of cane and little maple syrup. Finer grades of maple syrup are light in color and contain more flavor than the darker grades.
3 cups half-and-half
¾ cup maple syrup
4 cups freshly brewed coffee
Sweetened whipped cream
Combine half-and-half and syrup in saucepan over medium heat; stirring constantly, until thoroughly heated (do not boil). Stir in coffee. Serve with sweetened whipped cream. Serves 8.
The writer owns Catering by Debbi Covington and is the author of two cookbooks, Gold Medal Winner of the Benjamin Franklin Award, Celebrate Everything! and Dining Under the Carolina Moon. Debbi's website address is www.cateringbydebbicovington.com. She may be reached at 525-0350 or by email at dbc@cateringbydebbicovington.com.