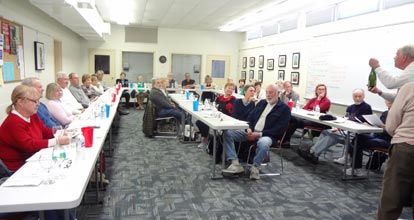 On November 18th, wine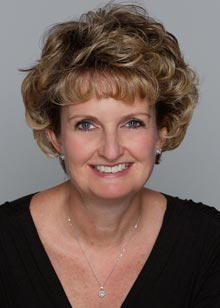 aficionado Larry Bernard and I taught a wine and food pairing class for OLLI (Osher Lifelong Learning Institute) at USC-B. Our class was limited to 30 people and sold out in the first few hours that it was offered. The recipes this week are a sampling of some of the wines and food that were served during our presentation. Larry and I will be offering a bourbon and food pairing class on February 2nd. For more information, contact Andrea Sisino at OLLI.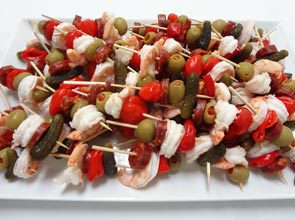 Pinchos (Wine: Avinyo Reserva Brut Cava NV)
Pinchos are tavern snacks served in northern Spain. They're called pinchos because many of them have a pincho (Spanish for spike), typically a toothpick or skewer through them. Use your creativity to make different varieties of pinchos. My pincho recipe is made with Mt. Olive gherkins and Peppadew pickled red peppers.

Shrimp, peeled and deveined
Spanish chorizo
Spanish olives stuffed with pimentos
Baby gherkin pickles
Pickled sweet piquant red peppers
Boil, roast or saute shrimp; set aside to cool. Slice chorizo into bite-sized pieces. Skewer a shrimp with a piece of chorizo, an olive, a baby pickle and/or a pickled red pepper. Serve at room temperature.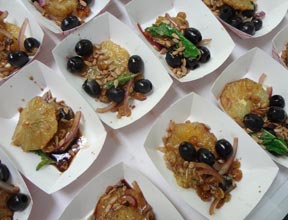 Sevilla Tapas Salad (Wine: Zestos (old vines) Garnacha Rosado 2013)

This popular and colorful salad lends a festive note to any tapas table and is featured in many tapas bars throughout Spain. Some versions omit the red onion or replace the raspberry vinegar with lemon juice. No matter which variation is served, this salad is tangy and refreshing and should always be served chilled.

4 ripe oranges, peeled
1 small red onion, sliced fine
2 tablespoons raspberry vinegar
5 tablespoons extra-virgin olive oil
Salt
Freshly ground black pepper
4 tablespoons golden raisins, covered for 20 minutes in hot water, then drained
20 black olives, pitted
3 tablespoons sunflower seeds
Sprigs of fresh mint, to garnish
Remove the white pith from the oranges and cut the fruit crosswise into 1/4-inch slices. Arrange oranges on a serving platter and scatter with the sliced red onion. In a small bowl, whisk together the vinegar, olive oil, salt and pepper. Spoon the dressing over the oranges and onion. Sprinkle with the raisins, olives and sunflower seeds. Garnish with fresh mint sprigs and serve chilled. Serves 6.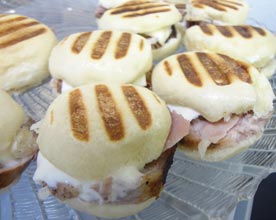 Cuban Paninis (Wine: Vina  Bosconia Reserva 2003 Rioja)

Cocktail rolls, slider rolls or dinner rolls
Dijon mustard or sandwich spread
Sliced pork tenderloin
Country-style ham
Dill pickle slices
Swiss cheese, sliced
Butter

Slice each cocktail roll in half. Spread one side of the roll with mustard or sandwich spread. Top with a slice of pork tenderloin, a piece of ham, a slice of pickle and a piece of Swiss cheese. Butter both sides of the sandwich. Grill on a panini press or in a hot skillet until bread is toasted and cheese is melted.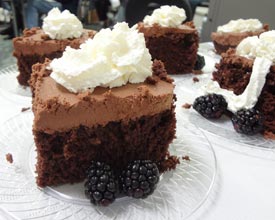 Mexican Chocolate Cake (Wine: Camins del Priorat 2013)

For the frosting:
2 cups heavy whipping cream
1 (12-ounce) package semi-sweet chocolate chips
¼ teaspoon cayenne pepper
For the cake:
1 (15.25-ounce) dark chocolate cake mix
¼ teaspoon cayenne pepper
Sweetened whipped cream, to garnish
Fresh blackberries, to garnish

Heat whipping cream in a microwave-safe bowl until cream begins to steam, but not boil. Stir in chocolate chips until chips are melted and mixture is well combined. Whisk in ¼ teaspoon cayenne pepper. Place bowl in refrigerator for 3 hours. In the meantime, prepare cake mix according to package directions, with the addition of ¼ teaspoon cayenne pepper, making two 8-inch layers. Cool cakes on a wire racks. When completely cool, split both layers making 4 cake rounds. Remove ganache from the refrigerator and beat with an electric mixer until frosting is light and fluffy. Spread on cooled cake. Refrigerate cake until ready to serve. Garnish with whipped cream and fresh blackberries. Serves 12.
The writer owns Catering by Debbi Covington and is the author of two cookbooks, Gold Medal Winner of the Benjamin Franklin Award, Celebrate Everything! and Dining Under the Carolina Moon.  Debbi's website address is www.cateringbydebbicovington.com. She may be reached at 525-0350 or by email at dbc@cateringbydebbicovington.com.