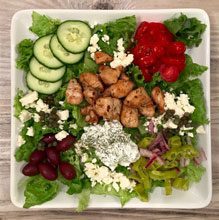 I always gain weight in the summer. I guess it's because my event schedule is not as busy, and likely because I'm spending more time on the couch with my sweet kitty Belle, binge watching The Blacklist, and Poldark and Victoria. Yep. The couch is most certainly the culprit.
Earlier this month, my husband Vince spent a week at Myrtle Beach with his brothers and I stayed home to catch up on paperwork and piddle around the house. While Vince was gone, I dined on frozen turkey pot pies (Marie Callender's are the best), microwaved nachos smothered with cheddar cheese and taco sauce, Publix's fried chicken tenders dipped in buffalo wing sauce and blue cheese dressing and other "healthy" stuff like that. By the end of the week my bathroom scale was screaming in pain when I stepped on it. So, I decided to get back on track and get rid of those pesky pounds before things totally got out of hand. I love salads, but I'm also a carnivore. I can easily forgo desserts if I can fill up on protein. My challenge was to come up with a selection of healthy and filling salads that included enough protein to be as satisfying as a complete meal. As it turns out, it was pretty easy. The photos are from salads that I made for myself before and after Vince's Myrtle Beach excursion. They were beyond delicious and really pretty simple to throw together. The recipes this week are mostly for the vinaigrettes, chili, condiments and toppings. You can increase or decrease the salad ingredients to serve one or to serve twenty. We're blessed with the best of the best summer fruits and vegetables in the Lowcountry. Take the time to slice, dice and chop. It's worth it. I promise.
Greek Chicken Salad (above)
Substitute fried chicken tenders from the deli if you don't feel like cooking.
For the vinaigrette:
¼ cup olive oil
2 tablespoons red wine vinegar
½ teaspoon garlic salt
¼ teaspoon freshly ground black pepper
¼ teaspoon sugar
Place all ingredients in a small jar and shake to mix. Set aside until ready to serve.
For the tzatziki sauce:
Greek yogurt
English cucumber
Dried dill weed
Place yogurt in a bowl. Peel cucumber, remove seeds and dice into small pieces. Fold cucumber into the yogurt. Season to taste with dill weed. Cover and refrigerate until ready to serve. Store leftover tzatziki in the refrigerator for up with 5 days.
For the salad:
Chicken breast tenders
Green leaf lettuce, chopped or torn
English cucumber, sliced
Grape tomatoes, sliced
Red onion, thinly sliced
Kalamata olives
Pepperoncini peppers, sliced
Capers, drained
Feta cheese, crumbled
Cut chicken tenders into bite-sized pieces. Heat a skillet over medium-high heat and add a couple of tablespoons of the vinaigrette to the pan. Saute chicken pieces until chicken is cooked through and juices run clear. Season with salt and pepper. Place salad greens on a plate; dress lightly with prepared vinaigrette. Top with sliced cucumber, grape tomatoes and red onion. Add chicken pieces, olives, peppers, capers, and feta cheese. Serve with tzatziki sauce on the side.
Chili Cheeseburger Salad
You've gotta have a cooked hamburger to pull this salad off. I had a leftover grilled burger in the fridge from dinner the night before. I warmed it in the microwave. It was great.
For the chili:
1 pound lean ground beef
1 tablespoon chili powder
1 teaspoon smoked paprika
1 teaspoon cumin
1 teaspoon oregano
1 teaspoon brown sugar
½ teaspoon onion powder
½ teaspoon garlic powder
Red pepper flakes, to taste
1 (15-ounce) can diced tomatoes
1 cup beef broth
1/3 cup ketchup
Salt and pepper, to taste
Brown the ground beef in a pan; drain well on paper towels and return to pan. Add all of the seasonings; mix well to combine. Add tomatoes, beef broth and ketchup. Heat over medium heat and then simmer for 20 to 30 minutes, stirring occasionally. Freeze leftovers for up to 3 months.
For the salad:
Hamburger patty, cooked to taste
Green leaf lettuce, chopped
Red onion, chopped
Sharp cheddar cheese, shredded
Medium tomato, sliced
Salt and pepper, to taste
Sliced pickled jalapenos
Bottled ranch or blue cheese dressing
Place lettuce and red onion on a dinner plate. Add cooked hamburger. Top hamburger with hot chili and cheddar cheese. Garnish with tomato; season with salt and pepper. Top with jalapeno slices. Serve with bottled salad dressing.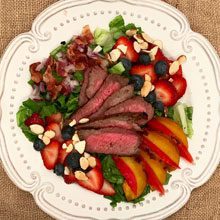 Grilled Summer Salad with Fresh Fruit
Grill the peaches (halved, skin on, pit removed) while you're cooking the meat. Peaches cook quickly and are delicious served warm or cold.
For the beef:
2 tablespoons balsamic vinegar
2 tablespoons fresh lemon juice
1 tablespoon dijon mustard
1 tablespoon Worcestershire sauce
2 cloves garlic, minced
½ teaspoon dried oregano
½ teaspoon dried basil
½ teaspoon dried thyme
½ teaspoon paprika
¼ cup olive oil
1 (2 to 3-pound) London broil or flank steak
Combine balsamic vinegar, lemon juice, mustard, Worcestershire sauce, garlic, and spices. Whisk in olive oil. Place meat in a gallon-sized zip-lock bag. Pour marinade over meat. Marinate in the refrigerator for 12 to 48 hours. (The longer the meat marinates, the more tender it will be.) To cook, remove the meat from the marinade and let it come to room temperature. Preheat grill to high heat. Turn the grill down to medium high or let coals cool down before you put the meat on. Turn the meat about every 6 minutes. (Cooking time will depend on how hot the grill is and the size of your meat. The meat will continue to cook as it rests so it's best to remove it from the grill when it's a bit underdone.) When the meat reaches an internal temperature of 130 degrees, remove from the grill and let rest for 10-15 minutes. Cut meat into thin slices across the grain.
For the salad:
Green leaf lettuce, chopped
Grilled peaches, sliced
Grape tomatoes, quartered lengthwise
Red onion, diced
Bacon, cooked and crumbled
Strawberries, sliced
Blueberries
Sliced almonds, toasted
Bottled balsamic dressing
Place lettuce on a plate. Add grilled slices of steak. Top with grilled peaches, tomatoes, red onion, bacon, strawberries and blueberries. Garnish with sliced almonds. Dress with bottled balsamic vinaigrette.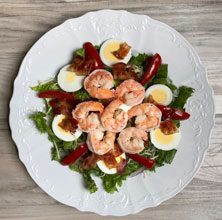 Lady's Island Shrimp Salad with Brown Sugar Vinaigrette
I love this vinaigrette! Besides being super easy to make, it's fabulous on fruit salads.
For the vinaigrette:
1/3 cup balsamic vinegar
2/3 cup brown sugar
3 tablespoons extra-virgin olive oil
Place all ingredients in a clean jar and shake to mix. Shake again just before serving. Store leftover vinaigrette in the refrigerator for up to 10 days.
For the salad:
Shrimp, peeled and deveined
Green leaf lettuce, chopped
Red onion, thinly sliced
Bacon, cooked and crumbled
Boiled egg, sliced
Grape tomatoes, quartered lengthwise
Gouda cheese, shredded
Grill, saute or boil shrimp; season with salt and pepper. Place salad greens on a plate. Top with Warm shrimp, red onion, bacon, boiled egg, grape tomatoes, and shredded cheese. Dress with brown sugar vinaigrette.
Chicken Enchilada Salad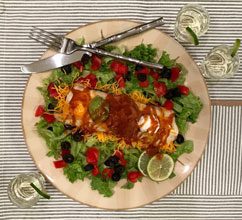 I used a combination and white and dark meat deli chicken in the enchilada.
For the enchilada:
Flour tortilla
Cooked chicken, shredded
Sharp cheddar cheese, shredded
Wrap chicken and cheese in tortilla and place seam side down on a lightly greased baking dish. Bake, uncovered, in a preheated 350 degree oven until warmed through and slightly crispy.
For the salad:
1 (15-ounce) can refried beans
3 tablespoons taco seasoning
Green leaf lettuce, chopped
Green onion, chopped
Tomato, chopped
Black olives, sliced
Sharp cheddar cheese, shredded
Sour cream
Guacamole
Taco sauce or salsa
Mix refried beans with taco seasoning. Place in a small baking dish and heat in 350 degree oven with the enchilada. Place salad greens on a dinner plate. Top with green onions, tomatoes and black olives. Place warm enchilada on top of salad. Sprinkle with cheddar cheese. Top enchilada with dollops of warm refried beans, sour cream and guacamole. Dress with taco sauce or salsa.

The writer owns Catering by Debbi Covington and is the author of three cookbooks, Celebrate Beaufort, Celebrate Everything! and Dining Under the Carolina Moon. Debbi's website address is www.cateringbydebbicovington.com. She may be reached at 525-0350 or by email at dbc@cateringbydebbicovington.com.