It all started with an innocent conversation about barbeque. Of course, it did. I'm shaking my head, slightly shamed, as I write this. I was the one who made the mistake of disagreeing with Becky Trask about where the best vinegar and pepper pulled pork BBQ comes from. I was bragging about BBQ from my hometown of Wilson, NC. Becky was adamant that the best BBQ came from a joint in Myrtle Beach, SC. At the time, I thought it was lucky for me that a fellow Wilson County girl was nearby enough to drag into the conversation. To be sure she'd help me make my case. All Alice Moss did was back out of the carport and say, "Honey, you're on your own." I learned at a very young age to not get into a disagreement with Rebecca Fuller Trask. Strong willed and determined, Becky was a force to be reckoned with. A southern gentlewoman to the bones, she was gifted with the ability to be tough and kind all at the same time. We lost Becky on January 21stat the ripe young age of 92. A Lowcountry lady until the end, Beaufort, SC will never be the same. This column is a tribute to my friend, sometimes surrogate parent, and all-around class act.
If you were blessed enough to meet Becky, you never forgot her. In our world where thank you notes and delivering casseroles for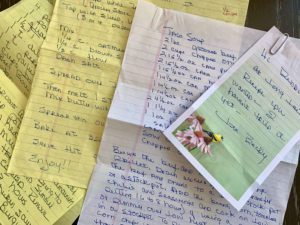 births, deaths and everything in between are going by the wayside, Becky never missed a beat. You could always count on Becky to volunteer at church and with local nonprofits. She loved to spend time with her friends. And, she loved to entertain. Becky and her husband, Neil, threw some humdinger parties. Becky did all of the cooking. She told me one time that she chose to not dress up for her own parties because it would be impolite to be more overdressed than one of her guests. She always took great care to make everyone feel at home in her home. Becky made the best roasted pecans. She finally admitted to me that her secret was bacon grease. They were divine. Becky was also responsible for teaching me how to roast a beef tenderloin. I have a bunch of handwritten recipes from Becky. She called them "receipts." Very old school South Carolina. Neil and Becky were so good to Vince and me. We miss them both. I'm so grateful to have lots of memories and photos and "receipts."
Even though I'm still not brave enough to put my NC BBQ recipe to the test against Becky's SC version, I would like to share three of my favorite Becky recipes. Becky used to tell me, "Be as wise as a serpent and as gentle as a dove." When I was younger, I wasn't quite sure what she meant. Now that I'm older, I understand. Wise lady, Becky was.
Taco Soup
The first time I made this "receipt," Neil and Becky Trask were our post-Bible Study luncheon guests. Becky and I often shared beef and pork recipes. Neil didn't like chicken, so that gave Vince permission to not like chicken either, especially when we were with the Trasks. Becky was completely devoted to her husband. No chicken for Neil. For the record, I still don't make a lot of chicken dishes for Vince. Becky and I both loved chicken. As Becky would often say, "Neil and Vince married well."
2 pounds ground sirloin
2 cups chopped onion
2 (15.5-ounce) cans dark red kidney beans
2 (15.5-ounce) cans pinto beans
2 (14.5-ounce) cans tomatoes with chilies
1 (14.5-ounce) can diced tomatoes
1 (15.25-ounce) can corn
2 (4.5-ounce) cans diced green chilies
1 (1.25-ounce) package taco seasoning
1 (1-ounce) package ranch dressing mix
Sour cream
Chopped green onions, to garnish
Brown the beef and onions in a large skillet; drain well on paper towels. Transfer beef and onions to a large stock pot. Add the beans, tomatoes, corn, and chilies. Do not drain. Stir in the seasoning packets. Heat until warmed through. Cover stock pot, lower heat and simmer for at least an hour. Serve hot topped with sour cream and chopped green onions. Serves 10 to 12.
Cranberries and Apples
Becky and Fran Barnard hired me to make multiple recipes of this delicious side dish for a Presbyterian Women's Christmas Luncheon way back when I first started catering. When I initially read the ingredients, I wasn't overwhelmed. After tasting the delicious concoction, I added it to my catering menu. I still serve Cranberries and Apples at elegant dinner parties. It's that good. I promise.
3½ cups fresh cranberries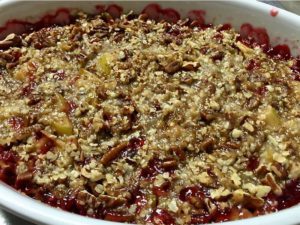 3 large Granny Smith apples
¼ cup oats
1¼ cup light brown sugar
1/3 cup all-purpose flour
½ cup (1 stick) butter, melted
1 cup chopped pecans
Lightly grease a 9×13-inch baking dish.  Spread cranberries in bottom of dish.  Slice apples. Do not peel.  Top cranberries with apple slices.  In a small bowl, combine oats, brown sugar, and flour.  Sprinkle over fruit.  Toss pecans in melted butter.  Sprinkle evenly over fruit and topping.  Bake in a preheated 350 degree oven for 55 to 60 minutes.Serves 10 to 12.
Forgotten Cookies
Don't attempt to make Forgotten Cookies if it's raining or humid outside. The moisture in the air can make them sticky. FYI, these crispy goodies are gluten-free and contain only about 65 calories per cookie.
2 large egg whites, at room temperature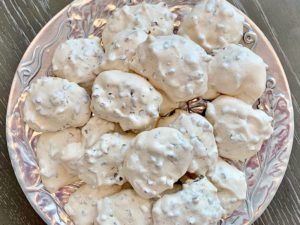 2/3 cup sugar
1 teaspoon vanilla extract
Dash salt
1 cup finely chopped pecans
1 cup semisweet chocolate chips
Preheat oven to 350 degrees. Line a baking sheet with aluminum foil and spray the foil with cooking spray. Beat the egg whites until foamy using an electric hand mixer. Gradually add the sugar and continue beating the egg whites until they hold stiff peaks. Add the vanilla extract and salt. Blend well. Using a spatula, fold in the pecans and chocolate chips. Drop cookies by teaspoonfuls onto prepared baking sheet. Put the cookies in the oven. Close the door and turn the oven off. Leave the cookies in the oven overnight, keeping the door closed, for about 10 hours. Store cookies in an airtight container. Makes about 36.