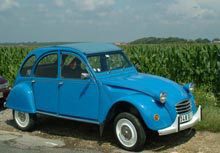 Well, there I was. Stuck in Ribera del Duero and no way to get to Provence. I was in danger of missing my deadline. It suddenly occurred to me that maybe I could buy a car. As luck would have it, I found a real beauty in one of the villages for only 50 bucks (actually euros). Just wait until you see it. This car was placed in service when Dwight Eisenhower was President; but it works and the vineyard worker that I bought it from said it is still under warranty.
I arrived in Provence three days later, tired from the long journey but at the same time refreshed with enthusiasm to explore the wines of the area. Established by the Romans 2600 years ago as the first province outside of Italy, the area was given the name "nostra provincia" by the Romans, which means Our Province. Shortly thereafter, the Greeks founded the city of Marseille, and soon wine was being produced. It appears that everyone got along pretty well, as Greek, Romans, Catalans, Gauls, and Savoyards all contributed to the winemaking effort. These diverse groups introduced a large variety of winemaking grapes to the region, including grapes from Spain, France, and Italy.
Today the region is known predominately for its rosé wine, though some wine critics believe that the region is best known for its spicy red wines. I agree with both. The red wines are from numerous Provence appellations that produce marvelous, fruity wines that I will cover later. However let us stay with Rosé for now. Rosé wines are produced predominately from the Mourvedre grape, which is the primary component in many red and rosé wines. Rosé  is often blended with Grenache and Cinsault grapes. It is important to note that Cinsault has become the significant blending additive of choice.  (Allow me to add a reminder of how Rosé is made. Rosé is produced by crushing the grapes and leaving the grapes in contact with the skin for only a few hours. The resulting juice has a light pink tinge.)
I noted that matching food with the local wine required that I concentrate on just that… think local and not outside of Provence. I experienced first-hand what it means to be unimpressed by Provencal wines only to have to change my mind when the same wine was served with local dishes. Dishes such as foods that carry the garrigue flavors of the region – which include wild lavender, rosemary, and thyme – seem to come alive when served with locally produced rosé. Other food and wine matches that go well are locally made bouillabaisse, Pistou, Fougasse, lotte de Mer, and Tapenade. (See Winespeak below.) Last, but not least, do not forget the Garlic Aioli – a thick, garlicky homemade mayonnaise. Lotsa Garlic!
Please permit me to stop here and mention the Mistral Winds. Provence is known for LE MISTRAL. It is an atmospheric phenomenon that occurs mainly in the spring and fall. The wind can be very cruel as it travels at 65 mph and reaches a height of 2-3 km. The wind comes from the north; so to protect the crops from wind damage, vineyards are planted on slopes facing south. This works very well, as the hidden benefit is that the wind cools the grapes from the heat and dries the grapes after rain.
I almost forgot. Is Provence Rosé available from our local retailers? Yes. Happy Shopping!
Winespeak: GARRIGUE or GARIGUE. Word used to describe the arid landscape of Provence and the Southern Rhone, which is covered with dry scrub brush and tough, resiny wild herbs such as rosemary, lavender, and thyme.
Bonus Words:
Bouillabaisse. – A heady, saffron-infused fish stew containing rockfish, conger eel, lotte de mer (monkfish) red mullet, whiting, sea perch, and spiny lobster, crabs, and other shellfish. Served with Aioli and roulle.
Pistou – A vegetable and basil soup.
Fougasse – Flatbread bakes with herbs
Tapenade – A thick paste of black olives, anchovies, and capers.
Next stop: Still Provence. I'll cover the Red Wine.