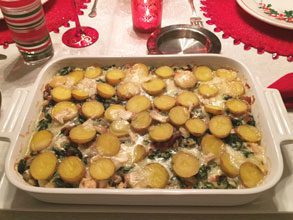 We're all so busy with Christmas shopping, holiday parties, and trying to enjoy every single joyous minute of the season, that at suppertime we're often too tired to come up with a dinner menu. Some nights, a delicious casserole can be a complete meal.
Other nights, it's easy to just pick up a bag of salad and a couple of steaks, but coming up with an interesting side dish can be a challenge. Isn't it amazing how a potato can complete a menu? This week, I'm sharing two completely different recipes that feature potatoes. Tartiflette is a traditional French dish loaded with potatoes, bacon, cream and Reblochon cheese. My recipe adds chicken and spinach. Since Reblochon isn't readily available in the South Carolina Lowcountry, I've substituted Brie. Chicken Tartiflette is a complete meal baked in one dish. Perfect for a cold winter night, all you'll need to add is a green salad topped with fresh fruit and a bottle of wine. Christmas Potatoes are a festive side dish, a cinch to make, and will feed a crowd. Loaded with cheese and creamy goodness, The buttery corn flake topping is an added crunchy treat. Pair them with a steak and a green salad. Dinner is served!

Chicken Tartiflette  (above)

1 (28-ounce) bag small potatoes, sliced
1 (9-ounce) bag fresh baby spinach
1 tablespoon olive oil
1 large sweet onion, finely chopped
2 large cloves garlic, chopped
8 ounces thick bacon, diced
2 tablespoons all-purpose flour
1 cup heavy cream
1 cup chicken broth
3 cups diced cooked chicken breasts
8 or 9 ounces Brie, rind removed, divided
Cook the sliced potatoes in a large pot of boiling water until tender. Drain well. Place the spinach in a colander, pour over with boiling water to wilt. Drain well. Heat the olive oil in a large frying pan and cook onion for 8 minutes. Add garlic and cook for 2 minutes more. Remove onion mixture from pan and set aside. Add bacon to pan and fry until crisp. Add flour and onions to the pan and cook through. Remove from heat. Stir in spinach, cream and chicken broth. Grease a baking dish with butter. Layer half of the potatoes, the chicken and half of the cheese. Pour the spinach-onion mixture over the top. Top with remaining potatoes. Bake, uncovered, for 30 minutes. Top with remaining cheese and bake for 15 minutes more. Let rest for 5 minutes before serving. Serves 6.

Christmas Potatoes
1 (30-ounce) package frozen shredded hash brown potatoes, thawed and drained
1 (10-ounce) package frozen seasoning blend (onions, green peppers)
2 cups sour cream
1 (10.5-ounce) can cream of chicken soup
1 teaspoon salt
2 cups shredded sharp cheddar cheese
1 stick butter, melted
3 cups corn flakes
1 stick butter, melted
Place the frozen potatoes in a colander to thaw and drain. Thaw seasoning blend and drain. Place potatoes in a large bowl. Add seasoning blend, sour cream, soup, salt, cheese and 1 stick of melted butter. Mix well to combine. Spread mixture in a lightly greased 9×13-inch baking dish. Top with corn flakes. Drizzle with 1 stick melted butter. Bake, uncovered, for 40 to 50 minutes. Serves 10 to 12.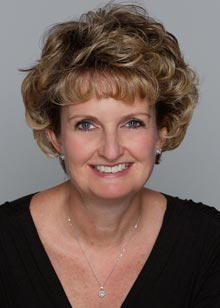 The writer owns Catering by Debbi Covington and is the author of two cookbooks, Gold Medal Winner of the Benjamin Franklin Award, Celebrate Everything! and Dining Under the Carolina Moon. Debbi's website address is www.cateringbydebbicovington.com. She may be reached at 525-0350 or by email at dbc@cateringbydebbicovington.com.