It's your turn to host a dinner party. Your husband wants to grill hamburgers and brats but you're thinking of serving something a bit classier. Still, you want to be able to visit with your guests and you'd rather not be trapped in the kitchen all night. What to serve? What to serve? You're in luck! This week's menu offers a fabulous dinner with an Italian twist and concludes with The Best Ice Cream Dessert in the World. What could be better?
Prosciutto and Burrata Toasts
Burrata is a fresh Italian cow milk cheese made from mozzarella and cream. The outer shell is solid mozzarella, while the inside contains stracciatella and cream, giving it an unusual, soft texture. It's usually served fresh and at room temperature. For a really special treat, roast the prosciutto slices in a 375 degree oven until they're crispy, about 8 minutes.
1 small loaf French bread
2 tablespoons butter, melted
10 slices prosciutto, very thinly sliced 
1 (8-ounce) container burrata, drained 
Preheat oven to 350 degrees. Slice bread into 10 pieces. Place bread slices on a baking sheet and brush each piece with melted butter. Bake in preheated oven until bread is lightly toasted and warmed through. Top each toast with a slice of prosciutto and a slice of burrata. Serve warm or at room temperature. Makes 10.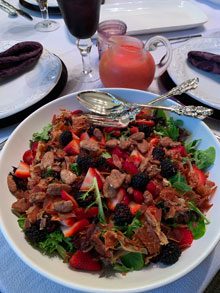 Mixed Greens Salad with Berries and Red Wine Vinaigrette
Almost always, the simplest recipes are the tastiest. This is a quick, easy, beautiful and delicious salad!
For the vinaigrette:
¼ cup extra-virgin olive oil
2 tablespoons red wine vinegar
1 teaspoon honey
1 teaspoon Dijon mustard
1/8 teaspoon salt
1/8 teaspoon black pepper
Place all ingredients in a jar with a tightly fitting lid. Shake well, to combine. 
For the salad:
Mixed greens
Fresh raspberries
Fresh blueberries
Place greens in a salad bowl; toss with vinaigrette. Top with berries before serving.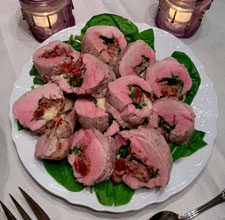 Pork Tenderloin Stuffed with Bacon and Spinach
These pork roulades look fancy but they're really simple to prepare. 
2 pork tenderloins
Salt and pepper, to taste
1 cup baby spinach leaves, divided
2/3 cups crumbled cooked bacon, divided
½ cup julienned sun-dried tomatoes, divided
1 cup shredded mozzarella cheese, divided
3 tablespoons olive oil
Butcher's twine
Remove silver skin from pork tenderloins. Cut a slit all the way down the long end of one tenderloin, making sure not to cut all the way through. Open tenderloin like book, cover with a sheet a plastic wrap and pound with the flat side of a meat mallet until 1/2-inch thick. Repeat with second tenderloin. Season with salt and pepper. Place a layer of spinach leaves, a layer of bacon, and a layer of sun-dried tomatoes evenly over the surface of each tenderloin. Top each with a ½ cup of shredded mozzarella cheese. Roll tenderloins tightly and secure with butcher's twine. Season outside of tenderloins with salt and pepper. Heat olive oil in a large skillet and quickly brown the tenderloins on all sides. Place tenderloins, slit sides up, on a lightly greased baking sheet. (At this stage, you can cover and refrigerate until ready to bake. Bring to room temperature for 45 minutes before cooking.) Preheat oven to 400 degrees. Bake for 25 to 30 minutes or until a thermometer reads 145-150 degrees in the thickest portion of the meat. Let meat rest for 5 minutes. Slice into 1½ -inch slices and serve on a bed of fresh spinach leaves. Serves 6.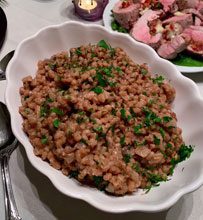 Farro with Mushrooms
Farro is chewier than Italian rice and doesn't release starch when it's cooked, so there's no need to stir it the way you'd stir a risotto. This hearty dish has a rich, earthy flavor. 
1 (8.8-ounce) bag farro (approximately1 ½ cups)
2 (14.5-ounce) cans beef broth
1 small sweet onion, chopped
2 tablespoons butter, divided
8 ounces sliced mushrooms
Dash nutmeg
Salt and pepper, to taste
¼ cup red wine
¼ cup grated parmesan cheese
¼ cup chopped fresh Italian parsley
Place farro and beef broth in a stock pot. Bring to a boil. Reduce heat to low, cover and cook for 45 minutes. Heat a skillet over medium heat. Melt 1 tablespoon butter and saute chopped onion until tender. Remove onions from skillet and set aside. Add remaining 1 tablespoon butter to skillet and cook mushrooms until tender. Season mushrooms with a dash of nutmeg and salt and pepper. When farro is tender, remove from heat and stir in onions and mushrooms. (At this stage, you can cover farro and leave on the stove until you're ready to reheat and serve.) Just before serving, add ¼ cup red wine and heat, stirring often and until warmed through. Stir in ¼ cup grated parmesan cheese and ¼ cup chopped fresh Italian parsley. Serve hot. Serves 6.
The Best Ice Cream Dessert in the World
Truly a delicious ice cream dessert! And, it's so easy to make.
2 cups all-purpose flour
½ cup oats
½ cup light brown sugar
1 cup chopped pecans
2 sticks salted butter, melted
1 (12.25-ounce) jar caramel sauce
½ gallon vanilla ice cream
Fresh mint leaves, to garnish 
Preheat oven to 375 degrees. In a large bowl, mix flour with oats, brown sugar, pecans and melted butter. Spread the mixture evenly on a rimmed baking sheet and bake for 20 minutes, stirring once halfway through the cooking time. Remove from oven and cool. Remove ice cream from the freezer while brickle mixture is baking to soften a bit. Crumble half of the brickle mixture in the bottom of a 9×13-inch freezer-safe baking dish. Top with half of the jar of caramel sauce. Cover with softened ice cream. Sprinkle remaining mixture over the top and drizzle with remaining caramel sauce. Cover and freeze completely before serving. To serve, cut into squares and garnish with fresh mint leaves. Serves 12.
The writer owns Catering by Debbi Covington and is the author of three cookbooks, Celebrate Beaufort, Celebrate Everything! and Dining Under the Carolina Moon. Debbi's website address is www.cateringbydebbicovington.com. She may be reached at 525-0350 or by email at dbc@cateringbydebbicovington.com.