Yay for cooler weather with no humidity! Beaufort friends, we still have a few weeks before Thanksgiving, so let's celebrate a wee bounty of autumn comfort cuisine. The recipes this week are some of my favorite crisp weather contentment foods.
Taco Soup (adapted from a delicious receipt from Becky Trask) is quick and simple. All you'll need for preparation is a stock pot, a frying pan and a can opener. Bacon-Wrapped Ciabatta is the perfect crunchy and tummy-filling side. A green salad with Red Wine Vinaigrette completes our quintessential soup supper. For those of us with a sweet tooth, Black Walnut Bars are a yummy dessert. And, while your Taco Soup is cooking, sipping on an Autumn Martini is an absolute must. Happy fall, y'all. 
Taco Soup
2 pounds ground sirloin
2 cups chopped onion
2 (15.5-ounce) cans dark red kidney beans
2 (15.5-ounce) cans pinto beans
2 (14.5-ounce) cans tomatoes with chilies
1 (14.5-ounce) can diced tomatoes
1 (15.25-ounce) can corn
2 (4.5-ounce) cans diced green chilies
1 (1.25-ounce) package taco seasoning
1 (1-ounce) package ranch dressing mix
Sour cream
Chopped green onions, to garnish
Brown the beef and onions in a large skillet; drain well on paper towels. Transfer beef and onions to a large stock pot. Add the beans, tomatoes, corn, and chilies. Do not drain. Stir in the seasoning packets. Heat until warmed through. Cover stock pot, lower heat and simmer for at least an hour. Serve hot topped with sour cream and chopped green onions. Serves 10 to 12.
Red Wine Vinaigrette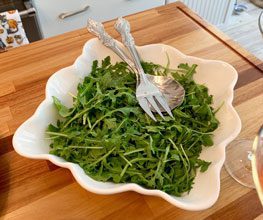 Use different flavored oils and vinegars to create different your own unique vinaigrette.
¼ cup olive oil
2 tablespoons red wine vinegar
1 teaspoon Dijon mustard
2 teaspoons honey
Salt
Freshly ground black pepper
Place the vinaigrette ingredients in a small jar with a tight fitting lid. Shake to mix well. Keep refrigerated.

Bacon-Wrapped Ciabatta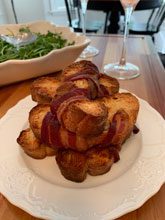 Delicious hot, room temperature, reheated or cold straight out of the refrigerator. You can't go wrong with bacon!
1 loaf ciabatta, cut into 16 pieces
1 pound sliced bacon
Preheat oven to 425 degrees. Wrap each slice of ciabatta with a slice of bacon. Place bacon-wrapped bread sticks on a foil-lined baking sheet sprayed lightly with cooking spray. Bake in preheated oven for 15 minutes, turn bread with tongs and bake for 15 minutes more or until bacon is crispy and bread is toasted. Cool for 5 minutes before serving. Makes 16.

Black Walnut Bars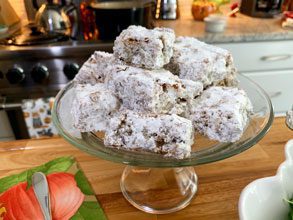 The smoky flavor of black walnuts lends a gourmet touch this simple cookie recipe.
½ cup butter, softened
½ cup sugar
½ cup brown sugar, firmly packed
2 eggs
1 teaspoon vanilla
½ cup flour
1 cup black walnuts, chopped
Powdered sugar 
Cream butter and sugars. Add eggs and vanilla. Beat until smooth. Add flour, beat with spoon until combined. Mix in nuts. Turn into a greased and floured 8-inch square baking pan. Bake in a preheated 350 degree oven for 35 minutes. Cool completely. Cut into bars. Bars will be sticky. Roll in powdered sugar. Serves 6 to 8.
Autumn Martinis
This is a vodka-based martini with the infusion of tropical oranges — in both taste and color!

1½ cups vodka

¾ cup Grand Marnier

¼ cup orange Curacao

¼ cup maraschino cherry juice

Chill all ingredients before mixing. Pour ingredients into a martini shaker filled with ice. Shake the alcohol mixture and serve in martini glasses. Serves 10.
The writer owns Catering by Debbi Covington and is the author of three cookbooks, Celebrate Beaufort, Celebrate Everything! and Dining Under the Carolina Moon. Debbi's website address is www.cateringbydebbicovington.com. She may be reached at 525-0350 or by email at dbc@cateringbydebbicovington.com.