Y'all, I've been in the catering business for 25 years. That's a quarter of a century. It's Catering by Debbi Covington's silver anniversary! What started with a birthday party for beloved Beaufortonian Betty Waskiewicz at First Presbyterian Church back in 1997, has (so far) morphed into several thousand events, three cookbooks, a 17-year stint as a food columnist, and most recently, a YouTube cooking show. It has all been a big blur and a happy whirlwind. When I sat down to write this column tonight, I kind of thought I'd be able to conjure up some profound epiphany to share, something to express how thrilled I am to have such a fabulous career. Nope. I can only tell the truth. CATERING IS HARD WORK. Hard work, but with rewards. I've fed famous authors, artists, movie stars and politicians. I've also prepared food for cocktail parties, weddings, family events and funerals. My job has allowed me to share the happiest and sometimes saddest days of people's lives. I've been invited into antebellum homes, club houses and tool sheds. It's how we roll. Where did the time go? June 1st, the actual anniversary date, snuck up on me. Not one to forgo any type of celebration, I summoned some of our dearest friends to an impromptu cocktail buffet soiree on Saturday night. Recipes and photos are from the party. I would like to sincerely thank you, my customers and friends, for trusting me with the catering of the special events in your lives. Your business and support are most appreciated. THANK YOU!
Shrimp Remoulade
Remoulade is a mayonnaise-based sauce with pickles, mustard, herbs and chopped hard-boiled eggs. Sometimes capers are added.
2 pounds shrimp, peeled and deveined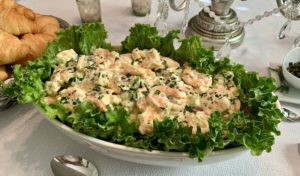 3 stalks celery, chopped
½ cup red onion, finely chopped
6 hard-boiled eggs, diced
1 teaspoon Dijon mustard
¾-1 cup mayonnaise or salad dressing (Miracle Whip)
3 tablespoons sweet pickle relish
½ cup chopped fresh Italian parsley
Fresh lettuce leaves
Cook shrimp in boiling water until just pink; drain and refrigerate until chilled. Cut larger shrimp into bite-sized pieces. Place shrimp in a large bowl. Add celery, red onion, boiled eggs, mustard, mayonnaise, pickle relish and parsley; mix well. Cover and chill until ready to serve. To serve, arrange lettuce leaves on a dish or platter; top with shrimp mixture. Serves 8 to 10.
Spinach Squares
These are delicious! Serve them hot or cold. I sometimes like to add a tablespoon of diced pickled jalapenos for an added kick.
2 (10-ounce) packages frozen chopped spinach, thawed and squeezed dry
1 cup all-purpose flour
1 heaping teaspoon baking soda
1 cup milk
1 small onion, finely diced
4 tablespoons butter, melted
1 pound jalapeno-jack cheese, shredded
3 eggs
1 teaspoon salt
Dash of black pepper
Preheat oven to 350 degrees. Spray a 9×13-inch baking pan with cooking spray. Mix all ingredients in a large bowl until well combined. Spread the mixture in prepared baking dish and bake for 35 minutes. Let cool for at least 20 minutes. Cut into small squares. Serve hot, cold, room temperature or reheated. Makes 60.
Antipasto Skewers
I got distracted (watching Outlander) and left the bocconcini off my party skewers. No one seemed to notice. They were devoured.
1 cup prepared Italian dressing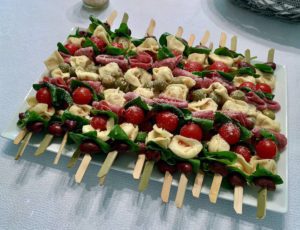 1 (20-ounce) package refrigerated three-cheese tortellini
Baby spinach leaves
Spanish olives
Kalamata olives
Grape tomatoes
Small mozzarella balls (bocconcini)
Thinly sliced salami
Grated parmesan cheese
Pour Italian dressing into a large bowl. Cook tortellini according to package directions. Drain well and add to bowl. Toss gently with dressing until well coated. Cover and refrigerate for at least one hour. Skewer marinated tortellini with olives, grape tomatoes, cheese balls, salami and baby spinach leaves. Fold salami and spinach leaves to fit. Garnish with grated parmesan cheese. Cover and refrigerate until ready to serve. Makes 35 to 45, depending on the length of your skewers.