It's curious the things that turn us into home bodies. Vince and I used to go to the North Carolina mountains every August. We went to Myrtle Beach with our families at least once a year. And, we'd spend a night or two in Charleston or Savannah without an eye blink. These days, we have a beloved cat who's pushing 17 years of age, a home with all kinds of alarms — including security and appliances, a newly sodded yard that needs to be watered at certain times of the day and a bunch of other business responsibilities. When we're not working, we're at home, and we're happy to be here. It is my most fervent hope that one day, before we're too old to enjoy it, Vince and I will be able to travel again. I especially miss trying new foods in different restaurants. In the meantime, we do love our abode. Our memories are here. Our photos are here. Our stuff is here. Thankfully, I'm a pretty decent cook so we like to eat here, too. This week's recipes are some of my favorite go-to weeknight offerings. They all use few ingredients, are simple to prepare and are quite delicious. Dorothy was right. There's no place like home.
Classic Wedge Salad
A new spin on an old favorite! Crumbled blue cheese and champagne vinaigrette are a light and delicious exchange for the traditional heavy mayonnaise-style dressing.
For the pickled red onions: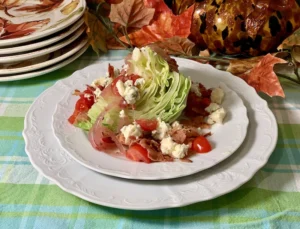 1 large red onion
1 cup hot water
1 tablespoon sugar
½ teaspoon salt
½ cup apple cider vinegar
1 teaspoon black peppercorns
Slice the onion into 1/8-inch thin slices. Stuff the onions into a Mason jar or glass container with a tight-fitting lid. In a separate bowl, whisk the hot water with the sugar and salt until dissolved. Stir in apple cider vinegar and peppercorns. Pour the pickling mixture over the sliced onions, cover tightly with a lid and allow to sit on the kitchen counter until completely cool. Transfer to refrigerator. Refrigerate for 12 hours before using. Makes 1/2 pint. Refrigerate leftovers. Will last in refrigerator for 7 to 10 days.
For the vinaigrette:
2 tablespoons champagne vinegar
1½ teaspoons Dijon mustard
6 tablespoons vegetable oil
1/8 teaspoon salt
Freshly ground black pepper
Mix all ingredients in a small jar with a tight-fitting lid. Shake to combine. Refrigerate any leftovers.
For the salad:
1 large head iceberg lettuce, cored, and cut into 6 wedges
6 ounces crumbled blue cheese
6 strips of bacon, cooked, drained, and crumbled
18 grape tomatoes, quartered
Pickled red onion, optional
Salt
Freshly ground black pepper
Place lettuce wedges on chilled salad plates and drizzle with the vinaigrette. Top with blue cheese, bacon, tomato pieces and pickled red onion. Serves 6.
Maple-Dijon Chicken Thighs
Our new favorite chicken entrée!
2 pounds boneless, skinless chicken thighs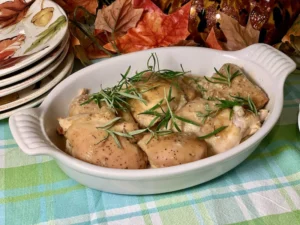 Salt and pepper, to taste
½ cup Dijon mustard
¼ cup maple syrup
1 tablespoon rice wine vinegar
Fresh rosemary
Preheat oven to 450 degrees. Place chicken thighs in an 8×8-inch foil-lined baking dish. Season with salt and pepper. In a small mixing bowl, combine Dijon mustard, maple syrup and rice wine vinegar. Pour maple-mustard mixture over the chicken thighs, turning to coat well. Place the chicken, uncovered, in preheated oven and bake for 45-50 minutes. Baste the tops of the chicken thighs with the sauce halfway through. Let chicken rest for 5 minutes before serving. Drizzle with pan juices and garnish with fresh rosemary, if desired. Serves 3 to 4.
Italian New Potatoes
I've been making this potatorecipe since my college days. It's no-fail.
12-15 new potatoes, cut in half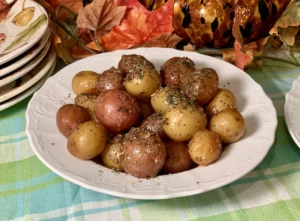 1 package Italian dressing mix, dry
1 stick butter, melted
Combine melted butter with dressing mix. Place potatoes in a casserole dish. Pour butter mixture over potatoes, tossing to coat well. Cover. Bake in a preheated 350 degree oven for 45-50 minutes or until potatoes are tender.  Serves 4 to 6.
Apple Cider Cake
You're going to love this moist and delicious cake with a cinnamon-sugar topping and a sweet apple cider dipping sauce.
For the cake:
1 (15.25-ounce) box yellow cake mix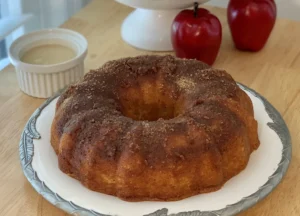 1 cup apple cider, at room temperature
½ cup apple sauce
3 large eggs, at room temperature
½ teaspoon cinnamon
1 tablespoon brown sugar
1 teaspoon vanilla
For the cinnamon-sugar topping:
2 tablespoons cinnamon
¼ cup sugar
¼ cup melted butter
For the dipping sauce:
1 cup powdered sugar
¼ cup apple cider
Preheat oven to 350 degrees. Grease and flour a Bundt cake pan. In a large mixing bowl, beat the cake mix with apple cider, apple sauce, eggs, cinnamon, brown sugar and vanilla. Pour mixture into the prepared pan. Bake for 40 to 45 minutes or until a toothpick inserted in the middle of the cake comes out clean. Remove cake from oven and allow it to cool on a wire rack for 20 minutes. While the cake is baking, mix cinnamon with sugar. When the cake has cooled, brush cake with melted butter and top with cinnamon-sugar mixture until evenly coated. Make an apple cider dipping sauce by mixing powdered sugar with ¼ cup apple cider or drizzle the glaze over the top of the cake. Serves 12.
The writer owns Catering by Debbi Covington and is the author of three cookbooks, Celebrate Beaufort, Celebrate Everything! and Dining Under the Carolina Moon. For more great recipes and to view her cooking demonstrations, visit and subscribe to Debbi's YouTube channel. Debbi's website address is www.cateringbydebbicovington.com. She may be reached at 843-525-0350 or by email at dbc@cateringbydebbicovington.com.