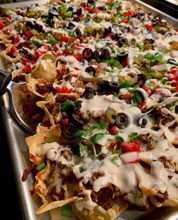 This was supposed to be a Tex-Mex column. And, for the most part it is. The two featured recipes are beef nachos and a yummy pineapple salad with corn and black beans. Vince and I had some friends over for an impromptu Sunday night dinner a couple of weeks ago and this is what we served. I'll bet I make nachos at least once a month.
We both love Mexican food and an occasional salad without greens. It's an easy-to-prepare meal and a fun one to serve when you want to have a casual dinner party. The Lemon-Pepper Chicken Wings have nothing in this world to do with Tex-Mex fare. Vince has been patiently teaching me how to cook over an open flame. I'm more of an indoor cook. Anyway, I've been grilling these wings numerous times over the past month or so and I've posted photos of them on my Facebook, Instagram and Pinterest pages. I've had so many people stop me at the grocery store and at catering events asking about the seasoning and cooking method that I just had to share the recipe. I hope you'll try all three!
Nachos Locos
The amounts of tortilla chips and toppings will depend on the number of people you're serving. Vince and I have reheated and eaten Nachos Locos leftover but they're best straight out of the oven.
1½ pounds hamburger
2 (1-ounce) packages taco seasoning mix
Tortilla chips
Chopped red onion 
Shredded mozzarella cheese 
Sliced black olives
Sliced jarred jalapeno peppers 
1 (15-ounce) jar queso blanco
Diced tomatoes
Chopped green onions
Fresh cilantro leaves
Serve with salsa, guacamole & sour cream
Brown hamburger in a large skillet; drain well on paper towels. Following directions on seasoning mix packets cook seasoned hamburger. (The packets will say 1 packet per pound of hamburger, I like a stronger seasoned beef for nachos so I use 2 packets per 1½ pounds.) Preheat oven to 350 degrees. Spray a large baking sheet with cooking spray. Spread tortilla chips in a single layer covering the pan. Top with seasoned hamburger, chopped red onion and shredded mozzarella cheese. Top with sliced black olives and sliced jalapeno peppers. Bake in preheated oven until cheese is melted and hamburger is warmed through. In the meantime, heat the queso blanco in a small saucepan. Remove nachos from oven. Pour queso blance over the nachos. Garnish with diced tomatoes, chopped green onions and fresh cilantro leaves. Serve with salsa, guacamole and sour cream. 

Pineapple Fiesta Salad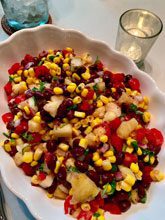 Pineapple Fiesta Salad is a flavor packed Tex-Mex salad that can also be served as an appetizer or side dish. Pair it with tortilla chips or serve it on top of a burrito.
1 (15.25-ounce) can black beans, rinsed and drained
1 (15.25-ounce) can corn, drained
1½ cups finely diced pineapple
¼ cup diced red onion
1 cup diced grape tomatoes
2 tablespoons lime juice
2 teaspoons honey
1 clove garlic, minced
¼ teaspoon ground cumin
Salt and pepper, to taste
Dash cayenne pepper 
1 bunch cilantro leaves, chopped
1 medium avocado, diced
Diced jalapeno peppers, optional
In a large bowl, toss the black beans with the corn, pineapple, red onion and tomatoes. In a small bowl, mix the lime juice with honey, garlic and cumin. Season with salt, pepper and cayenne pepper. Pour over vegetable mixture and toss until everything is well coated. Just before serving, gently fold in cilantro and avocado. Stir in diced jalapeno peppers, if desired. Serves 8.

Lemon-Pepper Grilled Chicken Wings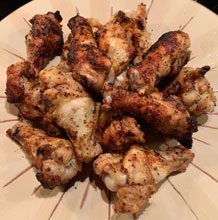 Be sure to grill your chicken wings until they're cooked all the way through. No one wants to bite into a piece of raw poultry. Look for lemon-pepper on the spice aisle at your local grocery store.
Chicken drumettes or whole wings, skin on
Lemon-pepper seasoning
Rinse chicken in cold water; pat dry with paper towels. Sprinkle chicken, very liberally, on all sides with the lemon-pepper seasoning. Use it like a dry rub. Grill wings over high heat until chicken is cooked through and the skin is crispy. Serve immediately.
The writer owns Catering by Debbi Covington and is the author of three cookbooks, Celebrate Beaufort, Celebrate Everything! and Dining Under the Carolina Moon. Debbi's website address is www.cateringbydebbicovington.com. She may be reached at 525-0350 or by email atdbc@cateringbydebbicovington.com.