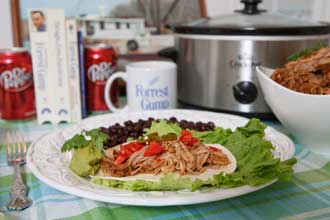 It's hard to believe that twenty years have passed since the award-winning Forrest Gump was filmed here in our little coastal town of Beaufort, South Carolina. We're celebrating! Join members of the Beaufort Film Society at a special screening of Forrest Gump followed by a moderated discussion about the making of the movie on Friday, February 14 at 7pm.
It's just one of many features, shorts, animations and documentaries that will be shown during the 8th annual Beaufort International Film Festival. Festival dates are Wednesday, February 13 through Saturday, February 15. To commemorate this great film I've channeled my inner Forrest Gump and created some yummy Gump-inspired recipes.
Thank you, Steve Danko, for the loan of your Forrest Gump memorabilia for the food photo shoot. A great big thank you to Susan DeLoach, official photographer for the Beaufort International Film Festival, for shooting the great food photos for this issue. Next issue we'll be continuing our Forrest Gump anniversary party by celebrating Bubba's favorite food — SHRIMP! The 8th annual Beaufort International Film Festival is almost here! It's not too late to purchase your tickets. Visit www.beaufortfilmfestival.com for more information. See you at the movies!
Dr. Pepper Presidential Pork
"The best thing about visiting the President is the food! Now, since it was all free, and I wasn't hungry but thirsty, I must've drank me fifteen Dr. Peppers." – Forrest Gump
1 large sweet onion
1 Boston butt (pork shoulder) – 5 to 7 pounds
Salt and freshly ground black pepper
1 (11-ounce) can chipotle peppers in adobo sauce
2 (12-ounce) cans Dr. Pepper
2 tablespoons light brown sugar
Peel and cut the onion in to wedges. Lay the wedges in the bottom of a large crock pot. Generously salt and pepper the pork, then set it on top of the onions in the crock pot. Pour the can of chipotle peppers and adobo sauce over the pork. Pour in both cans of Dr. Pepper and stir in the brown sugar. Place the lid on the crock pot and cook for 7 to 8 hours on high heat, turning the pork two or three times during the cooking process. Check the meat after after 7 hours; it should be falling off the bone. If it's not completely falling apart, cook it for an additional hour. Remove the meat from the crock pot and place on a large cutting board. Use two forks to shred the meat, discarding the bone and pieces of fat. Strain as much of the fat off the top of the cooking liquid as you can and discard it. Return the shredded meat to the cooking liquid and keep warm until ready to serve. Serve warm on flour tortillas. Top with shredded lettuce, diced tomatoes, grated cheese, diced tomatoes, guacamole and fresh cilantro. Freezes beautifully. Serves
12 to 15.

Peas and Carrots Risotto with Shrimp
"Me and Jenny goes together like peas and carrots." – Forrest Gump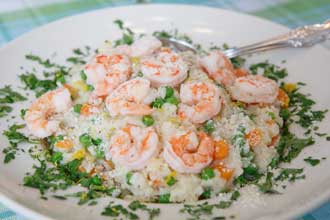 4 cups vegetable broth
1 tablespoon olive oil
1 shallot, chopped
1cup chopped carrots
1 cup arborio rice
½ cup dry white wine
1 cup frozen peas, thawed
Salt and freshly ground black pepper, to taste
2 pounds cooked shrimp (sauteed, boiled, steamed or fried)
Grated parmesan cheese
Zest of one lemon
¼ cup chopped Italian parsley
Pour broth into a saucepan and warm over low heat. Heat olive oil in a large saucepan over medium heat. Add the shallot and saute until translucent. Stir in the carrots and rice and cook for 1 minute using a wooden spoon. Add the wine and continue to stir until the liquid has cooked off. Add 1 cup of the broth and continue to stir until it has been absorbed by the rice. Continue adding broth, one cup at a time, and stirring until it has been absorbed. Stir in the peas. The risotto should be thick and creamy. Season to taste with salt and pepper. Pour risotto into a serving bowl. Top with cooked shrimp, grated parmesan cheese, lemon zest and chopped Italians parsley. Serve hot. Serves 4.
Life is Like a Box of Chocolates Cake
"My momma always said, 'Life was like a box of chocolates. You never know what you're gonna
get.'" – Forrest Gump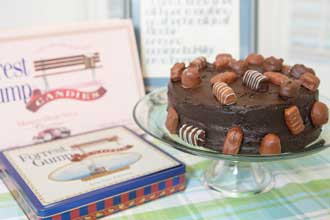 For the cake:
1 (15.25-ounce) chocolate cake mix
1 tablespoon unsweetened cocoa powder
1 cup buttermilk
1/3 cup vegetable oil
3 large eggs
½ teaspoon vanilla extract
Preheat oven to 350 degrees. Lightly grease two 9-inch cake pans with vegetable shortening , then dust with flour. Shake out the excess flour. Set the pans aside. Place the cake mix, cocoa powder, buttermilk, vegetable oil, eggs and vanilla extract in a large mixing bowl. Blend with an electric mixer until the batter is well blended, about 3 minutes. Divide the batter between the prepared pans. Place the pans in the over side by side. Bake the cakes until a toothpick inserted in the center of each layer comes out clean, 25 to 30 minutes. Remove the pans from the oven and cool on racks for 5 minutes. Invert each cake onto a rack and allow to cool completely. Meanwhile, prepare the frosting.
For the frosting:
1 stick butter, at room temperature
2/3 cup unsweetened cocoa powder
3 cups confectioner's sugar
1/3 cup whole milk, plus additional if needed
2 teaspoons vanilla extract
1 (16-ounce) box assorted chocolate candies
Place the butter and cocoa powder in a large mixing bowl. Blend with and electric mixer on low speed until the mixture is soft and well combines. Add the confectioner's sugar, 1/3 cup milk and vanilla extract to the mixing bowl and beat with the mixer on low speed until the frosting is fluffy. Add more milk if the frosting is to thick. Place one cake layer, right side up, on a serving platter. Spread with the frosting. Place the second layer, right side up, on top of the first layer. Frost the top and sides of the cake, using smooth strokes. Decorate cake with chocolate candies. Store cake, covered, at room temperature for up to 3 days or refrigerated for up to 1 week. Serves 8 to 10.
The writer owns Catering by Debbi Covington and is the author of two cookbooks, 2013 Gold Medal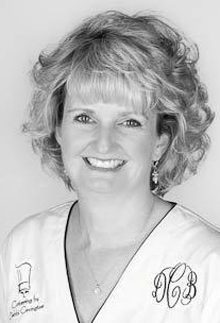 Winner of the Benjamin Franklin Award, Celebrate Everything! and Dining Under the Carolina Moon. Debbi's website address is www.cateringbydebbicovington.com. She may be reached at 525-0350 or by email at dbc@cateringbydebbicovington.com.