Several weeks ago, I was walking from the Cuthbert House Inn to the First Presbyterian Church parking lot with two close friends. We had all been at a Beaufort International Film Festival event and were headed back to our cars. If you're a local, you know that the church parking lot backs up to the Cuthbert House parking lot and is a great spot for after-hours spill-over parking. That particular night was beautiful. The sun was just beginning to set and the blue sky over our heads was cloudless. We were remarking at how much we love living in Beaufort when the bell in the tower at St. Helena's Anglican Church began to chime. I'm not sure if it was the sheer joy of the evening or the glass of chardonnay that I'd imbibed at the BIFF party, but I was suddenly filled with happy memories from my church secretary days. For those of you who don't know, I was the secretary at First Presbyterian from 1992 until 2005.
My best church secretary memories are from my favorite week on the church calendar, Holy Week. Easter is my favorite holiday. During Holy Week, Monday through Friday, FPC congregants would gather in the sanctuary at Noon for a short worship service followed by a soup and sandwich luncheon in the fellowship hall. The women of the church, actually the women's circle groups, were responsible for the food. Each circle, in turn, would prepare food for the Holy Week worshippers. It was such a fun week! We didn't accomplish much actual work in the church office but the time that we all spent together as a congregation and as friends are some of the happiest times of my tenure. My circle, the Geneva Circle, was mostly comprised of the younger women of the church. The majority of us were married and many had young children. We were from all sorts of different backgrounds, education levels and socio-economic statuses. All these years later, the relationships that we developed during our church circle days have stayed with us. Lots of folks have moved away or changed churches, but much like a sorority of sorts, I'm happy to report that we're all still friends.
Back in the day, on Thursday afternoons, almost always around 4:00 p.m., I used to take the Sunday bulletins from the office to the church vestibule. I remember so many times, standing in the parking lot, listening to St. Helena's church bells and thinking how blessed I was to be so perfectly happy. While I wouldn't change a thing in my life, I will admit that I sometimes miss those days. First Presbyterian Church and my church family molded me into the woman that I am today. I wouldn't be a caterer or a cookbook author, or even a food columnist (Margaret Evans and I met at church) were it not for my time at FPC.  Remind me sometime to tell you my "Never Say Never" story. I do believe that God had it planned all along.
This week's recipes are from Holy Weeks gone by. Without fail, the Geneva Circle made white chicken chili for every Good Friday luncheon. Quartered sandwiches on white or wheat bread were always served. Cookies had to be homemade. Store bought cookies were frowned upon by the older church women. Most importantly, brownies were forbidden — by the pastor, no less. Those of you who knew Rev. Dr. John M. Scholer know exactly what I'm talking about. (Wink. Wink.)
White Chili Geneva
Back in the day, on every Good Friday, the Geneva Circle made enough White Chili to feed the entire congregation following the daily Holy Week service.    
3 (15.5-ounce) cans navy beans, rinsed and drained
3 (10½-ounce) cans chicken broth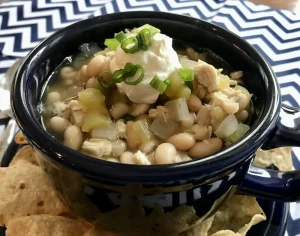 ½ cup water
1½ cups chopped onion
2 cups chopped cooked skinless chicken breast
1 (4-ounce) can chopped green chiles
1 teaspoon ground cumin
¾ teaspoon dried whole oregano
¼ teaspoon ground red pepper
1/8 teaspoon ground cloves
¾ cup shredded Monterey Jack cheese
Sauté onions in small amount of vegetable oil until tender. In medium stock pot, heat chicken broth, water, onion and spices. Add chicken, navy beans, and green chiles.  Heat through.  Add additional seasonings to taste. Top with Monterey Jack cheese. Chili freezes well. Serves 10.
Pimento Cheese Tea Sandwiches
Pimento Cheese tastes best if prepared a day in advance, allowing time for flavors to blend.  Be sure to put lots of filling on the sandwiches.
4 cups (16 ounces) shredded extra-sharp Cheddar cheese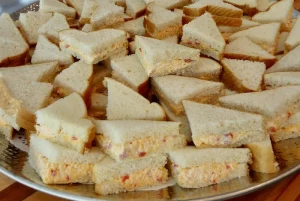 1 (4-ounce) jar diced pimentos, drained
1 cup mayonnaise, or enough to blend mixture smoothly
Sandwich bread (white or whole wheat)
Mix first three ingredients together in a large bowl. Adjust amount of mayonnaise to make mixture spread easily. Spread cheese mixture evenly between 2 slices of bread. Cut into quarters. Serves 12 to 15.
Buttery Sugar Cookies
The simplest cookie of them all! Delightfully crisp and buttery!
2 sticks (1 cup) butter, softened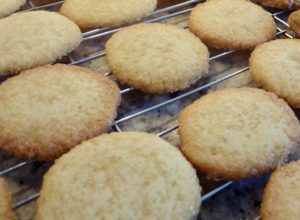 1 cup sugar
½ teaspoon salt
1 large egg
1 teaspoon vanilla extract
2 cups all-purpose flour
Coarse sugar, for rolling
Beat together butter, sugar and salt in a large bowl with an electric mixer at medium-high speed until pale and fluffy, about 3 minutes with a hand mixer. Beat in egg and vanilla. Reduce speed to low, then mix in flour. Halve dough and form each half into a disk, then wrap in waxed paper. Put each disk in a resealable plastic bag and chill until firm enough to roll into balls, about 1 hour. Preheat oven to 350 degrees. While oven heats, work with one piece of dough (keep remaining dough chilled). Roll 1 level teaspoon of dough into a ball, then roll in coarse sugar in a shallow bowl to coat completely. (If dough becomes too soft to roll easily into balls, quick-chill in the freezer or chill in the refrigerator.) Place balls 2 inches apart on a baking sheet sprayed lightly with canola oil cooking spray. With the flat bottom of a glass, flatten balls into 2-inch rounds. Bake cookies, one sheet at a time, until bottoms are golden, 12 to 15 minutes. Cool on baking sheets for 2 minutes, then transfer with a metal spatula to wire racks to cool completely. Store cooled cookies in a tightly sealed container. Makes about 4 dozen.
The writer owns Catering by Debbi Covington and is the author of three cookbooks, Celebrate Beaufort, Celebrate Everything! and Dining Under the Carolina Moon. For more great recipes and to view her cooking demonstrations, visit and subscribe to Debbi's YouTube channel. Debbi's website address is www.cateringbydebbicovington.com. She may be reached at 843-525-0350 or by email at dbc@cateringbydebbicovington.com.