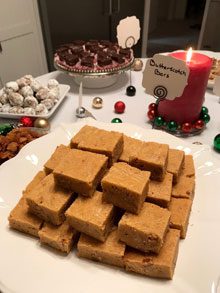 What a fun time of year to be in the kitchen! I love preparing all of the savory goodies and sweet treats that I grew up with at Christmastime. This is the time of year for sausage balls, cheese straws, baby fruitcakes and yule logs. I've been feeling inspired to try some new sweets recipes.
With a holiday party at our house on Saturday night, this week was the perfect time to experiment. All of the goodies in this issue are yummy and very easy to whip up. They'd be fun and simple to make with children who like to play in the kitchen. While I'll be serving them as cocktail party desserts, they would also be excellent gifts for friends, neighbors and teachers. There's always more than enough to share. Have a very Merry Christmas!

Butterscotch Bars
1 (11-ounce) package butterscotch morsels
1 cup butter
1/3 cup firmly packed light brown sugar
1/3 cup sugar
¼ teaspoon salt
3 eggs
2 teaspoons vanilla extract
2 cups all-purpose flour
1 cup chopped pecans or walnuts
Preheat oven to 350 degrees. Grease a 9×13-inch baking dish with cooking spray. In a saucepan, over low heat, melt morsels and butter; stir until smooth. Pour butterscotch mixture into a large bowl; stir in sugars and salt. Add eggs, vanilla, flour and chopped nuts. Mix to combine. Pour mixture into prepared baking dish. Bake for 25 to 30 minutes or until wooden pick inserted in center comes out clean. Cool before cutting. Makes 24.

Rum Balls
1 (11-ounce) box vanilla wafers, crushed
½ cup dark rum
1 cup pecans, chopped in food processor
¼ cup orange juice
½ cup confectioner's sugar
Additional confectioner's sugar, for rolling
Combine crushed cookies, run, chopped pecans, orange juice and ½ cup confectioner's sugar in a large bowl. Mix well to combine. Mixture will be very sticky. Place additional confectioner's sugar in a shallow dish. Roll cookie mixture into 1-inch balls and then roll again in confectioner's sugar. Store in refrigerator until ready to serve. Makes about 40.

Gingerbread Truffles
1 (14.5-ounce) package gingerbread mix
1 (2.9-ounce) box cook and serve lemon pudding
2 (12-ounce) packages white chocolate chips
Candies or sprinkles, to garnish
Bake gingerbread according to package directions. Cool completely. Prepare lemon pudding according to package directions. Cool completely. Crumble gingerbread in a large bowl. Add ¾ to 1 cup of lemon pudding, just enough to make mixture soft enough to roll into balls. Roll mixture into 1-inch balls and place on a baking sheet. Chill until firm. Melt white chocolate chips according to package directions and dip each truffle to cover completely. Place on a baking sheet. Top truffles with candies, if desired. Refrigerate until candy coating is hard. Store covered in refrigerator. Makes about 50 truffles.

Almond Joy Fudge
3 cups dark chocolate morsels
1 (14-ounce) can sweetened condensed milk
¼ cup butter
1 cup sweetened shredded coconut
1 cup slivered almonds, toasted
Line an 8×8-inch baking dish with parchment paper leaving an overhang. You will need to extra paper to help remove the fudge from the pan. Place chocolate morsels, sweetened condensed milk and butter in a microwavable bowl. Cook at 50% power until morsels are melted; approximately 3 to 5 minutes. After morsels are melted, stir in coconut and almonds. Pour into prepared pan and smooth the mixture until evenly distributed. Refrigerate until set. Using overhanging parchment paper, remove fudge from pan. Place on a cutting board and slice with a large, sharp knife. Makes 36 pieces.
The writer owns Catering by Debbi Covington and is the author of three cookbooks, Celebrate Beaufort, Celebrate Everything! and Dining Under the Carolina Moon. Debbi's website address is www.cateringbydebbicovington.com. She may be reached at 525-0350 or by email at dbc@cateringbydebbicovington.com.