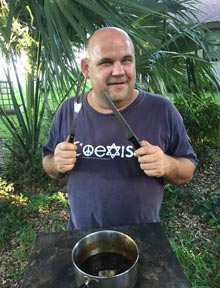 By Debbi Covington
Every summer, our friends Jon and Lolita throw a party that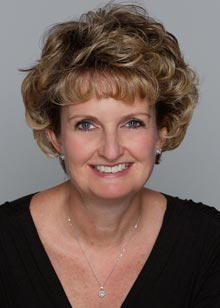 features culinary creations from Jon's smoker. Friends and guests share appetizers, side dishes, desserts (and copious amounts of adult beverages) to complete the annual feast. Over the years, Jon has smoked just about every type of meat that you can think of. His lasagna is my personal favorite. Always a fun event, we all eat way too much and smell like smoke for at least a week. This year, I asked Jon if he would be willing to share some of his recipes with my readers. He graciously agreed. These are a few of the offerings from this year's soiree.
Smoked Ham with Apple-Bourbon Glaze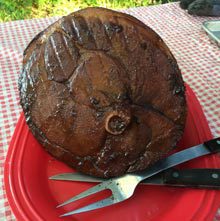 1 (10-pound) fully cooked ham shank, bone-in
¼ cup butter
2 tablespoons cinnamon
2 tablespoons sugar
1 Granny Smith apple, diced
3 cups brown sugar
1 cup bourbon
½ cup honey
½ cup molasses
Place butter, cinnamon, sugar and diced apples in a small pot over medium heat. Cook until apples are soft. Add brown sugar, bourbon, honey and molasses. Cook until sauce thickens. Place ham in prepared smoker. Glaze ham every 30-45 minutes for 4 to 5 hours. Slice and serve warm or at room temperature.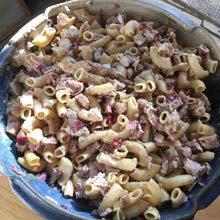 Smoked Chicken Salad
4 cups water
1 cup brown sugar
1 cup kosher salt
5 pounds chicken leg quarters
1 (24-ounce) box elbow macaroni
1 red onion, finely chopped
2 cups dried cranberries, roughly chopped
1½ cups mayonnaise
½ cup spicy mustard
Celery salt, to taste
Black pepper, to taste
Garlic powder, to taste
Combine water, brown sugar and salt to make a brine. Add chicken to brine, cover and refrigerate overnight. Add chicken to prepared smoker. Smoke chicken for 4 to 5 hours or until the internal temperature reaches 160 degrees. Allow meat to cool enough to handle. In the meantime, cook pasta according to package directions. Drain and place in a large bowl. Add red onion, cranberries, mayonnaise, mustard and spices. Remove chicken from the bones and dice. Add chicken to the pasta mixture. Mix well to combine. Refrigerate before serving.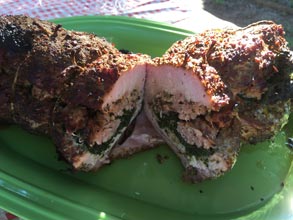 Smoked Pork Loin Stuffed with Spinach and Italian Sausage
1 cup olive oil
Fresh herbs (dill, oregano, cilantro) chopped
1 clove garlic, minced
1 (8-pound) pork loin
1 pound Italian sausage, cooked and crumbled
1 (16-ounce) package frozen spinach, thawed and squeezed dry
Prepared BBQ seasoning (dry rub)
Butcher's twine
Combine olive oil, fresh herbs and garlic in a small bowl. Cover and refrigerate overnight. Butterfly the pork loin, being careful not to cut through the meat. Pound the pork to increase the surface area. Spread the herb mixture on the inside of the butterflied loin. Evenly distribute Italian sausage and spinach on the meat. Roll and tie the loin with butcher's twine (at least every 6 inches). Be sure to fold in the ends. Season the outside of the pork loin with BBQ seasoning. Place stuffed pork loin in prepared smoker. Smoke for 4 to 6 hours or until the meat reaches an internal temperature of 150 degrees.

Smoked BBQ Lasagna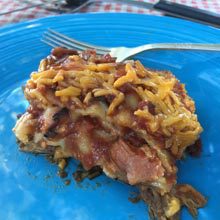 For the sauce:
6 cups prepared marinara sauce
2 cups prepared BBQ sauce
Chopped fresh garlic, to taste
Minced fresh basil, to taste
For the pasta:
2 cups all purpose flour
3 large eggs
2 teaspoons garlic salt
4 tablespoons olive oil
For the filling:
2 (8-ounce) packages shredded sharp cheddar cheese
1 (8-ounce) package shredded Monterey Jack cheese
1 (16-ounce) package of frozen spinach, thawed and squeezed dry
1 (8-ounce) can mushrooms stems and pieces
1 red onion, chopped
4 cups pulled pork
4 cups smoked chicken, cut into small pieces
Place marinara sauce, BBQ sauce, garlic and basil in a medium stock pot. Cook over medium heat until sauce reduces and thickens. Set aside until ready to use. Prepare a 24x16x8-inch aluminum foil pan by spraying with cooking spray. (Deep pans are best for this dish.) Spread a thin layer of sauce on the bottom of the prepared pan. Place pasta ingredients in a large bowl. Mix well to combine. Knead dough for 10 minutes and then divide the dough into 3 balls of equal size. Roll out first pasta ball with a rolling pin, making the dough as thin as possible. Cut to fit pan. Cover with sauce, mushrooms, onions and chicken. Top with 8 ounces of shredded cheddar cheese. Roll out second pasta ball with a rolling pin, making the dough as thin as possible. Cut to fit pan. Cover with sauce, spinach and pulled pork. Top with 8 ounces of Monterey Jack cheese. Roll out remaining pasta ball with a rolling pin, making the dough as thin as possible. Cut to fit pan. Cover with sauce and top with 8 ounces of shredded cheddar cheese. Cover lasagna with aluminum foil. Poke holes in the top to vent. Place lasagna in prepared smoker and smoke for 3 to 4 hours.

The writer owns Catering by Debbi Covington and is the author of two cookbooks, Gold Medal Winner of the Benjamin Franklin Award, Celebrate Everything! and Dining Under the Carolina Moon. Debbi's website address is www.cateringbydebbicovington.com. She may be reached at 525-0350 or by email at dbc@cateringbydebbicovington.com.