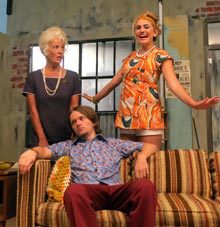 This month, Lowcountry audiences can enjoy a lively performance of the Tony-award- winning comedy Butterflies Are Free and partake in a dinner or brunch at either of two area venues.
           The Shed, 809 Paris Ave., Port Royal, will host a 7 pm dinner performance with doors opening at 6 pm on Saturday, August 8, and a 1 pm cocktail brunch performance with doors opening at 12 noon on Sunday, August 9.
           Doors of Hilton Head Lakes Club House (300 Harborside Drive, Hardeeville) will open at 6 for a 7 pm dinner and show on Saturday, August 15, and at 12 noon for a 1 pm cocktail brunch and show on Sunday, August 16.
            Food and cocktails will be prepared and served by Southern Spice Catering.
            This production of "Butterflies" first opened in mid-July to enthusiastic audiences at the Edisto Beach Civic Center followed by performances in Ehrhardt and at Main Street Youth Theater in Hilton Head. It is the second show presented by Coastal Stage Productions, a Ridgeland-based company whose primary mission is to bring quality live theater to small communities throughout the Lowcountry of South Carolina and Georgia. Previously, the company staged The Dixie Swim Club in Walterboro, Estill and Hilton Head Lakes.
            "We've expanded our offerings with this show by adding several new venues, including The Shed." noted company co-founder Rodney Vaughn. "It's also the first time we have combined a Sunday brunch with a matinee performance. We're delighted to be offering this new theatre concept to the community."  
            A coming-of-age story set in the 70's, "Butterflies Are Free" features Alex Long as Don Baker, a young man, blind since birth, who takes an apartment in Manhattan to pursue his song writing ambitions; Donna Capps as Mrs. Baker, his overly protective mother; Rebecca Donaldson as Jill Tanner, a quirky girl and aspiring actress who lives next door; and finally, Eddie Watson as Ralph Austin, an off-Broadway director. Together, they search for what it truly means to be free, with hilarious and touching results.  
            Coastal Stage Production's co-founder and play director Luke Cleveland notes that the comedy offers witty dialogue, unique characters and an interesting take on love and independence. He states, "It's comedic and entertaining, yet thought-provoking and sentimental. It has even brought some audience members to tears. This is a can't-miss event."
            Tickets are limited and the cost for dinner/brunch and show is $52. Advance reservations are required. Please call 912-656-1598 for reservations and more information.