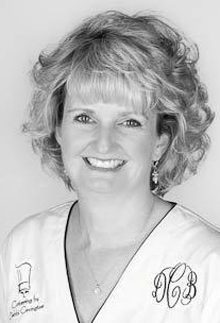 Corned beef is a long-standing American St. Patrick's Day tradition.  In Ireland, the St. Patrick's Day meal would most likely be ham and cabbage. Corned beef is a beef brisket or round roast cured in brine, which leaves the beef bright red and flavorful.  The meat remains pink when cooked, and because the beef is a tough cut of meat, requires longer cooking to render it tender.
  "Corned" refers to the salt grains used many years ago to cure or preserve meats.  Most recipes call for simmering the beef on the stove for three to four hours, but Apricot Corned Beef is cooked in a crock pot on low for six to eight hours.  When the beef is simmered and tender, top it with a delicious glaze of apricot preserves, brown sugar and Dijon mustard.  Then, place the corned beef under the broiler for a few minutes until the glaze is bubbly.  Apricot Corned Beef is delicious with Hash Brown Potato Casserole and Tarragon Asparagus!  Start your feast with Mushroom, Apple and Goat Cheese Salad. Finish your St. Patrick's Day meal with yummy Irish Whiskey Cake.  The whiskey provides an authentic taste of Ireland and marries well with the caraway and lemon.  You can substitute  ½ cup dried currants for the caraway seed for a different twist on an Irish tradition.
Mushroom, Apple and Goat Cheese Salad
For the vinaigrette:
1/3 cup olive oil
1/3 cup balsamic vinegar
1 tablespoon chopped fresh Italian parsley
1 tablespoon chopped fresh thyme
2 tablespoons honey
Salt
Freshly ground black pepper
For the salad:
1 tablespoon butter
1 pound assorted fresh mushrooms, trimmed and coarsely chopped
1 (4-ounce) package arugula
1 large apple, thinly sliced
½ cup walnut halves, toasted
4 ounces goat cheese, crumbled
Whisk together vinaigrette ingredients until blended. Season with salt and pepper to taste. Melt butter in a large skillet over medium-high heat; add mushrooms and saute for 6 minutes or until tender.  Stir in 2 tablespoons of the vinaigrette.  Remove from heat and let cook 15 minutes.  Toss together arugula, apple and mushrooms.  Toss with desired amount of vinaigrette.  Transfer to a serving dish and sprinkle with toasted walnuts and goat cheese.  Serves 6.
Apricot Corned Beef
1 (2½-pound) corned beef with seasoning packet
3 to 4 cups of water
¼ cup apricot preserves
½ cup brown sugar
½ cup Dijon mustard
Place the corned beef and seasoning packet in crock pot.  Cover with water.  Cover with lid and cook on low for 6 to 8 hours, until beef is tender.  Remove beef from crock pot and place on a broiling pan.  Preheat oven broiler.  Combine apricot preserves, brown sugar, and mustard in a small bowl.  Brush the top of the corned beef with the glaze.  Broil for 3 minutes, until glaze is bubbly.  Slice against the grain, and serve with remaining glaze. Serves 6.
Hash Brown Potato Casserole
1 (2 pound) bag frozen hash brown potatoes, defrosted
2 cups sour cream
1 (10-ounce) can cream of chicken soup
½ teaspoon salt
¼ teaspoon black pepper
2 cups grated sharp cheddar cheese
¼ cup butter, melted
2 cups cornflakes, crushed
Preheat oven to 350 degrees.  Combine sour cream, soup, salt, pepper and cheese in a large bowl.  Fold in the hash browns and pour into a lightly greased 3-quart baking dish.  Combine the melted butter with the cornflakes and sprinkle over the top.  Bake uncovered for 45 minutes.  Serves 10.
Tarragon Asparagus
2 pounds asparagus, trimmed
1 tablespoon butter
1 tablespoon minced shallots
1 tablespoon chopped tarragon
Salt
Freshly ground black pepper
Parboil the asparagus in salted water until tender to the bite, about 5 minutes; drain.  Saute the shallots in butter until tender, add the asparagus and saute for 2 to 3 minutes, until warmed through.  Stir in the chopped tarragon; season with salt and pepper.  Serves 8.
Irish Whiskey Cake
1 (18.25-ounce) package yellow cake mix
1 (3.4-ounce) package vanilla instant pudding mix
½ cup vegetable oil
½ cup water
1/3 cup Irish whiskey
4 large eggs
1 cup finely chopped slivered almonds
1 tablespoon caraway seed (or ½ cup dried currants)
1 teaspoon lemon zest
1 cup powdered sugar
2 tablespoons fresh lemon juice
1 tablespoon Irish whiskey
Preheat oven to 325 degrees.  Grease and flour a Bundt pan.  Place the cake mix, pudding mix, oil, water, whiskey, and eggs in a large mixing bowl.  Blend with an electric mixer until batter is thick and well blended.  Fold in the almonds, currants, and lemon zest.  Pour the batter into the prepared pan, smoothing it out with the rubber spatula.  Bake until the cake is golden brown and begins to pull away from the sides of the pan, about 50 minutes.  Cool the cake in the pan on a wire rack for 20 minutes.  Invert the cake onto a rack to cool for 30 minutes more.  Combine the powdered sugar, lemon juice, and whiskey in a small bowl and stir until smooth.  Slide the cake onto a serving platter and pour the glaze over the cake, letting it drizzle down the sides and into the center.  Let the glaze set before slicing the cake.  Store, covered, at room temperature. Serves 12.
The writer owns Catering by Debbi Covington and is the author of the cookbook, Dining Under the Carolina Moon. Debbi's website address is www.cateringbydebbicovington.com. She may be reached at 525-0350 or by email at debbic@cateringbydebbicovington.com.