Some of us just aren't equipped for cold temperatures. We love warm weather and abundant sunshine. It's the first day of cold weather and what do we do? If it's really cold, like lower than 50 degrees, we turn on the heat and set off our smoke alarms. We complain, "brrr, it's so cold out here," as soon as we step outside and then tell everyone we see that we're freezing. We break out our sweaters, gloves and boots and start dressing in layers. We rush to the grocery store to stock up on comfort foods. Then, we make soup. Today was that day for me – including the part about setting off the smoke alarm when I flipped the heat on. It's 45 degrees on Lady's Island and a big pot of Lasagna Soup saved me from freezing to death. I'm wearing a t-shirt topped with an oversized sweatshirt, fuzzy bedroom shoes and I just jacked the heat up to 70 degrees. Vince is out of town for a few days. My heat-loving 17-year-old kitty is wrapped up in sheets that I keep warming and rewarming in the dryer for her – at her constant demand. We'll never survive the weekend if the temperature continues to fall. I'm thinking an early bedtime is in order. I wonder what I did with my red fur blanket. How many days until summer?

Autumn Salad with Goat Cheese Truffles
¼ cup red-wine vinegar
1 tablespoon Dijon mustard
Salt and black pepper, to taste
½ cup extra-virgin olive oil
Whisk the vinegar, mustard, sugar, salt and pepper together in a small bowl. Whisking
constantly, add the oil in a slow, steady stream and continue whisking until thickened. Set aside until ready to use.
1 (4-ounce) log goat cheese, softened at room temperature
4 ounces cream cheese, softened at room temperature
1 cup finely chopped pecans
With an electric mixer, combine goat cheese, cream cheese and heavy cream until smooth. Using a small ice cream scoop or spoon, make small cheese balls, using your hands to make them round. Roll individual cheese balls in chopped pecans to coat. Refrigerate until ready to serve. Makes 16-18.
Red delicious apple, cut into bite-sized pieces
Red seedless grapes, halved
Toss salad greens with red wine vinaigrette. Top with apple pieces, grape halves, dried cranberries and goat cheese truffles.

Lasagne Soup con Tre Formaggi (Lasagna Soup)
The Italian language is so deliciously descriptive. "Con tre formaggi" translates to "with three cheeses." The cheese medley that tops this soup is incredible. Keep in mind that Lasagne Soup will only be soup for an hour or two. After that, the pasta soaks up enough of the broth for the consistency to become more like a casserole. If you need to make the soup in advance, cook the pasta separately and add it just before serving. p.s. "Lasagne" is the plural of "lasagna" and there is definitely more than one piece of pasta in this recipe.  
1 pound ground beef, cooked (about 3 cups cooked)
3 (14.5-ounce) cans beef broth
1 large onion, chopped OR 3 tablespoons dried onion
2 (14.5-ounce) cans diced fire-roasted tomatoes
1¼ -1½ cups prepared marinara sauce
2 teaspoons dried oregano
¼ teaspoon crushed red pepper flakes
Freshly ground black pepper, to taste
¼ cup cabernet sauvignon, optional
8 ounces campanelle (trumpets), mafalda or fusilli pasta
For the three cheese topping:
1 cup cottage cheese OR ricotta cheese
½ cup grated parmesan cheese
1 cup shredded mozzarella cheese
Freshly ground black pepper, to taste
Chopped fresh Italian parsley OR fresh basil to garnish
Brown ground beef in a large stock pot until cooked through; drain well on paper towels. Discard grease. In the same pot, pour in 3 cans of beef broth and bring to a simmer. Add onion and cook in broth until tender. Add garlic, fire-roasted tomatoes and prepared marinara sauce. Season with oregano, basil, red pepper flakes and black pepper and simmer until heated through. Add wine; if using. Bring mixture to a low boil. Stir in beef and pasta and cook until pasta is al dente; stirring often. While the soup in cooking, make the cheese topping. Place cottage cheese, parmesan cheese and shredded mozzarella cheese in a bowl; mix well to combine. Season with black pepper. Cheese mixture will be stiff. To serve, add soup to individual bowls and top with a dollop of the cheese topping. Garnish with chopped fresh Italian parsley. Serves 6 to 8.
Pair this tasty dip with gingersnaps or pipe it into mini graham cracker pie shells. Ginger sugar may be purchased from The Salt Table (www.salttable.com).
1 (8-ounce) package cream cheese, softened at room temperature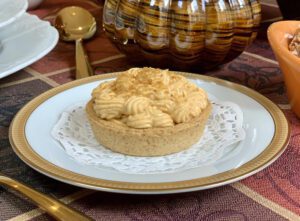 ½ cup canned pumpkin (not pumpkin pie filling)
¾ teaspoon pumpkin pie spice
Ginger sugar, to garnish (optional)
Mix cream cheese, pumpkin, sugar, pumpkin pie spice and vanilla together with an electric mixer until smooth. Refrigerate until ready to serve. Garnish with ginger sugar before serving. Makes about 1½ cups.
The writer owns Catering by Debbi Covington and is the author of three cookbooks, Celebrate Beaufort, Celebrate Everything! and Dining Under the Carolina Moon. For more great recipes and to view her cooking demonstrations, visit and subscribe to Debbi's YouTube channel. Debbi's website address is www.cateringbydebbicovington.com. She may be reached at 843-525-0350 or by email at dbc@cateringbydebbicovington.com.