Somehow, in my mind, I honestly believed that January was going to be a quiet month. It would be an event catering break, a time to catch up on undone paperwork, to take long and leisurely lunches with friends, and maybe even sleep late on the colder mornings. Nope. Not happening. Party planning never ends. That undone paperwork is taking days and nights of catch-up hours. I have no time for lunch. A hot dog at 3:00 in the afternoon has been my sustenance for the last few days. Then there's Belle. Our cat is not going to let me sleep late. She likes to have her breakfast served promptly at 5:30 a.m. Stress has followed me from 2021 straight into 2022. Then it hit me. Keep It Simple, Silly. I sat at the kitchen table and made a list of everything that must be completed by a target date of January 21st. Then I divided the chores into manageable segments and added them to my daily calendar. So far, so good. Every day I'm able to accomplish my targeted tasks and slowly but surely that long list of drudgery is finally getting shorter. I've also realized that living off hot dogs probably isn't the healthiest way to start the new year. K.I.S.S. again. What's better than a crock pot for preparing winter suppers? In the mornings, I put all of the ingredients into the pot, plug it in, close the lid and dinner is ready about 8 hours later. The addition of a simple salad and a make-ahead dessert that will last for several days completes the meal. It's almost like someone else did the cooking. Almost, with the exception of the dirty dishes. Anyhow, this is my life for now. I will get caught up. I will be able go to lunch with friends soon. And, Belle will continue to rule the roost.

Mixed Greens with Parmesan and Walnuts
1 teaspoon dijon mustard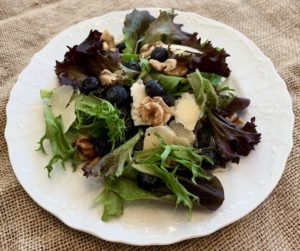 2 tablespoons lemon juice
¼ cup extra-virgin olive oil
Salt and pepper, to taste
Combine vinaigrette ingredients in a small bowl, whisk to combine. Place mixed greens on a salad plate. Top with blueberries, shaved parmesan cheese and chopped walnuts. Drizzle with vinaigrette before serving.

Crock Pot Beef Roast
Low and slow is the best way to cook a chuck roast that's both tender and juicy. This simple recipe also makes its own gravy.
1 (3-pound) chuck roast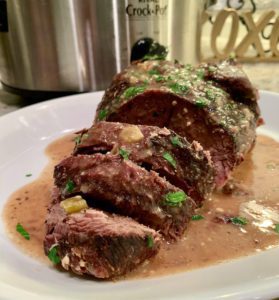 1 (10.5-ounce) can cream of celery soup
2 tablespoons Dijon mustard
1 (0.7-ounce) package Italian dressing mix
Place roast in crock pot. In a small bowl, mix soup with Dijon mustard and Italian dressing mix. Spread mixture evenly over the top of the meat. Cover with lid, turn crock pot on low heat, and cook for 8 to 9 hours. Serves 4.
Wine Cake
Wine Cake is a new favorite. Besides being delicious and super moist, it's easy to pack up and transport, which also makes it a great give away dessert to share.
1 (15.25-ounce) box yellow cake mix
1 (3.4-ounce) package instant vanilla pudding
2 teaspoons ground cinnamon
Preheat oven to 350 degrees. Grease and flour a bundt cake pan. In a large mixing bowl, combine cake mix with instant pudding mix, sugar, brown sugar, cinnamon, eggs, water, wine and vegetable oil. Pour batter into prepared pan. Bake for 60 minutes. After 50 minutes, combine butter, sugar and ¼ cup wine in a small sauce pan. Cook over medium heat and stir to combine until the sugar is melted. Remove cake from oven and pour sugar mixture over the hot cake while cake is still in the pan. Cool for 30 to 40 minutes. Turn cake out onto a cake plate. Serves 10.
The writer owns Catering by Debbi Covington and is the author of three cookbooks, Celebrate Beaufort, Celebrate Everything! and Dining Under the Carolina Moon. For more great recipes and to view her cooking demonstrations, visit and subscribe to Debbi's YouTube channel. Debbi's website address is www.cateringbydebbicovington.com. She may be reached at 843-525-0350 or by email at dbc@cateringbydebbicovington.com.