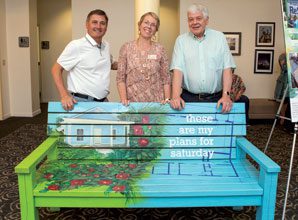 New Beaufort community public art project is as practical as it is artistic.
By Mindy Lucas 
If you've ever walked around downtown Beaufortor its less busy streetsfor very long, you may have been hard pressed to find a place to sit and rest for a minute.
   Sure, there are Waterfront Park's iconic swings and benches looking out over the Beaufort River, and you may have rejoiced at finding a lone bench in one of Beaufort's enchanting neighborhood parks, but search for a place to stop and sit along a side street or venue and you may have come up short.
   Now, thanks to a new community-based public art project featuring six custom painted benches, visitors and residents alike will have a few extra places to sit as well as something to ponder while they rest.
   Spearheaded by the Cultural District Advisory Board, the project started as an idea to introduce more public art to Beaufort's Cultural District, similar to what other cities across the country have done.
   Think the Chicago cows, or the Lexington, Kentucky horses – both projects that have brought in scores of visitors, not to mention additional revenue, to those cities. (Twenty years ago, Beaufort enjoyed a similar boost when the Arts Council brought 28 cows from the Chicago herd to town, calling the project Cows on Vacation.)
   While Beaufort's community leaders certainly weren't shooting for something quite that grand of scale with the benches, (Chicago's project alone featured some 340 life-size cow statues), the idea was the same.  
   "Beaufort is an arts town and so we thought there is plenty of art in wonderful galleries, but there's no reason there can't be something like this here," said Bonnie Hargrove, Director for USC Beaufort's Center for the Arts and member of the Cultural District Advisory Board.
   Board members also liked theidea of a bench project as public artsince it would serve a community need as well, Hargrove said.
   In fact, on visitor surveys conducted by the Beaufort Regional Chamber of Commerce, tourists cited benches or places to sit as something they'd like to see more of, said Rhonda Carey, Events and Tour Operations Coordinator for the City of Beaufort. 
   "People were literally saying it would be great if there were places to sit down and take it all in," said Carey, who worked on the benches project with the advisory board as well.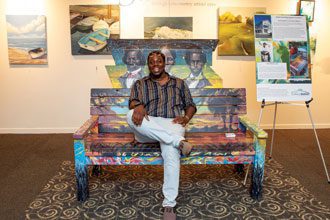 To fund the project, the group initially applied for a grant through the National Endowment for the Arts but were turned down. Undaunted, the board regrouped and began thinking of ways it might could launch the project on their own. That's when they hit on the idea of joining forces with LowCountry Habitat for Humanity.
   Lowcountry Habitat, they knew, made their own line of outdoor furniture, including rocking chairs, Adirondack chairs, porch swings, oyster tablesand benches. 
   Called the Beaufort Collection, the furniture is made by local craftsmen and volunteers and constructed from recycled lumber and materials leftover from the organization's trademark home sites. Habitat volunteers agreed to build all of the benches.
   Once Habitat was on board, the advisory board then put out the call for local organizations that might want to sponsor a bench – particularly organizations who were in the Cultural District or along the city's one-time, free shuttle line.
   At the time, the idea was to place the painted benches along the shuttle's pick-up points, providing opportunities for those waiting for the shuttle to learn more about Beaufort's history and culture.
   "It's about connectivity," said Hargrove, who explained the project not only connects the organizations with visitors but it also provides a physical connection as it takes visitors from site to site or to other places throughout the city.
   The organizations that responded to the callfound and worked with local artists or volunteers to paint the benches. After waiting for permits and permissions, all six of the benches were installed around the city this past week.
   And while the shuttle, a free service that was funded by local organizations and accommodation tax funds, is no longer running, organizations are looking for ways to fund it again in the future – perhaps through private sponsorshipsor donations, Carey said.
   The advisory board is also in the process of planning for six more benches since the project, so far, has been a win-win for those involved.
   "We are thrilled to see (our bench) installed," said Janie Lackman, Marketing and Resource Development Director for LowCountry Habitat for Humanity.
   In addition to building the benches, the organization also sponsored their own, now on display at Waterfront Park, on the marina side.
   Lackman said the project has helped tell their story and raise awareness of the organization's mission. The bench features a Habitat-built home, a flower-filled front yard and the words "These are my plans for Saturday." 
   "It kind of brought it all together from the volunteers aspect and that homes are at the center of everything we do," Lackman said. "It's a great outreach. We're proud that it's there."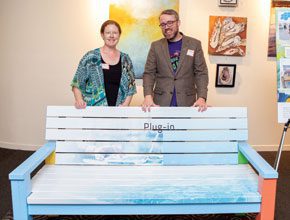 Hargrove said the board hopes the project will take off and, like Chicago's bovine sensation, that people will come to Beaufort to see it and walk or ride from bench to bench.
   In the meantime, both she and Carey hope visitors to the area will enjoy and interact with the benches and their stories. 
   Public art is something that continues to be important to cities that are looked at as places of cultural enrichment, they both agreed.
   "I think most importantly it's about access," said Carey. "That art isn't just something that's pinned up in galleries or in somebody's studio workshop. You're putting it out there for it to be enjoyed by anybody, at any time, anyway they'd like to enjoy it.

IF YOU GO
Want to check out Beaufort's painted benches? Here's where you can find them and their sponsored organization:

Beaufort County Black Chamber of Commerce
711 Bladen Street
Painted by Yemassee artist Omar Patterson

Beaufort Digital Corridor 
500 Carteret Street
Painted by Shelley Barratt, manager of the Beaufort Digital Corridor;
"Augmented reality" component by Dr. Brian Canada, BASEcamp resident, Dr. Canada's and computer science students

Lowcountry Habitat for Humanity
Waterfront Park near the marina
Painted by Beaufort artist Linda Silk Sviland 

Reconstruction Beaufort
706 Craven Street
Painted by Beaufort artist Ginger Noah Wareham

Santa Elena History Museum 
1501 Bay Street
 
USCB Center for the Arts
801 Carteret Street
Designed/ painted by USC Beaufort master builder Greg Rawls, artists Mary Ann Ford and John Rodriguez

CANVASS OF THE PEOPLE
As part of its long range planning process, the South Carolina Arts Commission will hold a public forum from 6-7:30 p.m. Jan. 23 at USC Beaufort's Center for the Arts, 805 Carteret Street.
"Canvass of the People" seeks to collect public input on the strengths, challenges and opportunities for the arts in communities and across the state.
Formore information, or for those who cannot attend the event, an online survey is available at www.southcarolinaarts.com.