"Can y'all come over for supper on Friday night? I'm serving my next column." How's that for a formal invitation? One of my new year's resolutions is to have more dinner parties in our home. We tend to have large events and I never feel like I have an opportunity to participate in a real conversation with any of our friends. Our dining room table only seats six, which is actually a great number for an intimate supper. Vince and I hosted our first tiny soiree a few days after the snowstorm. The temperature was freezing and the roads were still icy. Lowcountry Weekly publisher and editor, Jeff and Margaret Evans, and our very first neighbor when we were newly married, Richard Brooks and his wife, Brenda Little were our guests. Greek cuisine has always been one of my favorites. Pastichio, which is kind of like a Greek lasagna, is excellent comfort food on cold winter nights. And, baklava. Who doesn't love baklava? We had a fun night. I served a couple of Mediterranean appetizers and we toasted with Gizmos. I set up a little buffet on the kitchen counter and opened a couple bottles of wine. We spent our time at the table talking and laughing and reminiscing and catching up. Added bonus – I ended up with a new column, complete with food photos and delicious recipes. Will we do it again? You bet! I'm already planning our next little gathering. Life goes by so fast. Enjoy your friends. We all need each other. (Reprinted from January 2018.)
Gizmos
Ouzo is a delightful anise-flavored spirit with a licorice taste that goes down easily, but be careful because it's a potent drink!
½ cup ouzo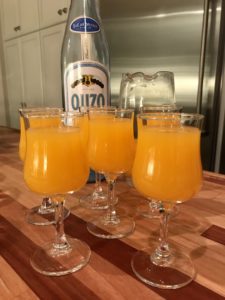 Squeeze of fresh lime juice
Place all ingredients with ice cubes in a martini shaker, shake and strain into double shot glasses.  Serves 6 to 8.
Feta and Lemon Dip
One of the simplest recipes ever. Just a minute or two in the food processor, and you'll have a delicious dip.
1 cup crumbled feta cheese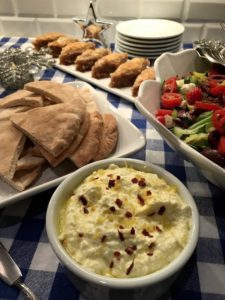 2 tablespoons fresh lemon juice
6 tablespoons extra-virgin olive oil
Pinch of red pepper flakes
Zest of one lemon, divided
Pita bread, cut into triangles
Place feta, lemon juice, garlic, olive oil, red pepper flakes and half of lemon zest in a small food processor. Process until smooth. Garnish with remaining lemon zest before serving. Serve with fresh pita bread.
Zorba (Greek Salad)
Kalamata olives are black Greek olives that are packed in vinegar.  Available in most grocery stores, they add a tangy, salty flavor to this popular salad.
For the vinaigrette: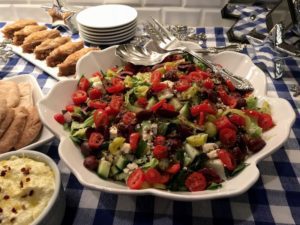 3 tablespoons red wine vinegar
1 teaspoon freshly ground pepper
1 head romaine lettuce, torn
1 large cucumber, halved and sliced
8 to 12 cherry tomatoes, quartered
½ cup kalamata olives, pitted
1 small red onion, halved and thinly sliced
4 ounces feta cheese, crumbled
In a small bowl, whisk vinaigrette ingredients together until well mixed; set aside. Place lettuce , cucumber, tomatoes, olives, red onion and pepperoncini in a large salad bowl. Dress with vinaigrette; toss to coat. Top with feta cheese and season to taste with dried oregano. Serves 6 to 8.
Pastitsio Covington
This is my rendition of the fabulous Bechamel-topped meat and pasta dish.  I pieced together ingredients from several different recipes, and this is what I came up with.  It's so delicious!
1 (16-ounce) package rigatoni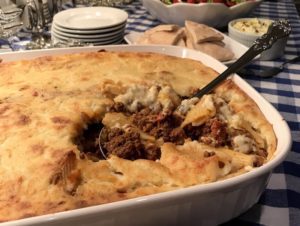 1 (8-ounce) can tomato sauce
1 (14.5-ounce) can diced tomatoes, undrained
Freshly ground black pepper
Freshly ground black pepper
1 cup grated Parmesan cheese
1 (3.8-ounce) can sliced black olives, drained
Cook rigatoni according to package directions. Drain and set aside. In a large Dutch oven, cook sirloin, lamb, onion, and garlic until meat is browned. Drain well and return to Dutch oven. Add next 8 ingredients. Simmer uncovered for 15 minutes. Remove from heat and stir in 2 beaten eggs. In a medium saucepan, melt butter. Add flour, stirring constantly for 1 minute. Add hot milk all at once.  Stir until smooth and thickened.  Season with salt, pepper, and nutmeg. Remove from heat.  Stir in Parmesan cheese until well blended.  Stir in 2 beaten eggs.  Lightly grease a 4-quart baking dish.  To assemble, spread 1/3 of cheese mixture in bottom of dish.  Layer ½ of pasta, ½ of meat mixture, remaining pasta, and remaining meat mixture. Top with remaining cheese sauce. Garnish with sliced black olives.  Bake, uncovered, in a preheated 350 degree oven for 50 to 60 minutes or until hot. Serves 8 to 10.
Walnut Baklava
Very simple to make – and time well spent!
1 (16-ounce) package frozen phyllo dough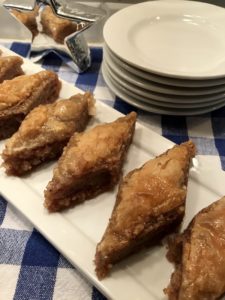 1 teaspoon ground cinnamon
Thaw frozen phyllo dough in refrigerator, according to package directions. Combine 1½ cups sugar and next 4 ingredients in a saucepan and bring to a boil over medium heat. Boil for 15 minutes, stirring frequently. Discard cinnamon stick and chill syrup mixture in the refrigerator.  Process walnuts in a food processor until finely ground.  Add ½ cup sugar, cinnamon, and nutmeg. Mix well. Brush a 9×13-inch baking dish with melted butter. Reserve 4 sheets of phyllo dough for top of baklava. Layer 4 sheets of phyllo in dish, brushing each sheet of dough with melted butter. Sprinkle with a portion of the walnut mixture. Continue layering with 3 sheets of phyllo, brushing each with melted butter and sprinkling third sheet with walnut mixture until all of the phyllo dough and walnut mixture are used. (You will use both rolls of phyllo dough.) Top with reserved 4 sheets of phyllo dough, brushing each with melted butter.  Cut into diamond-shaped pieces. Pour any remaining butter over top. Bake, uncovered, in a preheated 350 degree oven for 30 minutes. Lower heat to 325 degrees and bake for an additional 30 minutes. Pour chilled syrup evenly over hot pastry. Cool completely. Cut through diagonals again before serving. Serves 15 to 20.
The writer owns Catering by Debbi Covington and is the author of three cookbooks, Celebrate Beaufort, Celebrate Everything! and Dining Under the Carolina Moon. For more great recipes and to view her cooking demonstrations, visit and subscribe to Debbi's YouTube channel. Debbi's website address is www.cateringbydebbicovington.com. She may be reached at 843-525-0350 or by email at dbc@cateringbydebbicovington.com.