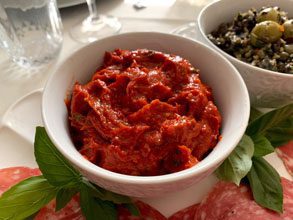 I do truly love parties! Besides catering parties, I love attending them and even hosting them. Big parties with tons of people, medium-sized ones with 50 to 60 folks, and small gatherings of less than 20 guests – they're all fun to me. Who doesn't like to have a good time with lots of friends, food, beverages and music?
The thing is, have you ever noticed that at large events, you spend most of the evening talking to the same group of people or you flit from person to person and never actually indulge in a complete conversation? Even though it's very easy to stay in touch with each other through social media, face to face exchanges are few and far between. In the last year, I've developed a new love for intimate dinner parties. I'm talking a tiny repast, with 4 to 6 people maximum. It's my new favorite thing. When Vince and I invite one or two couples over for dinner, I get to experiment with new recipes, our wedding china gets used, the dirty dishes are minimal and best of all, we talk with our guests. We have an actual dialogue, we discuss, we chat, we laugh – all face to face. And, at the end of the night, we're all saying, "we should do this more often." Another plus of our mini soirees is that I can happily share the photos and receipts in my column. The Italian recipes this week are all easy and yummy, but the Tomato Tonnato is over-the-top delicious. Don't let the canned tuna intimidate you. It's one of the best appetizers that I've made this summer. I promise. Buon Appetito!

Sun-Dried Tomato Spread 
Sun-Dried Tomato Spread will last for up to two weeks in the refrigerator. Serve on crostini, mixed in scrambled eggs or on top of a grilled chicken breast.
2 (6-ounce) cans tomato paste
4 tablespoons chopped fresh basil
½ cup olive oil
2 cloves garlic, crushed
1 cup chopped sun-dried tomatoes
½ teaspoon salt
1 teaspoon sugar
1 teaspoon garlic salt
Place all ingredients in a food processor. Blend to the consistency of a spreadable paste. Serve with crostini or crackers. Makes about 2½ cups.
Tomato Tonnato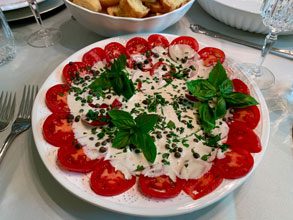 Tomato Tonnato makes for a fabulous antipasto or a light main course when served with a salad and toasted Italian bread.
2 to 3 medium tomatoes, sliced horizontally
1 (5-ounce) can yellowfin tuna in olive oil, undrained
1 cup of mayonnaise 
1 tablespoon capers, drained
2 tablespoons fresh lemon juice
Salt, to taste
1 tablespoon water, if needed
Capers, to garnish 
Fresh chopped Italian parsley, to garnish 
Fresh basil leaves, to garnish 
Lay out the tomato slices decoratively on a serving platter. Blend all of the ingredients for the tonnato sauce in a blender, until smooth. The mixture should be thick but pourable; if not add 1 tablespoon of water. Taste and adjust for salt, although it should not need much. Pour the sauce over the tomato slices. Sprinkle with capers and chopped Italian parsley. Garnish with fresh basil leaves. Serves 4 to 6.
Arugula Salad with Grapes and Fennel
For the vinaigrette:
2 tablespoons lemon juice
1 teaspoon Dijon mustard
½ teaspoon salt
Freshly ground black pepper 
¼ cup extra-virgin olive oil
Place all ingredients in a jar with a tightly fitting lid. Shake well, to combine. 
For the salad:
Arugula
1 medium fennel bulb, thinly sliced
2 cups red seedless grapes, cut in half 
4 ounces shredded parmesan cheese
Toasted walnuts, chopped
Place arugula in a salad bowl; toss with vinaigrette. Top with fennel, grapes, parmesan cheese and toasted walnuts. Serves 6.
Bracciole
I love this recipe! 
For the sauce:
1 (0.87-ounce) package brown gravy mix
1 cup prepared pizza sauce
For the filling:
2 tablespoons butter 
1 medium sweet onion, halved and cut into thin slices
1 (8-ounce) package sliced white mushrooms
Salt and pepper, to taste
1 tablespoon chopped Italian parsley
For the beef rolls:
1½ pounds (6 pieces) thinly sliced beef top round steak (milanese)
6 slices thinly sliced prosciutto
6 slices fresh mozzarella cheese 
Grated parmesan cheese 
Salt and pepper, to taste
3 tablespoons butter 
2 tablespoons fresh chopped Italian parsley, to garnish 
In a small saucepan, prepare brown gravy mix according to package directions. Stir in 1 cup pizza sauce and heat through. Remove from heat and set aside. Melt 2 tablespoons butter in a large skillet. Cook onion until caramelized. When onions are almost done, add mushrooms and cook until tender. Season with salt and pepper. Stir in 1 tablespoon chopped Italian parsley and remove from heat. Prepare a baking dish with cooking spray. Preheat oven to 350 degrees. Lay a slice of prosciutto on top of each piece of steak. Divide onion-mushroom mixture evenly on each piece. Top each steak with a slice of fresh mozzarella and a sprinkle of parmesan cheese. Roll up tightly. Season rolls with salt and pepper. Melt 3 tablespoons butter in a large skillet over medium-high heat. Add beef rolls and brown on all sides. Remove from skillet and place in prepared baking dish. Pour pan juices over the beef rolls. Pour prepared tomato sauce over the beef rolls. Bake, uncovered, in preheated oven for 30 minutes. Garnish with chopped Italian parsley before serving. Serves 4 to 6.

Italian New Potatoes
One of my favorite go-to recipes! It's simple and delicious.
10-12 new potatoes, halved
1 (0.7-ounce) package Italian dressing mix
1 stick butter, melted
Combine melted butter with dressing mix. Place potatoes in a lightly greased baking dish. Pour seasoned butter mixture over potatoes. Cover and bake in a preheated 350 degree oven for 40-45 minutes or until potatoes are tender. Serves 4 to 6. 

Tiramisu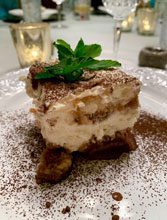 1¾ cups heavy whipping cream 
2 (8-ounce) containers mascarpone cheese, at room temperature
½ cup sugar 
1 teaspoon vanilla extract 
2 cups very strong coffee, cooled
2 tablespoons rum or brandy, optional
2 dozen ladyfingers
Cocoa powder, for dusting
Fresh mint leaves, to garnish 
Beat the whipping cream until stiff peaks form; set aside. Mix the mascarpone, sugar and vanilla, until well-combined. Add in the whipped cream and beat again until smooth. Stir the coffee and liquor together. Lightly dip each ladyfinger into the coffee mixture. Do not soak or the ladyfingers will be soggy. Place half of the ladyfingers in a single layer in a square baking dish. Spread half of the cream mixture over the ladyfingers. Repeat with another layer of ladyfingers and cream. Refrigerate for 4 to 6 hours. Dust with cocoa powder before serving. Garnish with fresh mint leaves. Serves 9.
The writer owns Catering by Debbi Covington and is the author of three cookbooks, Celebrate Beaufort, Celebrate Everything! and Dining Under the Carolina Moon. Debbi's website address is www.cateringbydebbicovington.com. She may be reached at 525-0350 or by email at dbc@cateringbydebbicovington.com.