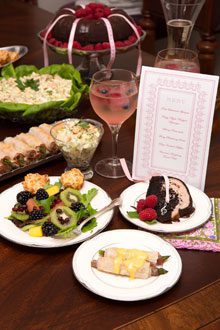 Pull out your grandmother's antique silver, your mother's wedding china, purchase some inexpensive floral handkerchiefs and invite your girlfriends over for a beautiful luncheon. Serve the food buffet-style. Place plates, forks and napkins at the end of the table and arrange the Crispy Phyllo Wrapped Asparagus with Honey-Mustard Dipping Sauce, Fruity Blackberry Salad and Shrimp Remoulade so that guests may serve themselves. I like to use cosmo glasses for the Shrimp Remoulade but everything can easily be served on a luncheon plate.
A few years ago, I catered a bridesmaid's luncheon where the mother of the bride had purchased charms for her daughter's friends as bridesmaid's gifts. She had them individually tied with ribbon and inserted in between the layers of a cake. At the luncheon, each bridesmaid pulled a ribbon from the cake and found her charm. Each charm represented something different. For example, an anchor symbolized a 'life of stability' and a star promised that a 'wish will be granted.' A butterfly ensured 'eternal beauty,' a high heel shoe promised a 'life of style and fashion' and a treble clef pledged a 'life of harmony.' I revamped the cake idea by using an easy to make tunnel cake in a Bundt pan. This way, the charms can be laid across the top of the cake and they won't get covered in frosting. Besides being a fun and unique idea, the cake is delicious! The Chocolate-Raspberry Charm Cake can be used as the centerpiece or can be displayed on the buffet. When dessert is served, each bridesmaid will take home a happy reminder of a delicious luncheon. FUN! (Photography by Susan DeLoach)

Crispy Phyllo Wrapped Asparagus with Honey-Mustard Dipping Sauce
These are a great make-ahead appetizer! They're even better when they're reheated.
For the phyllo wrapped asparagus:
½ (16-ounce) package frozen phyllo dough
1 stick butter, melted
24 slices of thinly sliced ham
1 bunch green asparagus, trimmed (24 pieces)
2-3 tablespoons grated Parmesan cheese
For the dipping sauce:
¾ cup mayonnaise
3 tablespoons honey
2 tablespoons mustard
½ teaspoon lemon juice
Dash hot sauce, optional
Thaw phyllo dough in refrigerator, according to package directions. (You will not use it all.) Preheat oven to 350 degrees. In a small bowl, combine the mayonnaise, honey, mustard, lemon juice and hot sauce. Reserve until ready to serve. Remove phyllo dough from package and place a barely damp paper towel over it to keep it from drying out. Remove one sheet of dough and lay it on your work surface; brush with a thin layer of melted butter. Place another sheet of dough on top and repeat until you have 3 layers. Using a sharp knife, divide the phyllo into 4 equal strips and then slice down the center so that you have 8 rectangles. Place a slice of ham on each rectangle. Position a stalk of the asparagus on the bottom edge of each slice of ham and roll it up. Place on a lightly greased baking sheet, seam side down, making sure that the rolls do not touch each other. Repeat, until you have 24 pieces. Brush the outside of the rolls with melted butter and sprinkle with grated Parmesan cheese. Bake for 15 to 20 minutes or until rolls are golden brown and crispy. Serve hot with the dipping sauce. To reheat, place on a lightly greased baking sheet and bake in a preheated 350 degree oven for 8 to 10 minutes or until crispy. Serves 8 to 12.
Fruity Blackberry Salad with Blackberry-Basil Vinaigrette
You can use any combination of fresh fruit and berries for this delightful and refreshing salad!
For the vinaigrette:
5 tablespoons seedless blackberry preserves
¼ cup red wine vinegar
6 fresh basil leaves
1 clove garlic, minced
½ teaspoon salt
½ teaspoon pepper
1/3 cup vegetable oil
For the salad:
8 cups mixed salad greens
1½ cups sliced mango
1½ cups pink grapefruit segments
4 kiwi, peeled and sliced
2 cups fresh blackberries
½ cup pomegranate arils
Place preserves, vinegar, basil, garlic, salt and pepper in a blender. Pulse until blended. With blender running, pour vegetable oil through lid in a slow, steady stream; process until smooth. Place greens in a salad bowl. Toss with vinaigrette to coat. Add fruit and toss lightly. Serves 8.
Shrimp Remoulade
Remoulade is a mayonnaise-based sauce with pickles, mustard, herbs and chopped hard-boiled eggs. Sometimes capers are added.
2 pounds shrimp, peeled and deveined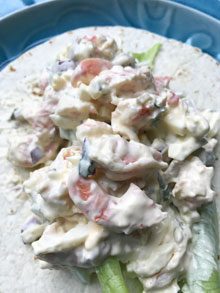 3 stalks celery, chopped
½ cup red onion, finely chopped
6 hard-boiled eggs, diced
1 teaspoon Dijon mustard
¾-1 cup mayonnaise or salad dressing (Miracle Whip)
3 tablespoons sweet pickle relish
½ cup chopped fresh Italian parsley
Fresh lettuce leaves
Cook shrimp in boiling water until just pink; drain and refrigerate until chilled. Cut larger shrimp into bite-sized pieces. Place shrimp in a large bowl. Add celery, red onion, boiled eggs, mustard, mayonnaise, pickle relish and parsley; mix well. Cover and chill until ready to serve. To serve, arrange lettuce leaves on a dish or platter; top with shrimp mixture. Serves 8 to 10.
Chocolate-Raspberry Charm Cake
The center of this cake is a delicious raspberry-scented cream cheese. What a fun idea for a charm cake! Simple to prepare, too!
1 (18.25-ounce) package dark chocolate cake mix
Eggs, water and vegetable oil, according to package directions
For the filling:
2 (8-ounce) packages cream cheese, at room temperature
1/3 cup sugar
1/3 cup seedless raspberry jam or preserves
2 eggs
For the chocolate glaze:
1 cup heavy whipping cream
1 cup semi-sweet chocolate morsels
Grease and flour a Bundt cake pan. Preheat oven to 350 degrees. In a mixing bowl, prepare cake mix according to package directions. In a separate mixing bowl, combine cream cheese, sugar, jam and eggs; mix until smooth. Pour cake batter evenly into prepared pan, reserving 1½ cups of the batter. Spoon cream cheese mixture over center of cake batter. Spoon reserved batter over cream cheese mixture; covering completely. Bake cake in preheated oven for 50 to 60 minutes, or until a toothpick inserted in center of cake comes out clean. Cool cake in pan on a wire rack for 30 minutes; then remove from pan and place on a wire rack until completely cooled. Heat whipping cream in a small saucepan over medium-low heat just until cream begins to steam. Remove from heat and whisk in chocolate, stirring until chocolate is completely melted and mixture is dark. Let cool for 15 to 20 minutes. Place cake on a cake stand or platter and drizzle with warm chocolate mixture. Chill in refrigerator until ready to serve. To serve: Place charms in the center of the cake letting ribbon drape down the sides. Fill the center of the cake with fresh raspberries; garnish with fresh raspberries. Serves 12.
The writer owns Catering by Debbi Covington and is the author of three cookbooks, Celebrate Beaufort, Celebrate Everything! and Dining Under the Carolina Moon. Debbi's website address is www.cateringbydebbicovington.com. She may be reached at 525-0350 or by email at dbc@cateringbydebbicovington.com.